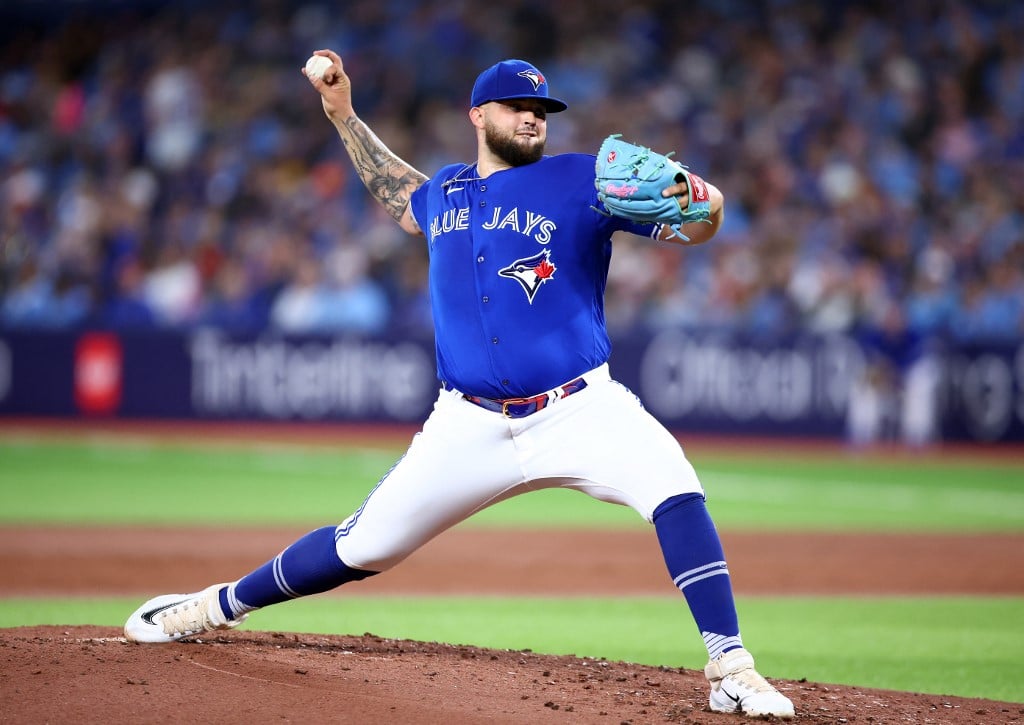 ---
MLB Prop Pick: Alek Manoah To Record the Win (+185) at Bet365
---
Picks Summary:
Alek Manoah To Record the Win (+185)
Vladimir Guerrero Jr. Over 1.5 Hits, Runs, RBIs (-165)
Anthony Rizzo Over 0.5 Runs (+123)
Framber Valdez To Record the Win (+135)
Martin Maldonado Over 0.5 Hits (+130)
Kyle Tucker Over 1.5 Total Hits, Runs, and RBIs (-120)
Toronto Blue Jays ace Alek Manoah has been inconsistent this season but historically he has had the number of the New York Yankees.
Manoah is one of a handful of prop picks around the majors Monday via the MLB odds from the top-rated books.
---
Monday, May 15, 2023 – 07:07 PM EDT at Rogers Centre
---
It's the Yankees' first visit to the renovated Rogers Centre. It was thought moving most of the walls in would increase offense quite a bit in Toronto but it hasn't seen a huge uptick quite yet. Warmer weather also may help in that regard.
Normally, you probably don't want to be betting Unders on starting pitchers against that very good New York lineup. Right-hander Alek Manoah is supposed to be Toronto's ace but is a disappointing 1-3 with a 4.83 ERA and 1.66 WHIP. However, he has owned the Bombers in his three seasons. The 25-year-old made his big-league debut on May 27, 2021, at Yankee Stadium and threw six shutout innings on national TV.  
Manoah faced New York this year on April 22 at Yankee Stadium and threw seven shutout innings with two hits allowed, one walk, and five strikeouts – only 85 pitches. He has made seven career starts against the Yankees and has a 2-1 record and a 1.93 ERA (9 ER/42.0 IP) with a 0.88 WHIP and a .156 opponents' batting average.  
The Yankees never rest Aaron Judge and I'm sure they won't here… but if there were ever a time to give Judge a quick break it might come against Manoah as the 2022 AL MVP is 1-for-19 career off Manoah with seven strikeouts. There is some tension between those two as on Aug. 21, 2022, Manoah threw an inside pitch early in the game that went near Judge, then he hit Judge on the arm guard above the left elbow. 
Anthony Rizzo is 4-for-15 off Manoah and Rizzo owns a season-high 13-game on-base streak, slashing .373/.448/.627 (19-for-51) over that span with 14 runs scored.   
The Prop Picks
Yankees rookie pitcher Jhony Brito (2-3, 5.81 ERA) hasn't faced the Jays previously but this will be his toughest date to date. The 25-year-old is 1-3 with a 7.48 ERA in six starts at night.
Jays star Vladimir Guerrero Jr. is hitting .364 with two homers and four RBIs vs. New York pitching this year and Baby Vlad has reached base safely in each of his last 19 games, the third-longest active streak in the AL, batting .293 (22-for-75) with nine doubles, four homers, 15 RBIs and seven walks over that stretch (.938 OPS). 
MLB Prop Pick: Alek Manoah To Record the Win (+185) at Bet365
MLB Prop Pick: Vladimir Guerrero Jr. Over 1.5 Hits, Runs, RBIs (-165) at Caesars Sportsbook
MLB Prop Pick: Anthony Rizzo Over 0.5 Runs (+123) at Caesars Sportsbook
---
Monday, May 15, 2023 – 08:10 PM EDT at Minute Maid Park
---
These two franchises followed the same path to fairly recent World Series success: by tanking. Houston is still a title contender, while the Cubs are in the midst of another reboot but are not in the outright tanking stage any longer. 
The Cubs got off to an 11-6 start, teasing their fans of possible playoff content, but are now 19-21 as the flaws have started to show. Not having second baseman Nico Hoerner atop the lineup hasn't helped as he's on the injured list with a hamstring injury. Hoerner is batting .303 with 12 steals.
Chicago enters having totaled just four runs in its past two games and probably won't do much against Mr. Quality Start Framber Valdez (3-4, 2.38 ERA). He has had some trouble getting run support or could be 6-1 instead of 3-4. Valdez was great last time out, allowing just one run over eight with 12 strikeouts and zero walks vs. the Angels. He has seven straight quality starts after leading the majors in that category last year. The Cubs are one of five teams Valdez has never faced along with Cincinnati, Houston, Milwaukee, and St. Louis.  
The Prop Picks
It's struggling Jameson Taillon (0-2, 6.41) for Chicago. Astros outfielder Kyle Tucker is 3-for-7 off him with a double and homer, and light-hitting catcher Martin Maldonado is 5-for-12 with two doubles and a homer off him.
This is the first time we've recommended a Maldonado-hitting prop, and it probably will be the last in 2023. Tucker also enters on a four-game hitting streak.  
MLB Prop Pick: Framber Valdez To Record the Win (+135) at Bet365
MLB Prop Pick: Martin Maldonado Over 0.5 Hits (+130) at BetMGM
MLB Prop Pick: Kyle Tucker Over 1.5 Total Hits, Runs, and RBIs (-120) at Caesars Sportsbook