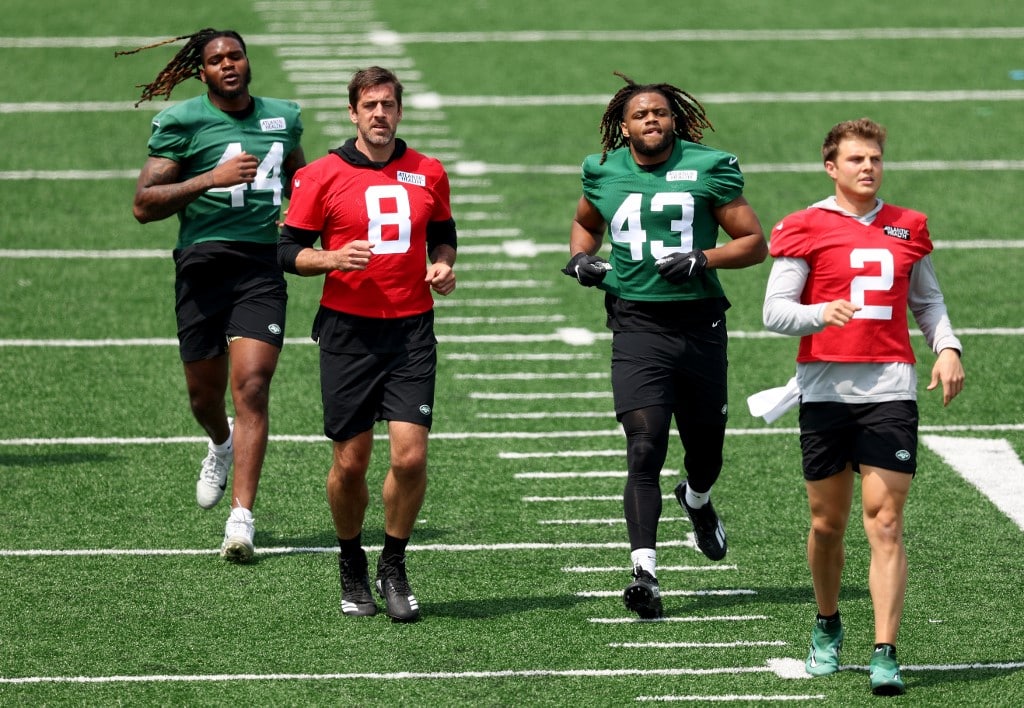 Top NFL Pick: Aaron Rodgers Regular Season MVP 2023-24 (+1200) at BetRivers
---
In the NFL, the Most Valuable Player (MVP) award is dominated by the quarterback position. The "valuable" part really draws the attention of voters, as 15 of the last 16 MVPs have gone to a quarterback.
Even when the NFL introduced a new ranked voting system last year where voters had to spread out points among their top 5 candidates, it was still 4 quarterbacks who finished with over 120 points each. Chiefs quarterback Patrick Mahomes ultimately ran away with the award, receiving 490 total points and claiming 48 of the 50 1st-place votes.
The closest non-quarterback was Vikings wide receiver Justin Jefferson, who finished No. 5 with 55 MVP points. When we look at the odds for the MVP of the 2023-24 season, we see 24 quarterbacks (two-thirds of the league) before the first player of another position, which is usually Jefferson or San Francisco running back Christian McCaffrey. They are both +8000 at BetRivers, and you can always check for the updated MVP odds at OddsTrader.
With training camps set to open in a few weeks, we are analyzing what you should be looking for in your MVP pick this NFL season.
---
A Quarterback Will Win
With respect to fans who do not enjoy the quarterback position more than any other position in football, the MVP award is a quarterback award. With the name of Most Valuable Player, it almost has to be a quarterback since 70% of the variation in team records can be explained by just the success of its passing offense.
But you could also rename the MVP award the "Top Quarterback with Great Stats and Great Team" award, but TQWGSAGT does not quite roll off the tongue. However, that is where the award usually ends up.
A quarterback has won a share of the NFL MVP award 33 times since 1981. A whopping 25 times (75.8%) they were on a team that had a No. 1 seed that season. Twenty-nine of 33 seasons (87.9%) were by quarterbacks on teams with 12 or more wins.
Stats, Team Success, and Narrative
Statistically, the quarterback does not have to lead the league in passing yards or touchdowns to win MVP, but volume helps, and great efficiency is even more predictive.
Of the last 33 quarterbacks to win MVP, only Cam Newton (11th in 2015) did not rank in the top 5 in passing DYAR, which Football Outsiders uses to measure total passing value. Newton is also the only quarterback since 2006 to win MVP without ranking in the top 3 in ESPN's QBR metric. Eleven of the last 15 MVP winners finished No. 1 in QBR.
Beyond winning a lot of games and having great stats, the quarterback should be on a great offensive team too. All 25 quarterbacks to win MVP since 1994 played for an offense that finished in the top 5 in points per drive.
So, the quarterback with middling stats who carries a team to a wild-card berth with a 9-8 record will almost certainly not win MVP. The standard is too high, and there is usually always someone who has an elite season for an elite team each year.
The question is figuring out the narrative that will tie the quarterback's success together to become a compelling MVP case. With the narrative in mind, we will analyze the MVP case for some top quarterbacks in the 2023 season.
---
Will Patrick Mahomes Repeat?
Last year, Patrick Mahomes pulled off the rare feat of winning MVP and Super Bowl MVP in the same season, which had not been done since Kurt Warner in 1999. He was spectacular in leading the Chiefs to a 14-3 record, the No. 1 seed in the AFC, and the No. 1 scoring offense in the league.
But the narrative was that Mahomes was doing it after the Chiefs traded away his No. 1 wide receiver, Tyreek Hill, in the offseason. He kept grinding with JuJu Smith-Schuster in that spot, and he led the league in passing yards (5,250), touchdowns (41), and QBR (77.6).
The best player in the league, Mahomes faces the challenge of voter fatigue in 2023. Can he still impress enough voters if he does not lead the league in those categories again? What if Kansas City's defense takes a big step forward while the offense falls slightly back from No. 1?
Last season was the first time Mahomes led the league in passing yards, and the first time since 2018 he led in touchdown passes and QBR. It is very difficult to be the top statistical quarterback two regular seasons in a row. Even Peyton Manning and Tom Brady never led the league in touchdown passes in back-to-back seasons. The last time Mahomes won MVP with 50 touchdowns in 2018, he threw 26 in 2019.
You can find Mahomes with the best odds to win MVP (+700 at BetRivers), but this award is anything but a lock even for the best in the game. Aaron Rodgers (2020-21) and Peyton Manning (2008-09) are the only back-to-back MVP winners since 2005, and both of those involved a season (2021 for Rodgers, 2008 for Manning) where the legend basically won by default after the competition played themselves out of it.
---
Joe Burrow or Josh Allen's Time?
Depending on which sportsbook you look at, you can find Joe Burrow and Josh Allen with the same or similar odds for MVP as Mahomes. They are right there in the AFC with the best in the game, and we have seen Allen outplay Mahomes in Kansas City in the last two regular seasons. Burrow was also getting the best of the Chiefs in the fourth quarter until the 2022 AFC Championship Game, so those matchups are always critical and close.
The Chiefs will host Buffalo and Cincinnati in December, so the outcome of those highly-anticipated games can decide everything from the No. 1 seed to the MVP favorite.
In Allen's case, he has to stop peaking early, as an October win in Kansas City is not the Super Bowl. He was an MVP favorite halfway through the last two seasons, but he fell off in the second half of the year, which is why 2020 remains his best and most consistent season:
2021's first 9 games: 19 TD, 6 INT, 7.50 YPA, 99.6 passer rating
2021's last 8 games: 17 TD, 9 INT, 6.04 YPA, 83.5 passer rating
2022's first 6 games: 17 TD, 4 INT, 8.28 YPA, 109.1 passer rating
2022's last 10 games: 18 TD, 10 INT, 7.02 YPA, 87.5 passer rating
New Weapons
The Bills had an emotional hurdle to overcome late last year with the scary Damar Hamlin situation, but this team has to bounce back from a disappointing playoff loss to the Bengals. Allen has a new weapon in 1st-round tight end Dalton Kincaid, but rookie tight ends rarely are huge contributors to the passing game.
As for Burrow, the big plays regressed a bit in 2022 while the sacks were still an issue. The sacks are why advanced stats are more lukewarm on Burrow, who has finished 10th and 12th in QBR the last two years. Burrow took 5 or more sacks in all but one of the team's losses last season.
Burrow has a new left tackle in Orlando Brown from the Chiefs. While Brown was a starting tackle for two MVP seasons (Lamar Jackson in 2019 and Mahomes last year), it would be foolish to think he is the catalyst to unlocking that award for a quarterback. He should give the Bengals improved play at that position, but this is still on Burrow to get rid of the ball faster against the tougher pass rushers and to take his game to another level.
---
Jalen Hurts: Last Year's Runner-up Leads NFC Field
While the AFC is loaded with quarterbacks, the NFC is basically set up for a Jalen Hurts run in Philly unless someone else breaks out to challenge him. Hurts was the MVP runner-up to Mahomes last year, finishing with 193 points, ahead of Allen (151) and Burrow (128).
But the NFC has a risky history of flash-in-the-pan teams and quarterbacks. Think about Cam Newton's 2015 for Carolina, Matt Ryan's 2016 MVP for Atlanta, Carson Wentz in 2017 before he was injured in Philadelphia, then some Super Bowl runs for Jared Goff (2018 Rams), Jimmy Garoppolo (2019 49ers), and Matthew Stafford (2021 Rams).
The only NFC quarterback in the last 8 years who did not see his career peak in a recent Super Bowl appearance season was Tom Brady on the 2020 Buccaneers, though that was the peak of his Tampa Bay run.
Hurts will hope his self-inflicted fumble that was returned for a touchdown in the Super Bowl is not his best shot of winning it all in his career. The Eagles are trying to first win the NFC East, which has not had a repeat winner since 2004, the longest division drought in the NFL.
The Challenges Ahead
Getting over Dallas and Dak Prescott would be a big step for Hurts to get MVP traction again, though you do worry if there are some steps backwards this year after such a great 2022. Maybe teams wise up to the quarterback push sneak the Eagles perfected so well, Year 2 of A.J. Brown is less successful after teams adjust to an offseason of tape while the Eagles adjust to a new offensive coordinator, and the defense probably does not get 70 sacks again.
Hurts also has to worry about his health, as a shoulder injury in Week 15 killed his MVP chances late in the year. He was unable to play in the big Christmas Eve game in Dallas. Hurts ran the ball 165 times in 15 games last year, and you can add 35 more runs from the playoffs. This is not normal for NFL quarterback play, and it does not appear to be the best strategy for long-term health.
Hurts still has too good of a situation to not be the best choice for an NFC quarterback to win MVP, especially when you consider the passing flaws of Justin Fields, the lack of trust in Kirk Cousins, and too many wild cards like Jordan Love (Packers), Sam Howell (Commanders), No. 1 pick Bryce Young (Panthers), and Brock Purdy (49ers).
The only two MVP runner-ups to win the award the following season since 2001 are Peyton Manning (2012-13) and Tom Brady (2016-17).
---
Past Winners: Aaron Rodgers and Lamar Jackson
Two past MVP winners with a chance to prove themselves again in a big way this year are Aaron Rodgers and Lamar Jackson. We know what they are capable of, and we know they would get a big narrative push if they helped their team to a division title over the favored Bills or Bengals.
Jackson has not finished the last two seasons due to December injuries, but hopefully he will stay healthy this time. He also has a new offensive coordinator in Todd Monken, who should bring a more modern passing approach to the Ravens, and Jackson has his best group of skill players yet, with Odell Beckham Jr. and Zay Flowers joining Mark Andrews, Rashod Bateman, and Isaiah Likely. We also know Jackson still has the best rushing ability of any quarterback not named Justin Fields right now.
New Beginnings and Familiar Faces
In Rodgers' case, he goes to a new team in the Jets a year after having his worst season, and he will turn 40 years old in December. However, sometimes a major change like this is necessary, even for one of the greatest to ever play the game. We saw Peyton Manning (Broncos) and Tom Brady (Buccaneers) enjoy some immediate statistical improvements in their first seasons with their new teams after situations soured around them on their old teams.
While neither Manning nor Brady won MVP in that first season with their new team, Rodgers has some distinct advantages they did not. He will have his old offensive coordinator in Nathaniel Hackett, who he won his last two MVP awards with in 2020-21 in Green Bay.
He also has some of his Green Bay receivers as Allen Lazard and Randall Cobb have tagged along to the Jets. Rodgers also has an exciting No. 1 receiver again in Garrett Wilson, who won Offensive Rookie of the Year. Rodgers also could have his best running game in years, and more importantly, the Jets could give him his best defense since his 2010 team, his only Super Bowl year.
There are some red flags here with Jackson's durability and Rodgers' potential skills erosion due to age, but the potential for things going great in 2023 is foolish to ignore.
---
Second Year in System: Trevor Lawrence and Tua Tagovailoa
Finally, we want to draw attention to the second-year system breakout for quarterbacks. Whether it is a young quarterback having his breakout moment or a veteran fixing mistakes, we have seen several cases of a second season in a system turning into MVP play.
Matt Ryan won MVP for the 2016 Falcons in his second season under offensive coordinator Kyle Shanahan, and it remains the best season of his 15-year career.
While Carson Wentz did not win MVP in 2017 after he tore his ACL in December, his second season under coach Doug Pederson was by far his best one.
Likewise, Jared Goff did not win MVP in 2018, but he led a top Rams offense to the Super Bowl in his second year under coach Sean McVay's guidance.
Patrick Mahomes (2018 Chiefs) and Lamar Jackson (2019 Ravens) both won MVP in their second season in the NFL, which was their first full year as a starter.
Aaron Rodgers got back to winning a lot of games for rookie coach Matt LaFleur and offensive coordinator Nathaniel Hackett in 2019, but it was their second year together in 2020 when Rodgers got back to MVP form, and then repeating the feat in 2021.
You can already say Trevor Lawrence and Tua Tagovailoa had their breakout seasons in 2022, but things can be even better for them in 2023 in Year 2 of their current system. They are both currently tied for the 8th-highest MVP odds (+1700 at BetRivers).
Tagovailoa was in the MVP race last year after a hot start, but concussions would eventually derail his season and he lost his last 4 starts. But that speedy combination of Tyreek Hill and Jaylen Waddle in coach Mike McDaniel's offense did wonders for Tua, who led the NFL in:
Touchdown pass rate
Yards per attempt
Yards per completion
Adjusted net yards per attempt
Passer rating
If Tua can stay healthy for a full 17-game season and lead the Dolphins to a division title over the hyped Bills and Jets, then this absolutely could be an MVP-caliber season for him after already leading the NFL in so many rate stats in Year 1 with McDaniel.
The Case for Trevor Lawrence
But maybe a more realistic option could be Lawrence in Jacksonville if Pederson works his magic like he did with Wentz going into their second season together in Philadelphia in 2017. Lawrence was nothing special halfway through the season last year, but after the comeback win against the Raiders, he saw his production shoot up, he threw 15 touchdowns to 2 interceptions over the last 10 games, and he led the Jaguars to some dramatic, high-scoring comeback wins that had been missing for a decade in Jacksonville.
This was done with a receiving corps that was heckled last offseason, led by Christian Kirk, Evan Engram, and Zay Jones. Now the Jaguars get wide receiver Calvin Ridley, who averaged 91.6 yards per game in his last full season for the Falcons in 2020.
With Ridley joining the receivers and Travis Etienne taking over as the workhorse back, the Jaguars can improve on an offense that was already good in 2022, finishing No. 8 in yards per drive and No. 10 in points per drive. Getting to the top 5 MVP zone is doable.
Also, playing in the AFC South could be a great way to get a nice record and seed in the AFC. Even if the Jaguars lose to the Chiefs, Bills, Bengals, 49ers, and Ravens, they could still go 12-5 by sweeping a slate of teams that may not produce a single 11-win team.
---
Conclusion: Who Do You Trust?
Whether you are betting the NFL's 2023-24 MVP as a single pick or part of a parlay with other award winners, there are many great values to choose from. Just remember to choose from quarterbacks you anticipate will have great stats on a winning team.
It comes down to trust.
Patrick Mahomes
The presence of Mahomes in the AFC West likely makes it too hard for Justin Herbert or Russell Wilson (+3300 at BetRivers) to win the division and MVP. While you should probably never bet against Mahomes, do not pull all your eggs in his basket this year. Doing it again without Eric Bieniemy as offensive coordinator is nowhere near as compelling as doing it without Tyreek Hill last year.
However, when it comes down to trusting Mahomes or Jalen Hurts to repeat last year's success, you have to give the edge to Mahomes. He has the best start to a career in NFL history at quarterback.
NFL Pick: Patrick Mahomes Regular Season MVP 2023-24 (+700) at BetRivers
Trevor Lawrence
Do not ignore the second year in a system quarterback. But make sure you are picking the right one. Deshaun Watson looked terrible in Cleveland last year. Kenny Pickett is stuck in Pittsburgh with Matt Canada, the only coordinator who has not had a 400-yard game in the last two seasons.
Justin Fields (+2000 at BetRivers) is a trendy MVP pick in Chicago, but he was so bad at throwing the ball that it is unlikely adding D.J. Moore can fix that in one offseason. Also, when Cam Newton won MVP in 2015, he was on a team with a 15-1 record and the best defense in the NFC. Even if Fields could win with Newton-like stats, his team is not going 15-1 after finishing 32nd in points allowed last year. Fields is not the choice.
It is about the Florida quarterbacks here. Respect Tua Tagovailoa as a serious MVP candidate, but do show some MVP love for Trevor Lawrence, who has the advantage of the easiest AFC division to win, and he has a No. 1 receiver upgrade.
NFL Pick: Trevor Lawrence Regular Season MVP 2023-24 (+1700) at BetRivers
Lamar Jackson
When it comes to picking between Josh Allen or Joe Burrow to win their divisions again with a stellar year, I think you should instead go for Aaron Rodgers and Lamar Jackson to reclaim those divisions with bounce-back seasons with reloaded supporting casts.
NFL Pick: Lamar Jackson Regular Season MVP 2023-24 (+1400) at BetRivers
Aaron Rodgers
If only picking one quarterback to win MVP this year, go with Rodgers, the 4-time MVP who would tie Peyton Manning for the most awards with his 5th. The Jets finally having their second 4,000-yard passer since they had pro football's first way back in 1967 would be quite the story.
NFL Pick: Aaron Rodgers Regular Season MVP 2023-24 (+1200) at BetRivers
---