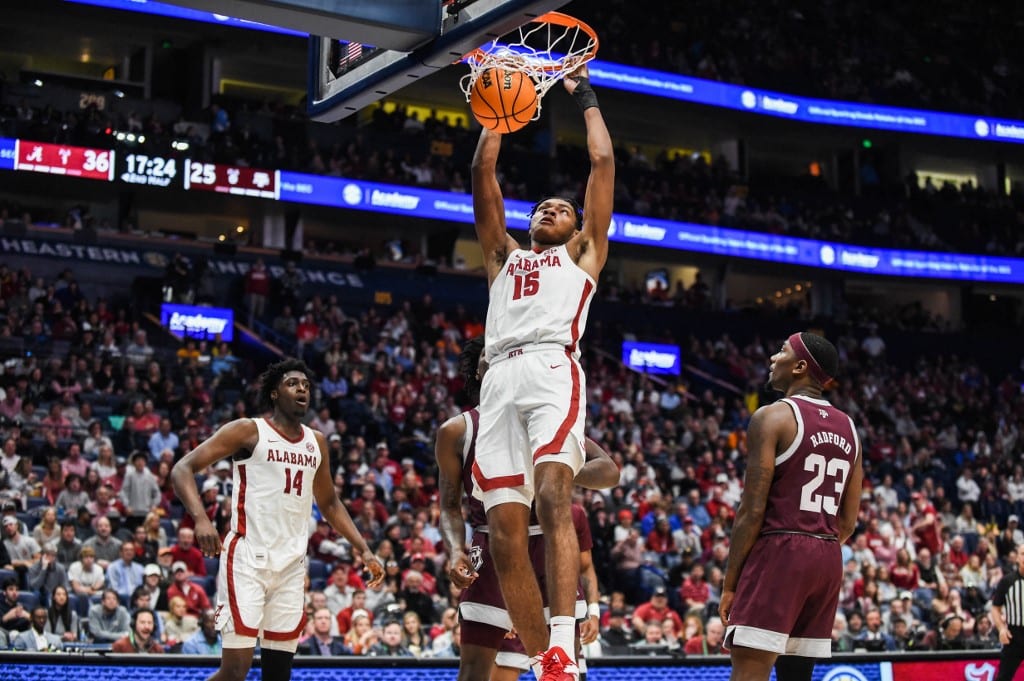 The 2023 NCAA Tournament is upon us, and it's arguably the most wide-open field in years. About the only thing we know for sure is that North Carolina won't return to the title game because it didn't make the Big Dance. Here are five things to keep in mind when wagering on the event at the top-rated sportsbooks. 
Fade Conference Tourney Early Losers
This remains one of the most remarkable statistics in NCAA Tournament history in my mind: Since the field expanded to 64 teams in 1985, no team has ever won the national championship after losing its first game in its conference tournament. And since 1993, no team has won it all without first reaching at least its conference tournament semifinals.
Thus, if we believe those trends we can already rule out No. 3 seed Baylor (+2500 at FanDuel) and No. 4 Kansas State (+7500), both of the Big 12. The Bears were upset by Iowa State 78-72 in their Big 12 opener, while KSU lost to a good TCU team 80-67. From the Big Ten, Iowa (+10000), Illinois (+10000), Northwestern (+20000), and Michigan State (+6000) lost their opener.
Seven of the last 10 champions all fell in their conference tournaments but defending national champion Kansas did win the Big 12 title in 2022. KU (+1200) lost this year's title game to Texas (+2000).
Fade No. 5 Seeds
Everyone knows to fade at least one No. 5 seed in the first round against a No. 12. Since the field expanded to 64 teams in 1985, a minimum of one No. 12 seed has defeated a No. 5 in 32 of 37 tournaments and has won 53 of 148 games overall.
Did you know that a No. 5 seed has never won the national title? It is the only top-8 seed yet to do so. Just three 5 seeds reached the title game: Butler (2010), Indiana (2002), and Florida (2000), all of which lost to No. 1 seeds. Auburn in 2019 was the last No. 5 seed to reach the Final Four but lost to Virginia.
This year's 5s are very strong: Duke (ACC Tournament champion), Miami (ACC regular-season champion), Saint Mary's (WCC regular-season champion), and San Diego State (Mountain West regular-season and tournament champion). This trend may end.
Bet No. 1 Seed/Power Teams
The NCAA Tournament became ultra-popular because of all the smaller schools upsetting the big schools. That's fine for the first or second round, but the cream does eventually rise to the top and that usually means power conference schools: ACC, Big East, Big Ten, Big 12, Pac-12, and SEC. The Big East isn't a power league in football but is in basketball.
The last time a school currently not in one of those power leagues won it all was UNLV in 1990. That's also the last time the champion came from a conference that received fewer than four bids as the Rebs' then-Big West Conference had a total of three bids.
Houston, the No. 1 seed in the Midwest Region, is the +500 championship favorite and is playing its final second in the American Athletic Conference, which only got one other bid this year: Memphis. Gonzaga, the No. 3 seed in the West, is +1500 to finally win a title but its West Coast Conference only got two bids as the Zags were joined by Saint Mary's.
Meanwhile, a No. 1 seed has cut down the nets in five straight NCAA Tournaments, although the No. 1 overall hasn't since 2013 when Louisville did. Alabama (+800) is the No. 1 overall this year. The Tide have never reached a Final Four.
Monitor These Injuries
Every team is banged up this year, but three national title contenders have injuries to monitor. Tennessee (+2500) recently lost point guard Zakai Zeigler to a season-ending knee injury. The sophomore averaged 10.7 points and 5.4 assists. UT lost two of its final three without him and might be on upset alert in Round 1 vs. Louisiana.
Houston played and lost Sunday's AAC title game without conference Player of the Year Marcus Sasser, who injured his groin in the previous game. The senior averages 17.1 ppg. It sounds like it's not major, but it could perhaps keep Sasser out the first weekend with UH facing Northern Kentucky in Round 1. Houston looks to become the first hometown team to play in a Final Four since Butler lost the 2010 title game in Indianapolis to Duke.
This writer had UCLA (+1200) in the Final Four before losing Pac-12 Defensive Player of the Year Jaylen Clark to a season-ending injury. Not a coincidence the Bruins lost in the conference title game to Arizona without him. Freshman of the Year Adem Bona was out vs. the Cats, but his injury isn't believed to be long-term.
Kansas Penalized
Entering this past Saturday, defending national champion Kansas was in the driver's seat for the No. 1 overall seed with an NCAA-record 17 Quad 1 wins but was dominated in a loss to Texas. While KU still was named a No. 1 seed, it got sent to the ultra-tough West instead of the Midwest, where Kansas could have played Sweet 16 and Elite Eight games close to home in Kansas City – also home of the Big 12 Tournament. Now Kansas will play the second weekend in Las Vegas if it gets there.
Florida is the last school to repeat as champion (2007). Since then, no defending champ has advanced past the Sweet 16 and only two of the previous 14 even got that far. In each of the past five tourneys, they lost in the first or second round. KU is -225 to reach the Sweet 16 and +180 for no.
Hall of Fame coach Bill Self missed the Big 12 Tournament due to health reasons but is expected back for the Big Dance.
---