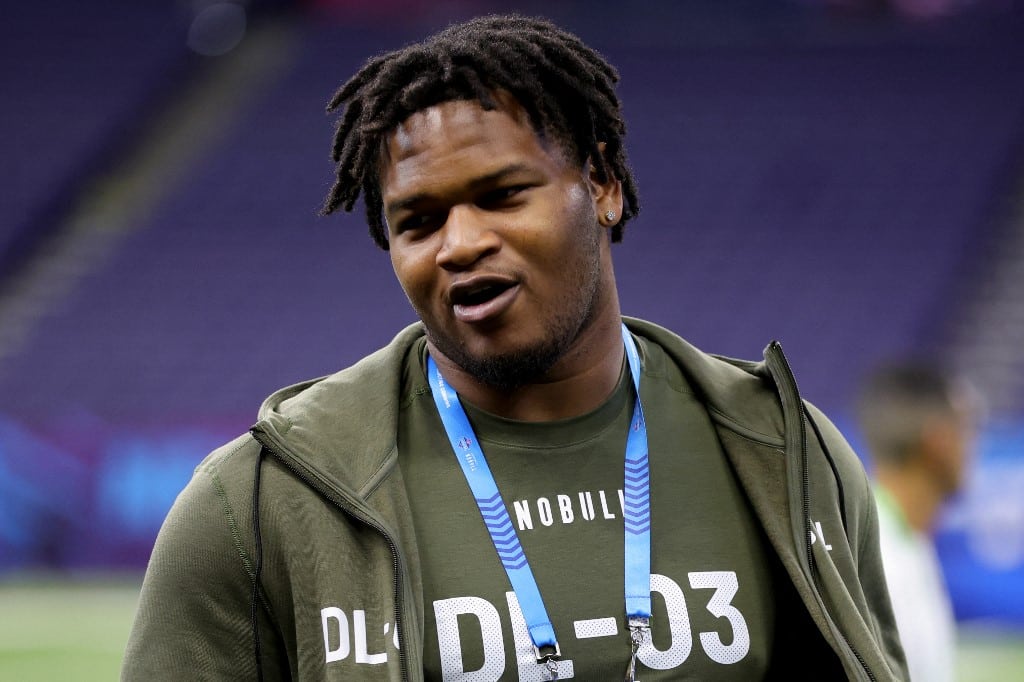 NFL Pick: Jalen Carter to Be First Defensive Player Selected (+550) at FanDuel
Last season was a historic NFL draft in that the top five picks were all defensive players in 2022. This year's draft looks to be high on quarterbacks at the top, but there should still be some defenders that go high.
When it comes to the betting markets for the first defensive player drafted, this has basically been a two-man race with a third player thrown into the mix late. Let's break down the odds for the 2023 NFL draft and see where the value is when it comes down to this category.
The following odds are via FanDuel, as of March 25, and sum up the three players who have odds better than +2000. For the full list of odds for who'll be the first defensive player to be selected
Will Anderson, Alabama (-350)
Jalen Carter, Georgia (+550)
Tyree Wilson, Texas Tech (+600)
We make our pick for the best value bet in this market below and here's the full list of odds for who'll be the first defensive player to be drafted.
---
Will Anderson: The Preseason Favorite
You could say going into the 2022 season that Alabama edge rusher Will Anderson was the favorite to be the first defensive player drafted in 2023. He was fifth in Heisman voting in 2021 after racking up 17.5 sacks and 31 tackles for loss.
In 2022, Alabama did not have the stellar year it usually does, and Anderson finished with 10 sacks and 17 tackles for loss. But he is still holding onto his status as a top-edge rusher in this draft class.
But there was a point very recently where Georgia's Jalen Carter had -105 odds to be the first defender in the draft while Anderson was +130. Then charges for an off-field incident were filed and everything changed, casting doubt on Carter and putting Anderson in the driver's seat to win this betting market.
Anderson would be a logical fit as the No. 3 pick for the Cardinals, who lost J.J. Watt to retirement. It is hard to see him lasting past No. 5 (Seattle) in this draft. But we will see if his clean resume off the field is in fact the difference maker in this draft as many have jumped ship to Carter being the best talent.
---
Jalen Carter: The Troubled Star
As we said, it was just recently that Carter was the odds-on favorite over Anderson to go first in this draft on the defensive side. Carter was a standout defensive tackle at Georgia, the back-to-back national champions who had an outstanding defense.
But on March 1, Carter was arrested and charged with reckless driving and racing. He allegedly was racing another vehicle in January that later would crash and lead to the deaths of a Georgia staffer and offensive lineman.
Carter has entered a plea of no contest to the charges, and he was sentenced to 12 months of probation, a $1,000 fine, he must perform 80 hours of community service, and he has to finish a state-approved defensive driving course.
Uncertainty
This tragic, unfortunate moment paints a cloud of uncertainty over Carter's future, but even in this era, some NFL team is likely to take him high in the draft for his talent. But the sportsbooks have scrambled and greatly lowered his odds. You can find Carter for +375 at Bet365 where he even trails Tyree Wilson (+300) for first defender drafted. FanDuel happens to offer a valuable price of +550.
But with a team like the Arizona Cardinals already having multiple negative storylines in regard to reckless driving over the years, they may not want to go this route with the No. 3 pick. They may feel Anderson is a much safer pick.
With Pete Carroll and the Seahawks holding the No. 5 pick, that is a coach with clout who could pull this pick off and try to sell it to the fan base of giving Carter a second chance in life. Carter is also a better fit for his defense than Anderson, who is better suited for a 3-4 defense. But even if that does happen, it still feels more likely that Anderson has already been selected by Arizona.
---
The Dark Horse: Tyree Wilson
While much of this has been between Anderson and Carter all the way, Texas Tech's Tyree Wilson is someone who is at least an option with the odds. He is +600 at FanDuel and +300 at Bet365 (ahead of Carter at +375).
Wilson had 7.0 sacks in each of his last two seasons at Texas Tech. He would be a good fit as a 4-3 defensive end for any defense in need of a starter at that key position.
But Wilson's issues are two-fold. Arizona is a better fit for Will Anderson, and if the first four picks are offense, then Seattle likely sees a better fit and talent pick with Carter than they do Wilson. It is highly unlikely we get to No. 6 (Detroit) or No. 7 (Las Vegas) without any defenders taken in this class.
Wilson is truly a dark horse pick and you can find him with some decent juice at FanDuel (+600).
---
The Pick
Going chalk on a -350 pick is never fun in my view, but Anderson is the smartest choice since he has the scheme fit for Arizona at No. 3, he is clean off the field, and he is just a better prospect than Wilson as an edge rusher.
Arizona not going defense and Seattle surprising everyone with a pick of Carter is not at all unrealistic in this draft. For that reason, throwing a reasonable wager on Carter here makes a lot of sense and could be your best value pick when -350 and +550 are your top two choices in this market.
NFL Pick: Jalen Carter to Be First Defensive Player Selected (+550) at FanDuel
---