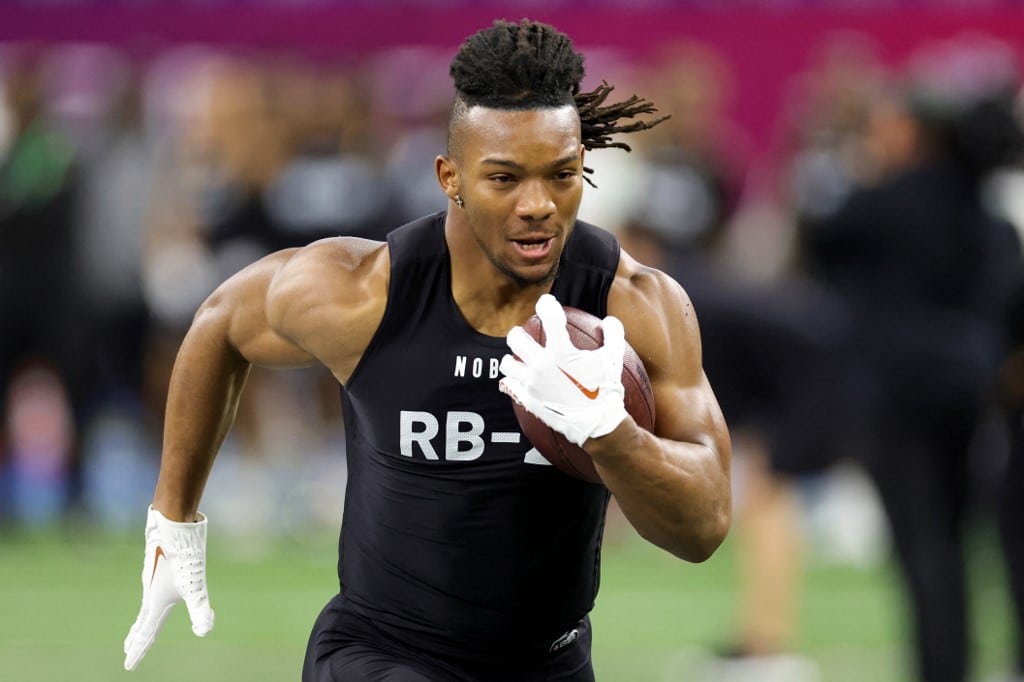 NFL Prop Pick: Bijan Robinson To Win Offensive Rookie of the Year (+300) at Caesars Sportsbook
---
The 2023 NFL draft should produce a very interesting race for the Offensive Rookie of the Year award. The draft class saw three quarterbacks go in the first four picks, two running backs in the top 12, four straight wideouts starting with the 20th pick, and one first-round tight end for good measure.
Using the current odds found at OddsTrader, we are going to analyze the field of contenders and make our best pick heading into June. With OddsTrader, you can keep track of which top-rated sportsbooks are offering the best juice for the pick you want.
---
Who Usually Wins the Offensive Rookie of the Year?
Since the NFL's common draft era began in 1967, here is the breakdown of winners by position for the AP Offensive Rookie of the Year award:
35 running backs (including fullbacks)
11 wide receivers
10 quarterbacks
Often dominated by the running back position, the last two winners have been wide receivers (Garrett Wilson and Ja'Marr Chase). Quarterbacks used to fail to impress as rookies, but things really changed in the 2000s not long after Ben Roethlisberger won the award in Pittsburgh in 2004. Since then, 9 of the last 19 winners have been quarterbacks.
How Does This Year's Field Differ from 2022?
This looks to be a much different race than in 2022. That draft class produced zero Week 1 starter at quarterback, and Pittsburgh's Kenny Pickett was the only passer to eclipse 1,400 yards on the season. Brock Purdy came on strong late in the year, but it was hard to justify voting for him under the circumstances.
While quarterback was an afterthought last year, it will be a big deal this time as three of the top four picks were quarterbacks Bryce Young (Panthers), CJ Stroud (Texans), and Anthony Richardson (Colts). It is possible they all start in Week 1, and if any of them do the unexpected and lead their team to the playoffs with decent stats, they will have a built-in advantage to win the award because of positional value.
Last year's award was going to the Jets all the way. If it was not for wide receiver Garrett Wilson winning it by shining with three different quarterbacks, it probably would have gone to running back Breece Hall had he not torn his ACL.
This year does have two running backs who were drafted in the top 12 picks, which is very unusual in this era of the NFL. The wide receivers were taken much lower this year and figure to be playing as secondary pieces of receiving corps that already have clear-cut No. 1 and No. 2 targets.
No tight end or offensive lineman has ever won the award, and you can all but guarantee that will continue this season.
---
The Contenders and Long Shots
---
We look at the top eight contenders, ranging in odds from +300 to +2500, and a couple of dark horses with much longer odds (+4000 and worse).
Falcons RB Bijan Robinson: The Favorite
Texas back Bijan Robinson is the betting favorite, and he is certainly going to a great spot after the Falcons finished No. 1 in rush attempts and No. 3 in rushing yards. They did that with a 5th-round rookie back (Tyler Allgeier) rushing for 1,035 yards.
We know the Falcons want to run the ball with Desmond Ridder at quarterback, and Robinson is probably the best prospect drafted since Saquon Barkley in 2018. Barkley won the Offensive Rookie of the Year award that season even though the Giants had a poor season and overall offense.
But the NFC South is a winnable division, the Falcons have a wild card in Ridder, and Robinson could have an impact as a receiver in addition to a runner. It remains to be seen if he will be enough of a workhorse to win this award because the team still has Allgeier and Cordarrelle Patterson on the roster.
But Robinson is a logical pick and a worthy favorite for the award.
---
Panthers QB Bryce Young: The No. 1 Pick
The No. 1 pick in the draft is the betting favorite among the quarterbacks. Young does not appear to have the greatest receiving corps around him after the team traded No. 1 wideout D.J. Moore to help get this top pick, but he has a good coach in Frank Reich, and the Panthers will have a shot at winning the division after 8-9 won it last year.
A division win would certainly be a huge deal for Young, but he has to show his height and small frame will not be detrimental to a long, successful career in the pros. His pocket presence and ability to improvise to throw should pay off well and make him closer to a young Deshaun Watson or Russell Wilson than a Justin Fields or Michael Vick, but he must prove he can stay healthy.
---
Colts QB Anthony Richardson: The Running Man
If you are looking for precedent for Richardson, think of Titans quarterback Vince Young, the 2006 Offensive Rookie of the Year. He did not have great passing stats, but he ran the ball well and the team started winning behind him thanks to some dramatic moments.
The Colts may not need to start Richardson right away, but if they do, they are looking at likely the best runner of the top quarterbacks in this draft. He could have an impact that way right away while developing as a passer as the season wears on. Head coach Shane Steichen will try to bring Richardson along like he did Jalen Hurts in Philadelphia, though in 2021, Hurts only had 16 touchdown passes in his first full year as a starter.
Richardson may be too raw to be consistent enough to win an award as a rookie, but the Colts playing more like the winning team they were supposed to be in 2022 would help him along. Richardson should enjoy having Jonathan Taylor in the backfield with him.
---
Texans QB CJ Stroud: The Franchise?
Stroud may have less talent around him than he had at Ohio State, but the Texans took a big swing by drafting him and Will Anderson with the No. 2 and No. 3 picks. But the Texans are going to need him to be a prolific passer early on to give this team some identity after two irrelevant years since Deshaun Watson's career soured in Houston.
Stroud is not going to run around as much as Stroud and Richardson among the rookies, and that could hurt him in a variety of ways from statistical production to highlight reels to winning games. He has a chance to put up more passing volume than the other two, but the efficiency is unlikely going to be there like it was for past quarterback winners of this award, including Ben Roethlisberger (2004), Matt Ryan (2008), and Dak Prescott (2016).
---
Lions RB Jahmyr Gibbs: Bijan Who?
The Lions shocked a lot of people when they used the No. 12 pick on Jahmyr Gibbs as it was always assumed that Bijan Robinson was the only back worth a first-round pick this year.
Gibbs joins a very good offense from last year, and it is an offense that said goodbye to D'Andre Swift (Eagles) and Jamaal Williams (Saints) with the latter scoring 17 touchdowns. The opportunities will be there, but Gibbs has to overcome what has essentially been 25 years of disappointment at the position for Detroit since Barry Sanders retired. Just cite the names Kevin Jones, Jahvid Best, and Kerryon Johnson, and Lions fans will be reminded of all the backs who could not stay productive on the field for them.
Robinson in Atlanta is the better back and should be the better pick here.
---
Seahawks WR Jaxon Smith-Njigba: Geno's New Favorite?
Jaxon Smith-Njigba was the first wide receiver off the board at pick No. 20, and he was the top-rated wideout by many draft analysts, but Seattle is an interesting landing spot with Tyler Lockett and DK Metcalf already so established there. Maybe Metcalf is playing elsewhere soon, but in 2023, Smith-Njigba is going to have to compete as a No. 3 wideout.
We also know Pete Carroll loves to run the ball, and Geno Smith was not as strong down the stretch last year as he started the season. He may be a bit of fool's gold for the team, and the Seahawks have not developed a No. 3 wideout in their offense in many years.
Smith-Njigba may prove to be a good pick for the team in the long run, but his chances for OROY look weak.
---
Vikings WR Jordan Addison: Justin Jefferson's New Partner
Remember when Justin Jefferson had 1,400 yards in 2020 as a rookie and still lost OROY to Justin Herbert? The standard is really high at the wide receiver position. Despite Garrett Wilson and Ja'Marr Chase winning it the last two years, Jordan Addison is going into a situation where he is clearly no better than the No. 2 wideout with Jefferson there.
The good news is Adam Thielen left, so there is a spot to start and produce right away. But barring a Jefferson injury early in the year, the numbers are just unlikely to be there for Addison.
---
Chargers WR Quentin Johnston: In Justin Herbert We Trust
If there is a wide receiver to bet on this year, it could be Quentin Johnston just because of how frequently the Chargers like to throw the ball with Justin Herbert. They also throw it very well as the team had four 700-yard receivers and six 500-yard receivers last year.
The injuries to Keenan Allen and Mike Williams helped make that happen, but their durability is a bigger question mark than we see with the Seahawks (Metcalf and Lockett) and Vikings (Jefferson). That could help Johnston, though he is not as dynamic a prospect as some of the past winners of this award, including Randy Moss, Odell Beckham Jr., and Anquan Boldin.
---
Chiefs WR Rashee Rice: Longshot
Now we are looking at longshots, and why not take a shot on a new wide receiver for Patrick Mahomes, the leader of the best offense in football? Rashee Rice was the 55th pick in the draft this year out of SMU where he exploded with 1,355 yards and 10 touchdowns in 2022.
The thought process here is the Chiefs lost JuJu Smith-Schuster, opening up a de-facto No. 1 wide receiver spot. Kadarius Toney is always injured, and Travis Kelce will be 34 at a position notorious for quick declines. Maybe Rice could be a surprise breakout candidate if he gets big playing time with the best quarterback.
Just remember to treat it as a longshot.
---
Bills TE Dalton Kincaid: Longshot
No tight end has ever won the award, though Mike Ditka of the Bears was voted the best rookie by various outlets that operated in 1961. Still, that means everyone from Kellen Winslow to Tony Gonzalez to Jason Witten to Rob Gronkowski to Travis Kelce to Kyle Pitts failed to win OROY.
Dalton Kincaid figures to be the best-receiving prospect at tight end in this year's draft, and he landed in a good situation with Josh Allen and the Bills. However, the Bills already have an established No. 1 receiver in Stefon Diggs, and Dawson Knox is still the No. 1 tight end. The Bills could use Kincaid in the slot and as a move tight end, but this is such a hard position to get major production out of as a rookie, and anything short of 800 yards and a bunch of touchdowns will likely leave Kincaid out of the running.
---
The Pick
It seems best to leave the receivers out of it this year as the best prospects are going to teams that just do not need them to be stars in 2023. You basically have Robinson against the trio of quarterbacks as the Titans are unlikely to go to Will Levis any time soon.
If the Panthers, Colts, or Texans were to surprise people and win their division, you could absolutely see that quarterback winning the OROY award. However, you may be better off just betting those teams as division winners if you are going that route. The statistics may not be there for these passers as none of them are considered on that Andrew Luck tier of prospects.
It may be chalk, but Robinson is still the safest, most logical pick. He went to a winnable division with a team that wants to run the ball as much as anyone. Even if Allgeier and Patterson eat into his touches, the Falcons are going to be a run-heavy offense that features Robinson often enough for him to eclipse 1,500 yards from scrimmage and double-digit touchdowns if Ridder is even halfway decent as a quarterback.
NFL Prop Pick: Bijan Robinson To Win Offensive Rookie of the Year (+300) at Caesars Sportsbook
---