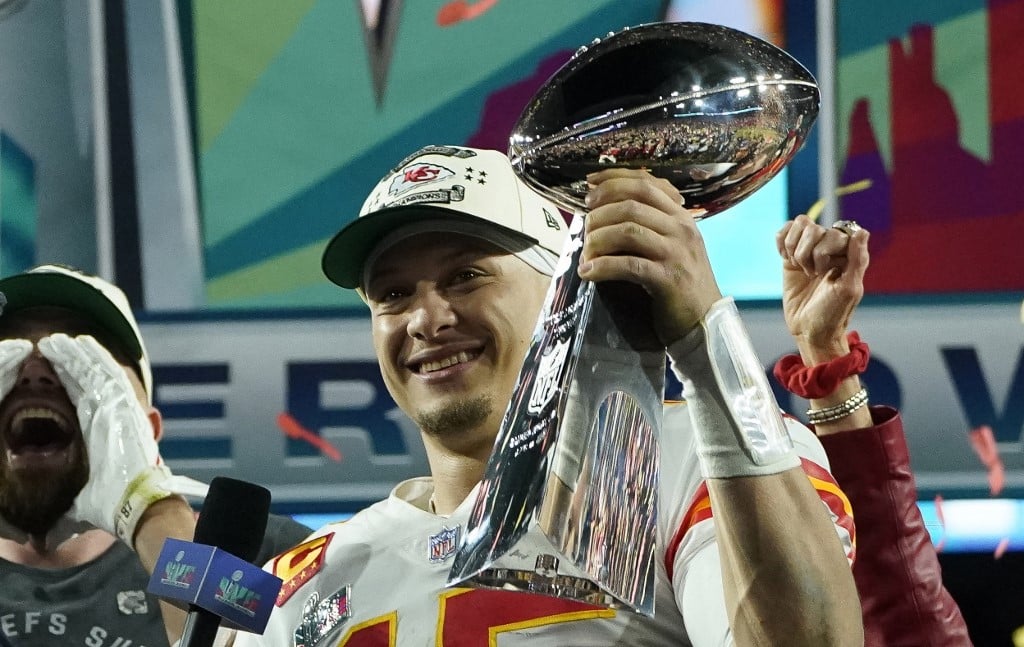 ---
The NFL's Most Valuable Player (MVP) award is arguably the most coveted individual award in the game each season. But while you can bet on it at top-rated sportsbooks, there are certain qualities about the typical winner that can give you an advantage on the players to bet.
With the help of current odds found with OddsTrader, we look at the way to tackle the 2023 regular season MVP race. What are the main ingredients to winning the award, which stats should you isolate, and which favorites or dark horses have the right narrative push to put it all together this year?
Golden Rule: Pick a Quarterback With Great Stats on a Successful Team
Chances are that the MVP award is going to a quarterback with great efficiency stats on a highly successful team this season. Since 2007, 15 of the 16 MVP winners have been quarterbacks. If Cooper Kupp could not come close to winning the award with one of the greatest wide receiver seasons ever, it is unlikely any wide receiver can do it.
We already know the tight end and offensive linemen stand no chance, and even the best tight end (Travis Kelce) is limited by having the best quarterback (Patrick Mahomes). Running back is also downgraded these days, and none of the top contenders really have a dominant back. That is why you see Derrick Henry (+15000 at Caesars Sportsbook) and Nick Chubb (+30000 at Caesars Sportsbook) far down the MVP odds.
But being on a great team also matters for MVP. Since 1981, a quarterback has won MVP 33 times, including a tie in 2003 between Peyton Manning and Steve McNair:
Of the 33 MVP seasons, 25 were done for a No. 1 seed (75.8%) and only two were a wild card team.
Twenty-nine of 33 seasons (87.9%) were by quarterbacks on teams with 12 or more wins.
Twenty-one of 33 seasons (63.6%) were by quarterbacks on teams with 13 or more wins.
Key Factors for Winning the MVP Award in the NFL
Finally, to win MVP you need great efficiency stats in addition to good volume stats like a lot of yards and touchdowns for an offense that is among the league's best:
Of the 33 MVP seasons since 1981, 2015 Cam Newton (No. 11) was the only quarterback who did not rank in the top 5 in passing DYAR (total value) at Football Outsiders.
Since 2007, 2015 Newton (No. 11) is also the only MVP quarterback who did not rank in the top 3 in ESPN's QBR.
Eleven of the last 15 MVP winners (including all 5 since 2018) finished No. 1 in QBR.
Since 1994, all 25 quarterbacks to win MVP played for offenses that finished in the top 5 in points per drive, including a No. 1 ranking in 11 of the last 12 seasons.
Even though the MVP award is now done by ranked voting of a voter's top 5 candidates, these qualities will still determine the winner almost every year. It will be a quarterback with great efficiency stats, leading a great offense, for a team having a very successful winning campaign. Those are the main ingredients to keep in mind.
The other factor is building a strong narrative to tie everything together. That is what we will focus on in the next sections when we run through some of the favorites and dark horses.
---
Patrick Mahomes (+700): Voter Fatigue?
The NFL voters are largely a different group of people from NBA voters, but voter fatigue is a real thing to consider. We just saw it happen with Denver's Nikola Jokic being denied a third-straight MVP over Joel Embiid despite Jokic having similar numbers to his previous MVP years for a No. 1 seed.
People almost get bored with greatness, and with Patrick Mahomes (+700 at BetRivers), everyone should know by now that he is the best player in football. Mahomes won his second MVP last year after guiding the Chiefs to a 14-3 record, the No. 1 seed, and leading the No. 1 offense despite losing top wideout Tyreek Hill.
But what is the argument going to be this year? We know he can get it done without Hill, but anything shy of leading the league in yards, touchdowns, and QBR again, it will be hard for Mahomes to repeat as people look for fresh ideas. For as great as Mahomes has been, 2018 and 2022 are the only seasons where he led the NFL in touchdown passes and QBR. It is not easy to repeat that performance.
If Travis Kelce, who turns 34 in October, starts showing his age, or if Kadarius Toney is constantly injured with no more JuJu Smith-Schuster available, then maybe the Chiefs take a step back offensively, allowing someone else to bypass Mahomes.
But while never betting against Mahomes is becoming a good rule of thumb, he may not be your most valuable MVP pick right now for 2023.
Joe Burrow (+800) & Josh Allen (+900): The AFC's Other Guys
The AFC has basically come down to the Chiefs, Bengals, and Bills the last two seasons. That could change this year with more contenders, though these teams are generally regarded as the best due to the quarterbacks with Joe Burrow (+800 at BetRivers) and Josh Allen (+900 at BetRivers) being on a short list of players who can go toe to toe with Mahomes in big games.
In fact, Allen was the MVP front-runner in the last two seasons after winning in Kansas City in October, but he has not been able to sustain that level of play through the end of the year. You could even argue 2020 was his most consistent season when he initially broke out after the team acquired Stefon Diggs. Buffalo has some soul-searching to do after a rough end to the season in the playoffs.
As for the Bengals, Burrow gets a lot of credit, but will adding Orlando Brown at left tackle really bring his sacks down dramatically, or is there something fundamentally wrong about the way he tries to push the ball for big plays that usually leads to excessive sacks against good rusher?
The wide receivers are still great for Burrow, but his yards per attempt dropped a full 1.5 yards last season, and the advanced stats still detest his sack rates. Burrow may not be able to elevate beyond what he's done the last two seasons to earn his first MVP award.
Jalen Hurts, Justin Herbert, Trevor Lawrence: The Young Guns
At some sportsbooks, there is a three-way tie of young quarterbacks from the 2020 and 2021 draft classes with +1000 odds for MVP. Other places have them at slightly different odds.
Jalen Hurts (+1200 at Caesars Sportsbook) finished No. 2 in the MVP race last year after a great season. But his shoulder injury late in the year did hurt his MVP chances, especially since he could not play in the big rematch with Dallas. The way Hurts runs the ball so much does make him a bigger injury concern than your average quarterback. Also, a lot of his success was thanks to the addition of A.J. Brown from Tennessee. The Eagles are largely rolling with a similar cast on offense this year, but we will see how Hurts adjusts to a new offensive coordinator.
Justin Herbert (+1500 at Caesars Sportsbook book) was a top-five pick for MVP last year, but he basically saw that dream crumble in Week 2 after a pick-six in Kansas City and a rib injury. The Chargers never seem to catch a good break, and they blew a 27-point lead in the playoffs. But Herbert is always a good idea for MVP as we wait to see that year where this team puts it together with the top players staying healthy and Herbert taking that step up in efficiency stats to the next level.
Unfortunately, the Chargers settled for TCU wideout Quentin Johnston in the first round, another possession receiver in the mold of Mike Williams or Keenan Allen. It would be nice to see Herbert play with some real speed at that position for a change, but his biggest problem is never having a good defense and having to deal with Mahomes and the Chiefs in that division.
Trevor Lawrence (+2000 at Bet365) has to like his division makeup as the Colts (Anthony Richardson), Titans (Will Levis), and Texans (C.J. Stroud) all opted for rookie quarterbacks in the draft. Jacksonville is a favorite to build on last year's playoff run and win the division again, and Lawrence will have a new weapon in Calvin Ridley, who served a 2022 suspension for gambling. Lawrence already got surprisingly good results out of Christian Kirk, Evan Engram, and Zay Jones last year. Adding Ridley should only make things better.
We also know it was Doug Pederson's second year with the Eagles (2017) where he helped elevate the team to a No. 1 seed and Super Bowl with some believing Carson Wentz was an MVP candidate. Maybe he could do the same with Lawrence in 2023, so this is a pick with more value than most.
Lamar Jackson (+1800): Remember 2019?
Lest we forget, Lamar Jackson (+1800 at Caesars Sportsbook) was the unanimous MVP in 2019. That is also the only season where he has thrown for over 3,000 yards because his last two seasons are best known for getting injured in December and not playing again when the team needed him most.
But Jackson will be back in Week 1 with a new contract, a new offensive coordinator (Todd Monken), and an improved cast of weapons that are arguably the best he has had in the NFL.
When looking for a potential MVP season, you have to consider the supporting cast's strength. Tom Brady never won an MVP until 2007 when his team loaded up for him by bringing in Randy Moss, Wes Welker, and Donte Stallworth.
The Ravens have not gone that all in on 2023, but the additions of Odell Beckham Jr. and first-round wide receiver Zay Flowers should give Jackson his best-receiving corps to go along with Mark Andrews, Rashod Bateman, Nelson Agholor, and running back J.K. Dobbins.
That hiring of Monken as offensive coordinator could also be huge because he should bring this offense deeper into the 21st century than Greg Roman did. The Ravens may have won the AFC North the last two years had Jackson not been injured, so if he can stay healthy, this team has the right pieces to win 12-plus games and for the dual-threat quarterback to be the main reason for that.
Jackson is an excellent MVP choice for 2023.
Aaron Rodgers (+1800): Tying the MVP Record?
It may be hypocritical to say voters will have fatigue with Patrick Mahomes, and then say four-time MVP winner Aaron Rodgers (+1800 at Caesars Sportsbook)is the best bet for the 2023 NFL MVP, which would tie him with Peyton Manning for the most MVP awards all time, but this is not the same old Rodgers. We get to see him out of Green Bay and in a new, competitive conference with a franchise that has been trying to find a great quarterback for half a century.
Rodgers will have some familiar faces to help him in New York, which should give him an advantage over some of the past greats to switch teams late in their career. Rodgers already won two MVP awards under new offensive coordinator Nathaniel Hackett, who makes a far better OC than he does a head coach. Rodgers will also have Allen Lazard and Randall Cobb to throw to, maintaining the chemistry there.
Oh, he also has a legit No. 1 wide receiver again in Garrett Wilson, the reigning Rookie of the Year. The defense may be the best he has played with since the 2010 unit that won him his only Super Bowl.
Winning an MVP in your first year with a team is hard. Earl Morrall was the last to do it with the 1968 Colts, and that opportunity was only because Johnny Unitas was injured. Even Peyton Manning got passed over in 2012 for a running back (Adrian Peterson) despite transforming Denver from Tim Tebow back into his classic offense.
Rodgers is an all-time great and still has the talent to do big things, and as we look for a new contender in the AFC, this team checks the boxes for a breakout year. But none of it will come to fruition without Rodgers playing at a high level.
You should trust him to do it.
Tua Tagovailoa (+2200): It Is Tricky
Tua Tagovailoa (+2200 at Caesars Sportsbook) had an uneven 2022 for the Dolphins, and that is probably to be expected given his multiple concussions and the team's mishandling of that situation. But the facts are that Tagovailoa finished No. 1 in touchdown percentage (6.3%), yards per attempt (8.9), yards per completion (13.7), adjusted net yards per attempt (8.37), and passer rating (105.5).
That can usually get you an MVP vote, but Tagovailoa did not even get credit for a Pro Bowl appearance. That can happen when you miss 4.5 games, and when you lose your final 4 starts by completing 52.6% of your passes with 6 touchdowns and 5 interceptions against better competition.
Can Mike McDaniel build on his system in Year 2 and get a monster season out of Tua if he avoids the concussions? It would be akin to Sean McVay taking Jared Goff and the Rams to the Super Bowl in his second season (2018). Winning 13 games and the AFC East would likely get Tagovailoa at the top of the heap, but the multiple concussions do give some pause on his long-term viability.
Justin Fields (+2500): Sell This Stock
There is a slight buzz for Justin Fields (+2500 at Caesars Sportsbook) as MVP and the Bears to take over the open NFC North, but it is a tough sell. The Bears would have to make huge gains as a passing offense and a defense after Fields was the least impactful passer in 2022, and the defense ranked 32nd in points per drive allowed.
To do this, the Bears have retained the same head coach and top two coordinators. They traded for D.J. Moore, a possession receiver from Carolina, and they still have to prove they have a plan for the passing game after getting nothing out of Chase Claypool following last year's trade. Drafting offensive tackle Darnell Wright is a step in the right direction for the offense, but it is unlikely to be a needle mover in 2023.
Remember, quarterbacks largely become MVP winners for their passing efficiency. Only Cam Newton in 2015 defies that, but even then, it is hard to see Fields leading the Bears to a 15-1 record or throwing 35 touchdowns as Newton did, based on his first two years.
Fade this pick of Fields for MVP.
Russell Wilson (+4500): The Brightest Dark Horse?
If you still believe coaching matters and that Sean Payton is a great, Hall of Fame coach, then you should love the idea of him teaming up with Russell Wilson (+4500 at Caesars Sportsbook) in Denver. For as bad as Nathaniel Hackett was in that role last year, Wilson does shoulder plenty of blame too with inaccurate passes and a failure to elevate his teammates in big spots.
But Denver did lose a very good wideout to injury in Tim Patrick before the season even started. Running back Javonte Williams was lost very early. Greg Dulcich only came on at tight end late in the year. Wilson himself was not always healthy.
The team was 3-10 in close games and blew a handful of fourth-quarter leads, so it could have been a very different season with a little bit better play. This is where Payton should work some wonders, and hopefully, the defense will continue to be one of the best too.
Surprisingly, Wilson played some of his most inspired ball against the Chiefs even if Denver still lost both games. Denver would likely have to win the AFC West for Wilson to finally get the first MVP votes of his career, but if you are on board with the Payton signing, then this is a valuable pick at +4500 as Wilson is not finished by any means in this league.
Let the guy who got a 5,000-yard season after a 5,000-yard season out of Drew Brees and found ways to make Taysom Hill work get his hands on this offense.
Trey Lance (+5000): Trust the Shanahan System?
A lot of bettors liked Trey Lance (+5000 at Caesars Sportsbook) as a value pick for MVP in 2022 given Kyle Shanahan's great offensive system and the talent in place there. But that dream lasted 5 quarters after Lance broke his ankle in Week 2.
Now, he is +5000 for MVP, but will he even start the whole season after what Brock Purdy (+6600) did? The 49ers have a tough situation here because they spent so much in draft capital on Lance, who has not been given a fair shake yet, but he also has not looked the part of a franchise quarterback yet. Purdy was doing a great job before his serious injury in the NFC Championship Game.
Overall, I would avoid the San Francisco quarterback situation for MVP, because the tackle-breaking talent (Deebo Samuel, George Kittle, Christian McCaffrey, Brandon Aiyuk, etc.) and Shanahan's system are still going to garner so much of the credit for the success no matter who is under center for most of the snaps.
Kenny Pickett (+6000): Not So Fast
Finally, let's end with a discussion of another dark horse in Pittsburgh's Kenny Pickett. There was a short-lived trend of backing the young quarterback after Mahomes and Jackson won MVP in their second season in the NFL in 2018-19.
While this made sense for those players, Pickett is not on that level, and the odds are against him ever getting to it. He threw just 7 touchdown passes on 389 attempts last season, the 5th-lowest touchdown pass percentage (1.8%) in NFL history (min. 350 attempts).
Pickett could certainly improve in Year 2, but he is still stuck with the same offensive coordinator (Matt Canada), and it's not like the Steelers added a Randy Moss in the offseason. In fact, the team did not draft any wide receivers this year. Pickett also has that difficult division to deal with, so winning 12-plus games looks like a pipe dream.
If you want a dark horse, look at Derek Carr (+4500 at Caesars Sportsbook) on the Saints. He should have an absurdly easy schedule to inflate his record, he could be the best quarterback in his division, he might have the best defense of his career, and he is surprisingly good at leading game-winning drives that could bolster his MVP case the way he bamboozled six voters to pick him in 2016 with the Raiders.
But your best bets right now should be Rodgers, Jackson, Wilson, Lawrence, and the safety net that is Mahomes.