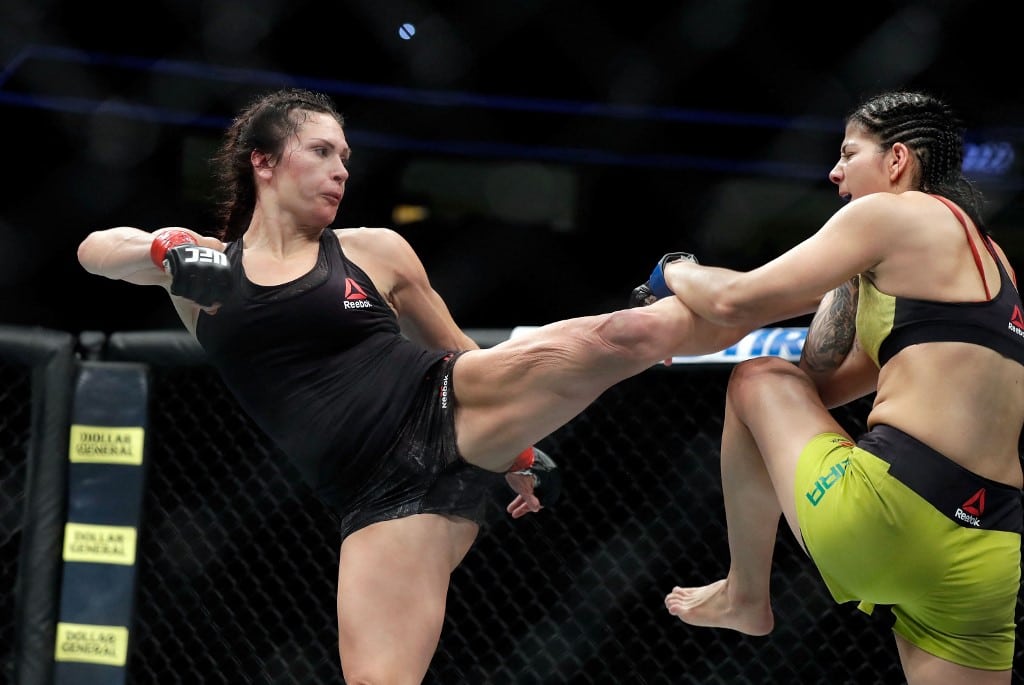 Bellator MMA arrives in sunny Temecula, California. Two heavyweight sluggers and two top-ranked women's featherweights attempt to stake their title-contention claim in the co-main and main-event bouts of the evening.
Sportsbooks have released the betting odds for Bellator 293, which is live from the Pechanga Resort Casino on Friday. We share our most valuable best bets from the evening's top-of-the-bill bouts, including Marcelo Golm vs. Daniel James and Cat Zingano vs. Leah McCourt below.
Bellator Best Bet 1: Daniel James ML (+125)
Bellator Best Bet 2: Cat Zingano ML (-380)
Added Value Bet: Cat Zingano by Decision (-105)
---
Bellator 293 Heavyweight Main Event Bout
---
Friday, March 31, 2023 – 11:50 PM EDT at Pechanga Resort Casino
---
---
Marcelo Golm (10-3-0) hasn't owned the smoothest beginnings to his professional MMA career, and most fight fans will likely remember his 0-3 run in the UFC during 2018 and 2019. However, age and experience are huge factors in the development of a fighter, and the heavy-handed Brazilian has undoubtedly refined his skillset and matured over recent years.
Golm has reinforced his position as a worthy MMA heavyweight following his three-fight UFC losing skid and is now riding a four-fight consecutive win streak with two KO/TKO stoppages and two submission victories. He's 2-0 under the Bellator banner and, aged 30 years old, has barely touched the prime fighting years for a heavyweight contender.
Chicago's own Daniel James (14-6-1) is something of an anomaly. After winning his Bellator debut in 2014, many expected James to continue his professional career by rising through the Bellator rankings. However, he dropped off onto the regional MMA circuit for eight long years before Bellator came knocking.
It's uncharacteristic of a promotion to disregard a prospect who completes his debut for the promotion with a TKO finish to then re-sign him at the age of 41. However, here we are, and his return fight against prospect Tyrell Fortune saw James defy a +250-underdog price as he elbowed his opponent into submission.
Golm vs. James: Fight Tape Analysis
Golm is a born finisher. From his 10 professional MMA bouts, the Brazilian has gone to the judges' scorecards. He'll unquestionably be the more talented grappler of the two, but James has great cardio and takedown defense, so it'll be interesting to see how Golm handles this.
James is another fighter that hasn't been involved in many decision-ending bouts. He owns a respectable jab and works behind this regularly; it's his most technical tool in the striking department, and will undoubtedly use it to keep Golm from rushing in. He can utilize strength and positioning by holding fighters against the cage and will drain the clock while collecting points by doing this.
After watching Golm take consistent punishment from Davion Franklin in his previous bout, it's worrying that he'll now face a more durable fighter with a huge reach and excellent cardio. For this reason, the smart bet is the underdog here because of Golm's lack of cage time, striking disadvantage, and pricing.
Bellator 293 Odds & Prediction
The Bellator pricing with OddsTrader's top sportsbooks has placed Golm as the betting favorite, but honestly, this bout is something of a toss-up.
Father time will creep up on James at some point, but he isn't facing the top tier of the division, and after impressively defeating a prospect like Fortune, backing him at dog money is worth a punt.
I believe James will dictate the striking exchanges behind his excellent jab and 6-inch reach advantage while owning a strong enough takedown defense and cardio to outwit the Brazilian.
UFC 286 Betting Prediction: Daniel James ML (+125) [1u returns 1.25u profit] at Caesars Sportsbook
---
Bellator 293 Women's Featherweight Co-Main Event Bout
---
Friday, March 31, 2023 – 11:25 PM EDT at Pechanga Resort Casino
---
---
Cat Zingano (13-4-0), aged 40, is on the brink of a women's featherweight world heavyweight title opportunity; who would've thought?
After exiting the UFC roster and losing four of her last five bouts for the promotion, Zingano has found new life inside the Bellator cage and has reached the No.1-ranking position with only the champion, Cris Cyborg, sitting above her. Leah McCourt will be her final test before the woman that owns victories over former UFC champion Miesha Tate and current UFC two-division champ Amanda Nunes receives her shot at the formidable Cyborg.
Leah McCourt (7-2-0) is viewed as a lamb to the slaughter after being matched with Zingano. However, age and hunger will certainly favor the product of SBG Ireland product, and we'll likely see Conor McGregor sending out a supportive tweet before her battle.
McCourt has won six of her seven Bellator contests and has garnered the majority of her pro experience with the promotion. She owns a notable BJJ offense but will need to arrive in full force on Friday to match Zingano's experience and toughness.
Zingano vs. McCourt: Fight Tape Analysis
The moneyline odds are heavily swayed in Zigano's favor for a reason, and it isn't just because she's faced some of the most dangerous female mixed martial artists on the planet, but because her wrestling-based skillset can dictate the outcome of a fight when matched with 90% of this Bellator featherweight roster.
Wrestling is the path to victory for Zingano, and she rarely fails at taking her opponents down. She stays active on the ground with great top control and noteworthy BJJ. Serviceable striking is present, and she'll likely be the better striker of the two.
McCourt's most noteworthy attribute is her cage work, which is very similar to the style of Holm. She uses this cage-pressing style to raise her strike count and has delivered a varied selection of trips and takedowns in this position in the past. Her striking isn't much to run home about, but she should own a cardio advantage over the aging fighter.
Bellator 293 Odds & Prediction
The Bellator prices at OddsTrader have placed Zingano as a huge betting favorite, and rightfully so.
Zingano is a high-level wrestler, and although the cardio of McCourt concerns Zingano's chances, her game plan will likely involve grappling, and she'll get out-powered and schooled in these positions.
If you want to boost your odds, keep an eye out for Zingano by decision. Both women are durable with commendable jiu-jitsu defense, and neither is known for their striking finishes, so I expect this one to reach the judges' scorecards,
Bellator 293 Betting Prediction: Cat Zingano ML (-380) at Bet365
Bellator 293 Betting Prediction: Cat Zingano by Decision (-105) at Bet365
---
Bellator 293 Main Card & Odds
Bellator 293 Preliminary Card & Odds
---