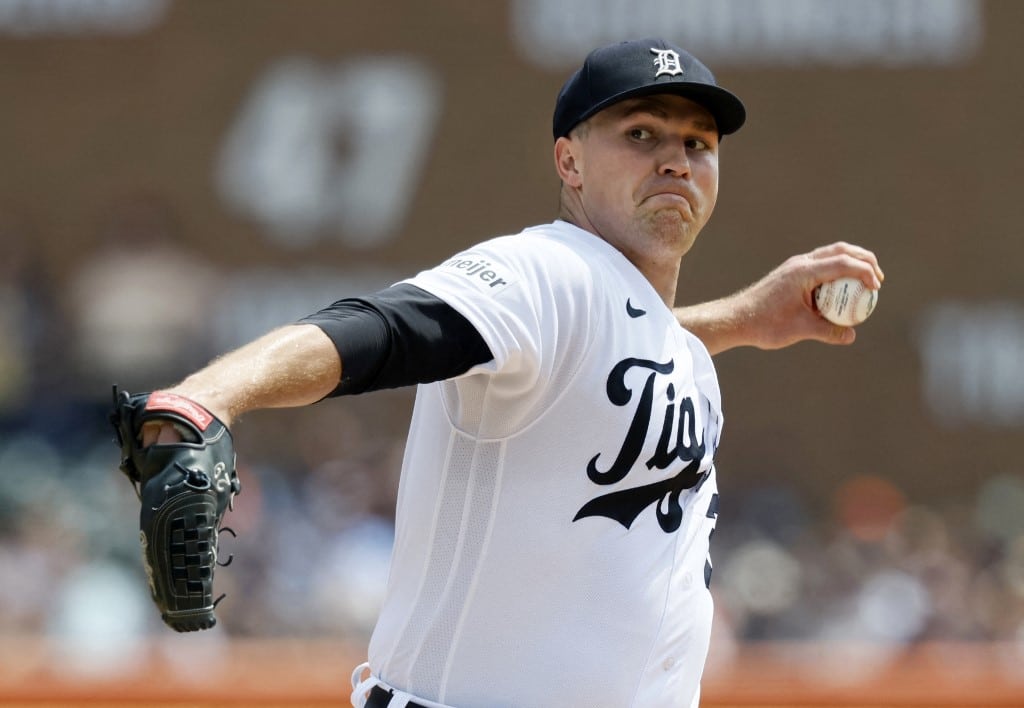 Editor's Note: The game between the Tigers and Guardians was postponed due to bad weather.
There is a smaller slate for today's baseball action, and three games interest me for today's player props: Tigers vs. Guardians, Diamondbacks vs. Padres, and Brewers vs. Dodgers.
For your best bets, I will recommend that you invest in strong pitching performances from Detroit's Tarik Skubal and San Diego's Rich Hill and in a weak pitching performance from Milwaukee's Corbin Burnes.
Picks Summary
Tarik Skubal Under 2.5 Earned Runs (-150) at Bet365
Rich Hill Under 2.5 Earned Runs (-115) at Bet365
Corbin Burnes Over 2.5 Earned Runs (+110) at Bet365
---
Thursday, August 17, 2023 – 07:15 PM EDT at Progressive Field
---
Tarik Skubal (Detroit Tigers)
Tarik Skubal starts for the Tigers tonight.
While recency bias makes it tempting to go against a pitcher who is coming off a bad start, Skubal is actually worth investing in because he is in a bounce-back situation.
For example, on July 18 he was pummeled in Kansas City. In his following start, he threw five shutout innings against the Giants. Likewise, on July 30, he allowed four runs to Miami. In his next start, he allowed zero earned runs in 5.1 innings against Tampa Bay.
Skubal's last bounce-back performance shows that he is reliable in this spot even against higher-ranking lineups –Tampa Bay ranks fourth in runs per game.
Skubal's Arsenal
Skubal's arsenal makes him reliable in general. He throws a fastball, slider, changeup, sinker, and curveball.
His fastball shows him to be a master of high heat. Heat maps demonstrate his ability to place this pitch consistently in the highest parts of the strike zone where, especially since it averages 95.9 mph, it is hard for batters to do damage. Opposing batters slug .316 against this pitch.
Yet his sinker is even more effective. Like his other pitches, he does a great job of concentrating his sinker in different parts of the strike zone.
Cleveland's Lineup
No matter the situation, Skubal is reliable against the Guardians because of how poorly they match up against him.
By a considerable margin, they rank dead last with a .343 slugging rate against his pitches from lefties.
Skubal is thus primed to prolong his recent success against Cleveland. Last year, he allowed three runs in two starts, totaling twelve innings, against the Guardians.
MLB Pick: Tarik Skubal Under 2.5 Earned Runs (-150) at Bet365
---
Thursday, August 17, 2023 – 09:40 PM EDT at Petco Park
---
Rich Hill (San Diego Padres)
Rich Hill starts for the Padres tonight.
Hill is a great example of a pitcher who can thrive without throwing hard. Instead of relying on high velocity, he relies on the perception of high velocity created by the different velocities of his pitches.
In particular, his curveball is useful to creating this perception. It is his favorite pitch to throw, his most famous pitch, which averages 71.7 mph. Whereas pitchers typically like to bury this pitch, he is comfortable distributing it in different parts of the strike zone.
Its strong horizontal movement already makes it a difficult pitch to hit, but he also plays it well off his fastball. Although his fastball is slow, per se, it averages 17 more mph than his curveball. This is a strong difference in velocity that makes his fastball feel fast.
Arizona's Lineup
Arizona might seem to be worth investing in because of its most recent hitting success, but location is everything.
The Diamondbacks got used to thriving in Colorado's exceptionally hitter-friendly ballpark. It is difficult to transition from playing in Colorado to playing in a pitcher-friendly park.
This year, there is one example so far of Arizona going from Colorado to a different ballpark, and in that first game in a different ballpark, the Diamondbacks scored four runs in Texas.
This might seem like a decent total. However, two of those four runs came off home runs. According to Statcast's Park Factors Leaderboard, Texas's ballpark is very friendly to the home run ball. So, in terms of home run potential, going from Colorado's ballpark to Texas's isn't really much of an adjustment.
San Diego is vastly more pitcher-friendly in terms of home runs and overall. Only Seattle has a more pitcher-friendly park.
To consider the history of Arizona's situation, it's thus much more relevant to observe that the Diamondbacks scored one run in their first game in San Francisco's pitcher-friendly ballpark after their series in Colorado.
MLB Pick: Rich Hill Under 2.5 Earned Runs (-115) at Bet365
---
Thursday, August 17, 2023 – 10:10 PM EDT at Dodger Stadium
---
Corbin Burnes (Milwaukee Brewers)
Corbin Burnes starts for Milwaukee tonight.
If one were not to know who his opponent tonight is and were only to consider his recent form, then one might consider it a toss-up whether Burnes allows more than or fewer than 2.5 earned runs.
Most recently, he allowed two earned runs both to lowly Washington and to struggling Pittsburgh before allowing five runs to the awful White Sox.
History vs. Dodgers
However, Burnes is facing his nightmare opponent tonight, which justifies the confident expectation that he will allow more than 2.5 earned runs tonight. In his career. he suffers an 8.50 ERA in six appearances against the Dodgers.
But he struggles especially in Dodger Stadium, where he is 0-2 with a 12.19 ERA in four career appearances. Most recently, he faced the Dodgers in consecutive starts last season, which was a much better season for him than this one.
On August 18, he allowed three earned runs in 5.2 innings to the Dodgers in Milwaukee. Then, he surrendered four earned runs in 3.2 innings when they faced him in Los Angeles.
In terms of the Dodgers' outlook against Burnes, their acquisition of Jason Heyward will help them further, as the former Cub boasts a .667 slugging rate in 12 career at-bats against Burnes.
Sizzling Dodgers
L.A.'s current form anyhow makes it reliable against any pitcher. As part of its ten-game win streak, L.A. has scored six or more runs six times.
More critically, the Dodgers have scored six or more runs in each of their last three games, and they've been doing much of this damage without Freddie Freeman, who hasn't been as good as usual.
But Freeman went 2-for-5 yesterday and is primed to build off that performance because he is a promising 3-for-8 in his career against Burnes.
More guys besides Freeman should be expected to thrive tonight because the team ranks third with a .448 slugging rate against Burnes' pitches from righties.
MLB Pick: Corbin Burnes Over 2.5 Earned Runs (+110) at Bet365
---