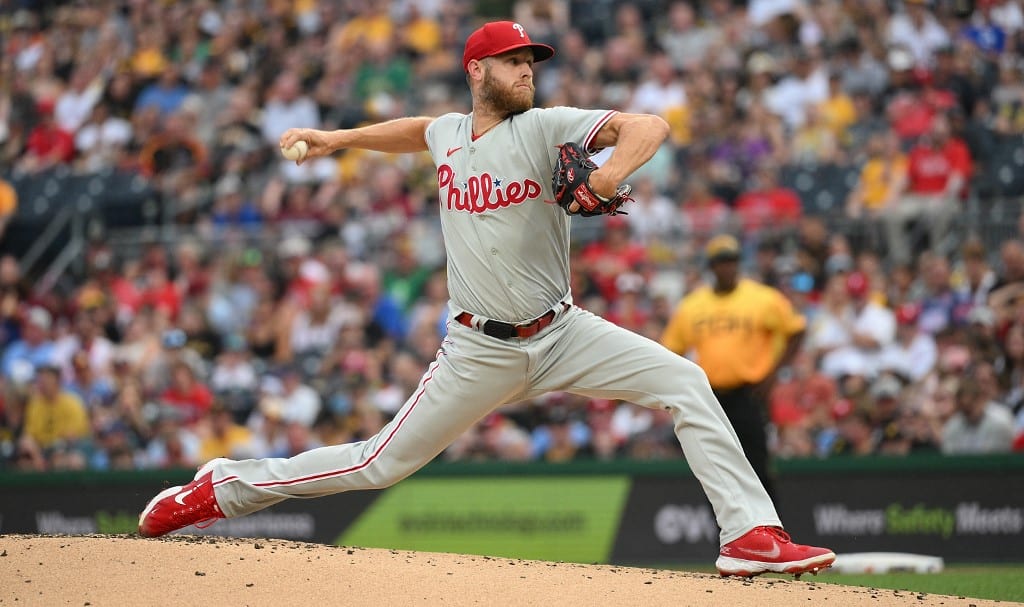 Looking into the betting odds for today's baseball action, three games interest me: Phillies vs. Marlins, Mets vs. Royals, and Diamondbacks vs. Giants.
For your best player props, I will recommend that you invest in strong performances from Philadelphia's Zack Wheeler, New York's Kodai Senga, and San Francisco's Logan Webb.
Picks Summary
Zack Wheeler Under 1.5 Earned Runs (+135) at Bet365
Kodai Senga Under 2.5 Earned Runs (-130) at Bet365
Logan Webb Under 2.5 Earned Runs (-140) at Bet365
---
Wednesday, August 2, 2023 – 06:40 PM EDT at loanDepot park
---
Zack Wheeler (Philadelphia Phillies)
The Phillies start Zack Wheeler today, who enters today's game in strong form. He's allowed one earned run in both of his last two starts, which likewise took place on the road (in Cleveland and in Pittsburgh).
While stifling the Guardians and Pirates might not seem impressive, the Guardians were very hot until they faced Wheeler. Before their game against Wheeler, they had accrued four straight games in which they scored five or more runs.
It's not just that Wheeler is holding below-average lineups to outputs that are low even for them, but it's also the way in which he's dominating. In his last two starts combined, he's amassed 19 strikeouts to two walks. Moreover, he yielded hard contact at a rate below twelve percent in both starts.
He's doing a great job as well of inducing soft contact and of preventing hits in general. Given his form, batters are struggling just to touch his pitches.
Wheeler's Arsenal
Wheeler throws a fastball, sinker, slider, sweeper, and curveball. His pitches are high-quality. For example, his fastball places in the 83rd percentile in velocity and in the 89th percentile in spin.
These numbers indicate that batters have relatively significant trouble keeping up with and keeping track of the location of his fastball. It is important especially that his fastball is high-quality because it is his favorite pitch to throw.
Given its qualities, it yields a .195 BA and .346 slugging rate.
Wheeler vs. Marlins
It's already evident that Wheeler enjoys facing Miami. While he allowed three runs in his last start against the Marlins, he was in the midst of a stretch of poor starts.
Plus, his 3.11 FIP (like ERA but factors out fielding) suggests that he actually performed well in that start, and he allowed one run in six innings in his other start against Miami.
One should expect the Marlins to struggle against him because they slug .398 against his pitches from righties. Evidently, Wheeler is a tough matchup for them.
MLB Pick: Zack Wheeler Under 1.5 Earned Runs (+135) at Bet365
---
Wednesday, August 2, 2023 – 08:10 PM EDT at Kauffman Stadium
---
Kodai Senga (New York Mets)
Kodai Senga starts for the Mets tonight, entering tonight's game in terrific form. He has allowed two earned runs or fewer in six straight starts.
This streak is particularly impressive because he has sustained it against tough competition. For example, on July 15, he held the Dodgers to one run in six innings.
During this six-start stretch, he has also victimized the Red Sox and Diamondbacks in Boston and Arizona, respectively. In fact, all six of his most recent victims rank higher than the Royals do in runs per game.
By this measure, he is facing his softest test today, which provides all the more reason to expect him to allow fewer than three runs again.
A Deeper Dive
Senga is doing a lot more than limiting run total. He is doing a great job of preventing opponents from achieving hard contact against his pitches.
His command is also better, as evident in the reduced rates at which he is surrendering home runs and walks.
Senga's Arsenal
Primarily Senga throws a fastball, cutter, and forkball. These are the three pitches that he throws over 23% of the time. His next-most frequent pitch has a 7.7% usage rate.
While his fastball is more than serviceable with its good velocity, high spin rate, and even distribution throughout the strike zone, especially his other two primary pitches are excellent. Opponents slug .273 against his cutter and .137 against his forkball.
Royals Lineup
One might like the Royals tonight because of their recent run totals – these recent run totals explain why Senga is not more expensive tonight.
But their higher run outputs largely owe to their late-game explosions against relievers. Senga is a starter, so he will see the same old Royals.
The Royals also match up poorly with him, ranking 29th with a .392 slugging rate against his pitches from righties.
MLB Pick: Kodai Senga Under 2.5 Earned Runs (-130) at Bet365
---
Wednesday, August 2, 2023 – 09:45 PM EDT at Oracle Park
---
Logan Webb (San Francisco Giants)
Logan Webb starts for the Giants tonight.
Webb is in a great spot tonight because he loves facing Arizona. In his career, he owns a 2.63 ERA in eight career starts against Arizona.
Diamondbacks batters do not like seeing Webb; Ketel Marte, for example, has more strikeouts than hits in his career against Webb. They struggle against Webb largely because they do not like facing ground ball-inducing pitchers, and he induces ground balls at a very high rate.
But the Diamondbacks slug .392 against such pitchers compared to .445 against fly ball-inducing pitchers.
Webb's Arsenal
Webb throws a sinker, changeup, slider, and fastball, although the first three pitches make up 96.6% of his arsenal. The sinker is a classic ground ball-inducing pitch, although his other three pitches are most effective. Opponents slug .311 against his changeup, .386 against his slider, and .368 against his fastball.
He does a great job of placing especially his changeup and slider low in the strike zone and of keeping both pitches away from the more middle parts of the strike zone where batters tend to do greater damage.
All three of his primary pitches enjoy strong movement, which makes them harder for batters to make good contact with. The horizontal movement of his slider is particularly strong, and it creates a powerful effect, especially in tandem with the pitch's high spin rate.
Webb's ability to place pitches along the borders of his strike zone attests to his strong command, which is more overtly evident in his low walk rate. He also ably uses his precision and the movement of his pitches to induce batters to chase his pitches when they move out of the strike zone.
Part of his high chase rate owes to his ability to place pitches near enough the strike zone to induce batters to swing at a higher rate.
Arizona's Form
Regardless of who's pitching, Arizona's lineup continues to struggle.
In its past five games, excluding extra innings, Arizona is averaging barely over two runs per game.
MLB Pick: Logan Webb Under 2.5 Earned Runs (-140) at Bet365
---