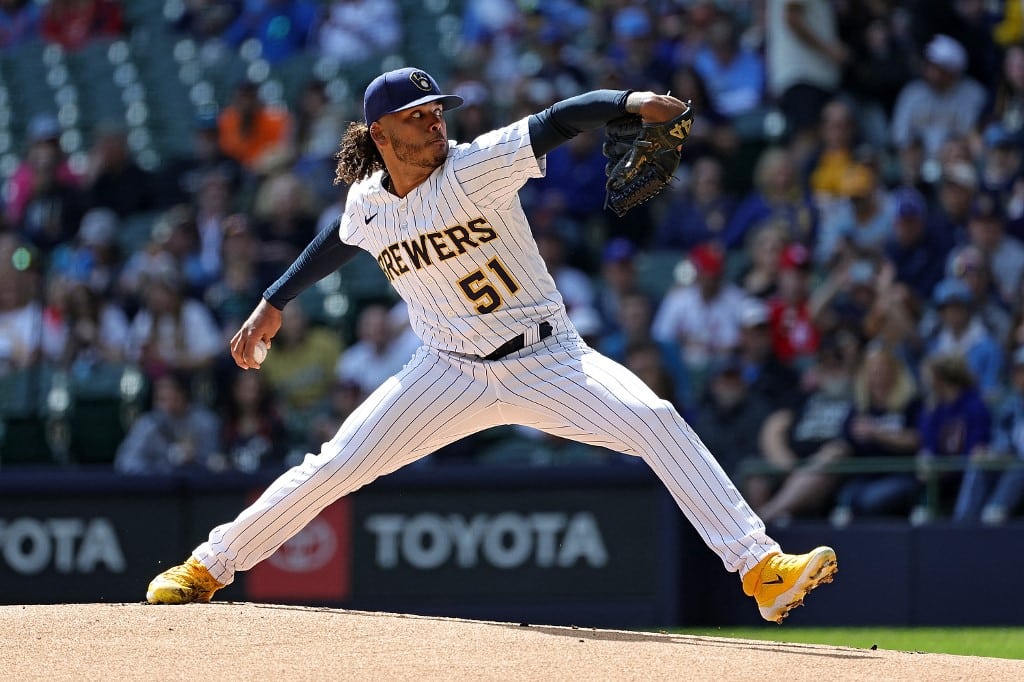 The top sportsbooks have released their betting odds for today's baseball action and three games interest me: Cardinals vs. Guardians, Giants vs. Brewers, and Marlins vs. Angels.
For your Best Bets, I will recommend three player props: the "over" on Shane Bieber's strikeout total, the "under" on Freddy Peralta's earned runs allowed, and the "over" on Reid Detmers' earned runs allowed.
Picks Summary
---
Friday, May 26, 2023 – 07:10 PM EDT at Progressive Field
---
---
Cleveland's Shane Bieber
Shane Bieber starts for the Guardians tonight. The over/under for his strikeout total today sits at 5.5 and in his starts this year, he has mostly been close to that total. But he demonstrated in two games that he can also fly past it: against Detroit, he amassed nine strikeouts; also, against Oakland, he struck out seven batters.
So, even if he were to pitch poorly tonight, we can expect him to at least give the "over" a fighting chance; however, his average strikeout total is going to rise in general over time.
In terms of accumulating strikeouts, he has suffered from facing teams that rank in the upper half in avoiding strikeouts, as measured by their strikeout percentage, or from facing teams that don't strike out much against both of his favorite whiff pitches.
When he struck out a lot of Tigers' and Athletics' batters, he did so by inducing them to swing at a higher percentage of his two-strike pitches out of the zone.
In order to exceed five strikeouts today, he'll have to get to face a team that is likely to swing-and-miss at the two pitches with which he most wants to earn strikeouts.
Bieber's Curveball and Slider
Primarily, Bieber accrues strikeouts with his curveball and slider.
Bieber is primed to strike out a lot of batters tonight because the Cardinals have the fourth-highest total of swinging strikes against the slider from righties and likewise the fourth-highest swinging strike total against the curveball from righties.
He often throws either his curveball or slider with two strikes, so he'll generate a lot of strikeouts by emphasizing these two pitches today.
MLB Pick: Shane Bieber Over 5.5 Strikeouts (+108) at Caesars Sportsbook
---
Friday, May 26, 2023 – 08:10 PM EDT at American Family Field
---
---
Milwaukee's Freddy Peralta
Freddy Peralta starts for the Brewers today. The over/under for his earned runs allowed is 1.5, a total that would only seem high if you focus on two things that you should not focus on.
One such thing is his most recent starts; Peralta's most recent starts were poor because they were terrible situations or matchups for him. Two starts ago, he ran into a Cardinals' team whose lineup was sizzling, and most recently, he faced Tampa Bay's lineup, which ranks second in runs per game.
Neither of these factors applies to his opponent today: San Francisco's lineup is not particularly hot – relevantly to this bet, it has been slow-starting in its most recent games.
Moreover, the Giants' lineup is not challenging. San Francisco ranks 20th in runs per game.
Home vs. Away
The second thing that you should not focus on is Peralta's ERA, which is as high as it is because a pitcher's ERA also accounts for his performances on the road.
But Peralta is a completely different pitcher in front of the Brewers' faithful. Whereas his road ERA is 6.45, he yields a 2.43 ERA at home. In three of his five starts, he has allowed one earned run or fewer at home.
When he allowed two earned runs at home to Detroit, he yielded a 1.11 FIP (like ERA but factors out fielding), which reflects how superbly he actually performed.
In his most recent home start, he allowed one run in six innings to a Dodgers team that could hardly have matched up better against him on paper.
Especially at plus money, the "under" is extremely attractive and reasonable.
MLB Pick: Freddy Peralta Under 1.5 Earned Runs (+120) at BetMGM
---
Friday, May 26, 2023 – 09:38 PM EDT at Angel Stadium
---
---
Angels' Reid Detmers
Reid Detmers starts for Los Angeles tonight. The over/under for his earned runs allowed is 1.5.
The "over" must be an automatic play because it is clear from his results this season that this total is too low. In not a single start this season has he allowed fewer than two earned runs.
This fact is telling because he has had the chance to stay under two earned runs allowed against bad lineups and against teams that match up very poorly against him. For example, he failed to stay under two earned runs against both the Guardians and the Royals, two teams that rank bottom five in runs per game.
Detmers is a lefty, and the Guardians even rank last in slugging against lefties. He simply lacks the quality in his arsenal to be a pitcher who can reliably allow as little as one or zero earned runs. In particular, he struggles to locate his fastball, which is one of the pitches that he throws most often.
Heat maps show that he makes many mistakes with its location, with the consequence that opponents hit .298 and slug .447 against it.
The Matchup
A southpaw, Detmers throws primarily a fastball, slider, and curveball. These three pitches account for about 96% of his pitches.
Miami's lineup will thrive tonight because it ranks sixth against Detmers' favorite pitches from lefties. So, Detmers won't come close to allowing fewer two earned runs tonight.
This extra fact about the matchup makes the chalk worthwhile, although if the chalk bothers you, then you can simply reduce your wager size a bit.
MLB Pick: Reid Detmers Over 1.5 Earned Runs (-182) at BetMGM
---