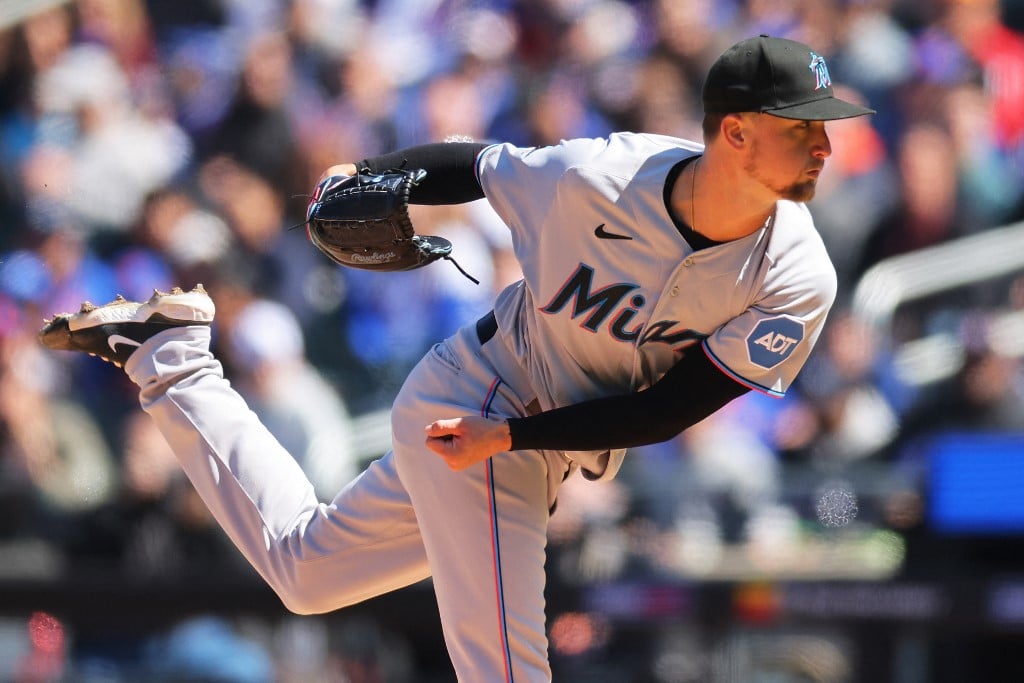 Top Player Props for Wednesday
Braxton Garrett Under 2.5 Total Earned Runs Allowed at (-143) at BetMGM
James Paxton Over 2.5 Total Earned Runs Allowed at (+110) at BetMGM
George Kirby Over 2.5 Total Earned Runs Allowed at (+105) at BetMGM
---
The sportsbooks have released their betting odds for today's baseball action. With player props in mind, especially three games interest me:
Padres vs. Marlins
Reds vs. Red Sox
Yankees vs. Mariners
For your best bets, I will recommend investing in a strong performance from Miami starter Braxton Garrett and in poor starts from Boston's James Paxton and Seattle's George Kirby.
---
Wednesday, May 31, 2023 – 06:40 PM EDT at loanDepot park
---
---
Braxton Garrett
Miami starts Braxton Garrett today. Garrett enjoys great pitching form: he has allowed a combined total of three earned runs in his last three starts.
This trend is particularly impressive because he had to pitch in super hitters-friendly Coors Field and against a Reds' team that, in terms of slugging rate against his pitches from lefties, matches up better against him than his opponent today.
Garrett's arsenal is characterized by significant variety in that he relies on six different pitches: he throws a slider, sinker, cutter, curveball, fastball, and changeup.
Looking at his season-long stats, he doesn't throw a single pitch more than 29.6% of the time, and he throws every pitch over 7% of the time.
This fact helps keep batters guessing as to which pitch he will throw. He is unpredictable, and his unpredictability is pretty consistent from an outing-to-outing basis. While he will make adjustments in terms of how frequently he features given pitches, these adjustments are rather minor.
Another virtue of Garrett's is the extensive vertical and/or horizontal movement of his pitches. He likes to locate his pitches along the borders of the strike zone, using the movement of his pitches to toy with the batter's discernment of whether they will land in or outside the strike zone.
The Pick
Garrett's outlook is positive because of his strong form. He is especially reliable today given his outlook specifically against San Diego's biggest-name hitters.
Juan Soto is not dangerous against left-handed pitchers, Fernando Tatis Jr. has lately only been good for maybe one hit per game, Manny Machado bats .200 in his career against Garrett, and Xander Bogaerts hasn't produced an extra-base hit in over a week.
San Diego lacks the resources to frighten especially an in-form Garrett.
MLB Pick: Braxton Garrett Under 2.5 Total Earned Runs Allowed (-143) at BetMGM
---
Wednesday, May 31, 2023 – 07:10 PM EDT at Fenway Park
---
---
James Paxton
Boston starts James Paxton today. While people generally think highly of Paxton, he has clearly declined from his best version of himself from around 2017, when he was allowing hard contact approximately 30% of the time.
Currently, opponents are achieving hard contact against over half of his pitches.
Paxton's Fastball
One pitch that he is struggling tremendously with is his fastball, which is meaningful because the fastball is his favorite pitch to throw. He throws it 60.1% of the time, so without his fastball, he really lacks a good pitch to rely on.
Further evidence of his reliance on this pitch is in the fact that he throws it even more frequently when batters get ahead of the count in which case he is more desperate to throw a strike.
Opponents are hitting .281 and slugging .594 against it. While its velocity is decent, its spin rate is subpar relative to other fastballs that other pitchers throw. Most problematically, he often leaves this pitch in the middle or upper-middle parts of the strike zone, where batters tend to do greater damage.
He does mix in a few other pitches, but not often enough to mitigate the problems generated by the vulnerability of his fastball.
While he does like to mix in these other pitches more often when he gets batters to a 0-2, 1-2, or 2-2 count, he tends to fail to get batters into this position because they'll have already hit his fastball.
The Pick
The Reds are in a great spot today because they are hitting the ball extremely well as a team. They have scored eight or nine runs in four straight games.
Their outlook specifically today is positive because they rank sixth in slugging .513 against Paxton's favorite pitches from lefties.
MLB Pick: Paxton Over 2.5 Total Earned Runs Allowed (+110) at BetMGM
---
Wednesday, May 31, 2023 – 09:40 PM EDT at T-Mobile Park
---
---
Who Starts for the Mariners?
Seattle starts George Kirby tonight. The over/under for Kirby's total runs allowed today is 2.5.
For the "over" to hit, we don't need him to pitch nearly as poorly as he did in his last start – most recently, he allowed seven runs in 4.2 innings to Pittsburgh.
While the extent to which he struggled in this start was exceptional, his struggles were in a critical way representative of alarming trends. Specifically, he has failed to approach his season-long average of soft contact allowed.
Batters are achieving more hard contact against his pitches. Part of this tendency lends credence to the idea that he had been overachieving.
His arsenal really does not look impressive; while his velocity is pretty good, his spin rate and movement generally are not. Moreover, his locational tendencies are horrible, as heat maps show that he often leaves his pitches in the middle of the strike zone where batters tend to do greater damage.
This is a pitcher who batters can reliably succeed against.
The Pick
The matchup is also important to consider. Kirby has allowed three or more runs against three of the four teams that rank top-12 against his pitches from righties.
This fact bodes well for a Yankees' group that ranks fifth in slugging against his pitches from righties.
While the Red Sox are the one exception, they were suffering a cold streak when Kirby faced them. New York, however, is sizzling, having scored ten runs in three straight games.
MLB Pick: George Kirby Over 2.5 Total Earned Runs Allowed (+105) at BetMGM
---