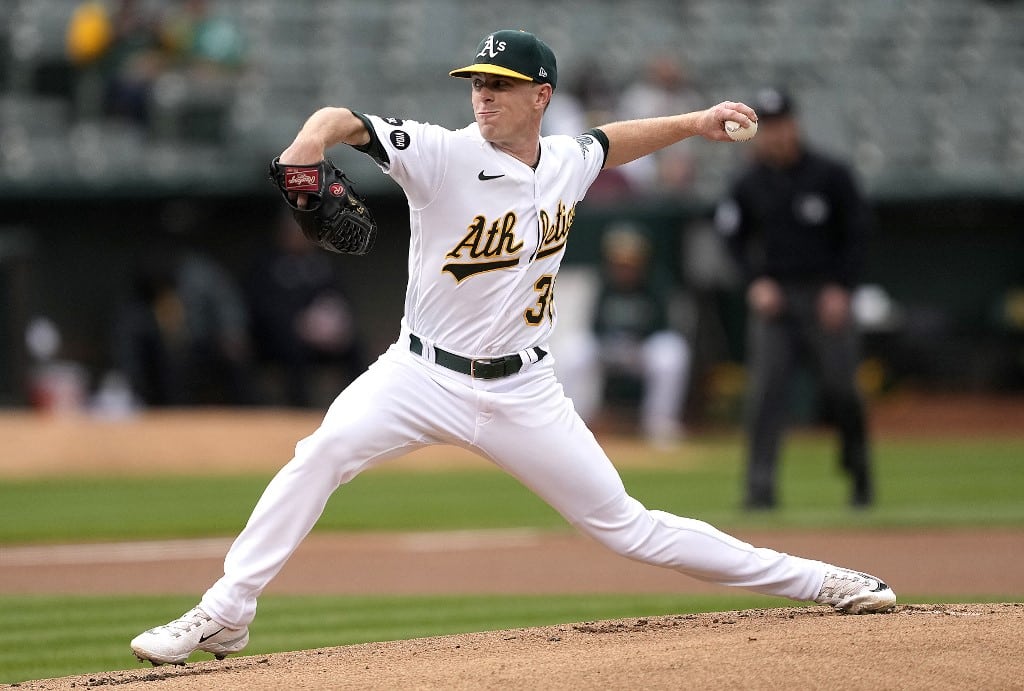 Top Sportsbooks have released their MLB odds for today's baseball action.
Three games interest me as worth investing in: Athletics vs. Tigers, Braves vs. Guardians, and Blue Jays vs. White Sox.
For your MLB player props, I will recommend investing in strong performances from these starting pitchers: Oakland's J.P. Sears, Cleveland's Shane Bieber, and Chicago's Lucas Giolito.
Picks Summary:
J.P. Sears Under 2.5 Earned Runs Allowed +105 at Bet365
Shane Bieber Under 3.5 Earned Runs Allowed -135 at Bet365
Lucas Giolito Under 2.5 Earned Runs Allowed +115 at Bet365
---
Tuesday, July 04, 2023 – 06:40 PM EDT at Comerica Park
---
J.P. Sears (Oakland Athletics)
Oakland starts J.P. Sears today.
It would be a shame if you dismissed Sears, although it's easy to dismiss him given his ERA and the team that he plays for. His ERA is so high really only because he's suffered bad starts against the Yankees, Rangers, Angels, and Phillies.
All those teams rank top seven against his pitches from lefties.
So, it's not fair to dismiss Sears because of his ERA since his ERA is a product of his facing teams that hit lefties vastly better than his opponent today does.
Sears is indeed generally reliable: before his last start, which took place against the Yankees, he had allowed two earned runs or fewer in seven of his eight previous starts.
Sears' Arsenal
He does a good job of evenly distributing his fastball and sweeper, which are his two favorite pitches to throw, along different parts of the strike zone. Furthermore, he effectively navigates the lower borders of the zone with his changeup and slider.
He's throwing his slider more often, which is smart because its unique horizontal movement helps make it his most effective pitch. This pitch yields a .080 BA.
Detroit's Lineup
The Tigers are in a bad spot because they just played in Coors Field.
It is difficult to adjust right away from playing in a super hitters-friendly ballpark to a much more pitcher-friendly one. Plus, the Tigers match up poorly against Sears.
They rank 22nd in slugging .400 against his pitches from lefties.
MLB Prop Pick: J.P. Sears Under 2.5 Earned Runs Allowed +105 at Bet365
---
Tuesday, July 04, 2023 – 07:10 PM EDT at Progressive Field
---
Shane Bieber (Cleveland Guardians)
Shane Bieber starts for the Guardians today.
Bieber's consistency illustrates his unique reliability. He has allowed two earned runs or fewer in five of his last six starts.
Out of his 16 starts this season, he has allowed over three earned runs a single time. His consistency is impressive because he's sustained it against difficult matchups on paper.
For example, he limited a St. Louis team that ranks sixth against his favorite pitches from righties to one earned run in six innings. Moreover, he held the Yankees, when they had superstar Aaron Judge, to two earned runs in seven innings.
Before Judge's absence began on June 4, the Yanks ranked sixth against his favorite pitches from righties. So, Atlanta should not scare him at all.
The Braves have to cool off sooner or later, and they look like they will be cooling off after failing to score in any of the last four innings of their 4-2 win yesterday.
Bieber's Arsenal
Bieber throws primarily a fastball, cutter, curveball, and slider. His fastball is effective because of its good location, spin, and movement.
He ably distributes it across different parts of the strike zone, but this pitch is hard to hit because it places in the 74th percentile in spin and also boasts a unique amount of horizontal movement.
His slider and curveball are his most effective pitch. The former yields a .155 BA, the latter a .193 BA. Bieber ably locates both pitches along the borders of the strike zone while he tends to bury especially the latter.
Batters have difficulty making good contact with his curveball also because of its horizontal movement. They struggle with his slider also because of its spin.
Expect Bieber to prolong Atlanta's cooling-down period.
MLB Prop Pick: Shane Bieber Under 3.5 Earned Runs Allowed -135 at Bet365
---
Tuesday, July 04, 2023 – 08:10 PM EDT at Guaranteed Rate Field
---
Lucas Giolito (Chicago White Sox)
Lucas Giolito starts for Chicago today. Giolito carries strong form into today's game.
He has allowed two earned runs or fewer in four of his last five starts. The exception came in his last start, although he lasted seven innings, and his outing was extended because his team had a significant lead.
His 3.00 xFIP (FIP is like ERA but factors out fielding, and xFIP is like FIP but uses projected instead of actual home run rate) in his last start suggests that he performed very well individually. That start took place against an Angels lineup that, on paper, matches up about as well as Toronto does. So, his strong form supersedes matchup-related considerations.
In a similar vein, while Giolito has performed well against the Blue Jays, his career numbers against them are poor. This is because he struggled twice against them in two starts last year.
Last year, though, he was a much worse pitcher than he is now, as evident in the blatant disparity in ERA. Again, Giolito should be relied upon even against tougher matchups, especially because those tough matchups are creating more attractive odds for him.
Giolito's Arsenal
Giolito throws a fastball, slider, and changeup. He does a good job of elevating his fastball and then burying his slider. Because he uses them to change the batter's eye level, he effectively plays these two pitches off each other.
His changeup helps keep the batter off-balance by injecting a strong change of pace. Its velocity differential relative to his fastball is unusually significant – his fastball averages 12.3 more mph than his changeup – which creates an intense effect on the batter's balance at the plate.
MLB Prop Pick: Lucas Giolito Under 2.5 Earned Runs Allowed +115 at Bet365
---