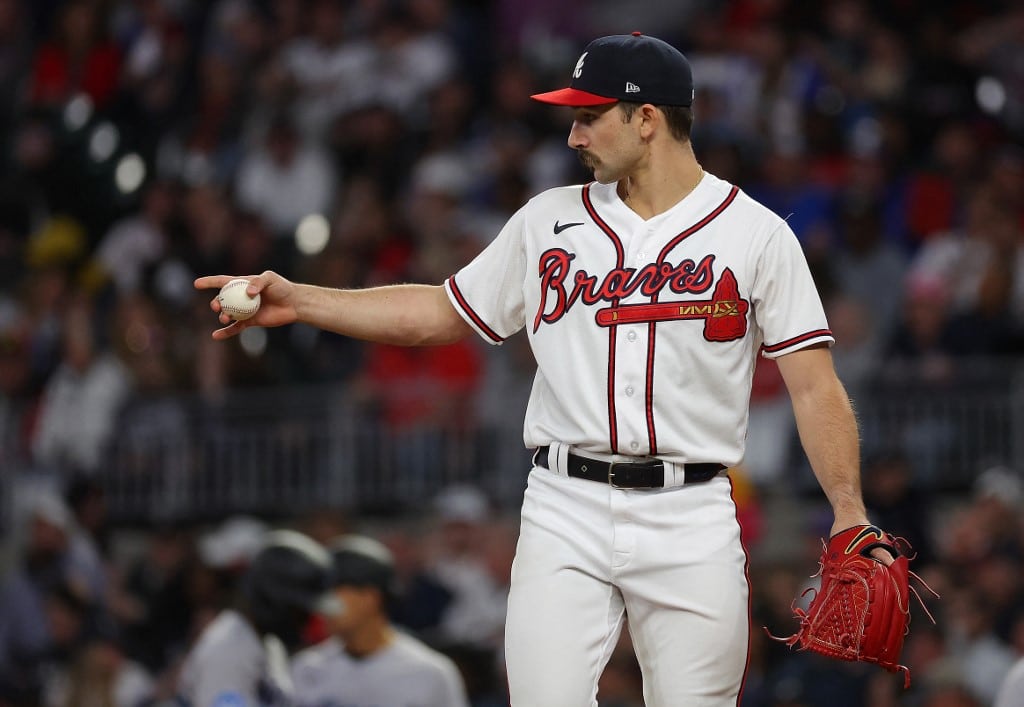 We've got a loaded slate for today's MLB action. I've added multiple player props for the late-night games on the slate. Which one are you tailing?
Picks Summary
---
Saturday, July 8, 2023 – 07:15 PM EDT at Minute Maid Park
---
Bryan Woo is scheduled to take the mound for the Mariners tonight. He's been terrific against righties but has been awful against lefties. It's been a theme since he was called to the big leagues. Lefties have hit a .362 ISO and wOBA of .487, while righties have only a .016 ISO and woBA of .145. It's a drastic difference, and the Astros will be mainly right-handed batters.
Woo should have a positive game, but Kyle Tucker is the one batter that will do damage. Tucker has smacked righties with a .203 ISO and wOBA of .396. He's also struck out only 13.8% of the time against righties, and Woo has added under 20% of strikeouts against righties in the last month.
He's only getting 15.6% of grounders and allowing 56.2% of fly balls to lefties over the last 30 days. Woo has also allowed 53.1% of hard contact and rarely gets whiffs or swings and misses.
Meanwhile, Tucker has slugged 33.9% of fly balls and line drives and has hit 49.2% of hard contact against righties over the last month.
Tucker's got the only good matchup in the Astros lineup. But he'll make it count. Take Tucker to earn at least two total bases tonight against Woo.
MLB Pick: Kyle Tucker Over 1.5 Total Bases (+115) at Bet365
---
Saturday, July 8, 2023 – 07:15 PM EDT at Tropicana Field
---
Spencer Strider will get the call for the Braves tonight. Strider has struck out 33.6% of batters in the last month and 38.6% throughout the season.
He's got an awesome matchup against the Tampa Bay Rays tonight.
The Rays have struck out nearly 27% of the time against righties over the last 30 days. They've got six batters striking out at least 22.8% of the time over the previous month against righties and four batters striking out 31.8% of the time or more.
Strider has limited teams to a .181 ISO and wOBA of .342. It's not excellent, but it won't matter when the Rays can't make contact with the ball.
He's earning a 32.3% CSW percentage and a 35.2% whiff percentage over the last month. He's also earned 18.9% of swinging strikes. He's been tough to hit, and although the Rays have hit a .207 ISO and wOBA of .364, hitting Strider is a whole other challenge.
MLB Pick: Spencer Strider Over 8.5 Strikeouts (-143) at Caesars Sportsbook
---
Saturday, July 8, 2023 – 10:10 PM EDT at Petco Park
---
The New York Mets continue to win in July. What a turnaround it's been. They'll start David Peterson tonight, who has done some remarkable things for the Mets recently. Peterson has allowed an ISO of .059 and a wOBA of .311 over his last few starts. But as a lefty, he's had his struggles against other lefties. He rarely faces them but will likely see two in tonight's San Diego lineup.
Like Tucker, Juan Soto might be the only guy to produce for the Padres tonight. Soto has hit a .360 wOBA and has only struck out 16.7% of the time against lefties in the last month.
Meanwhile, Peterson has allowed a .340 ISO and wOBA of .462 to 55 lefties this season. He's only faced five lefties since returning to the majors. But those five lefties smacked a .250 ISO and wOBA of .392 against him.
Soto has hit 50% of hard contact against lefties. He doesn't have the best metrics otherwise. But he's got an intriguing matchup against a No. 5 starter in the Mets rotation. Peterson folds against lefties, and Soto can turn on one and pull the ball out of the yard or even down the line for an extra-base hit.
Peterson has allowed 67.6% of hard contact to lefties this season. He's also not earning whiffs or swinging strikes like he does against righties. Therefore, I like Soto to have at least one hit in tonight's game. His potential rises going up against Peterson.
MLB Pick: Juan Soto Over .5 Total Bases (-170) at Caesars Sportsbook
---