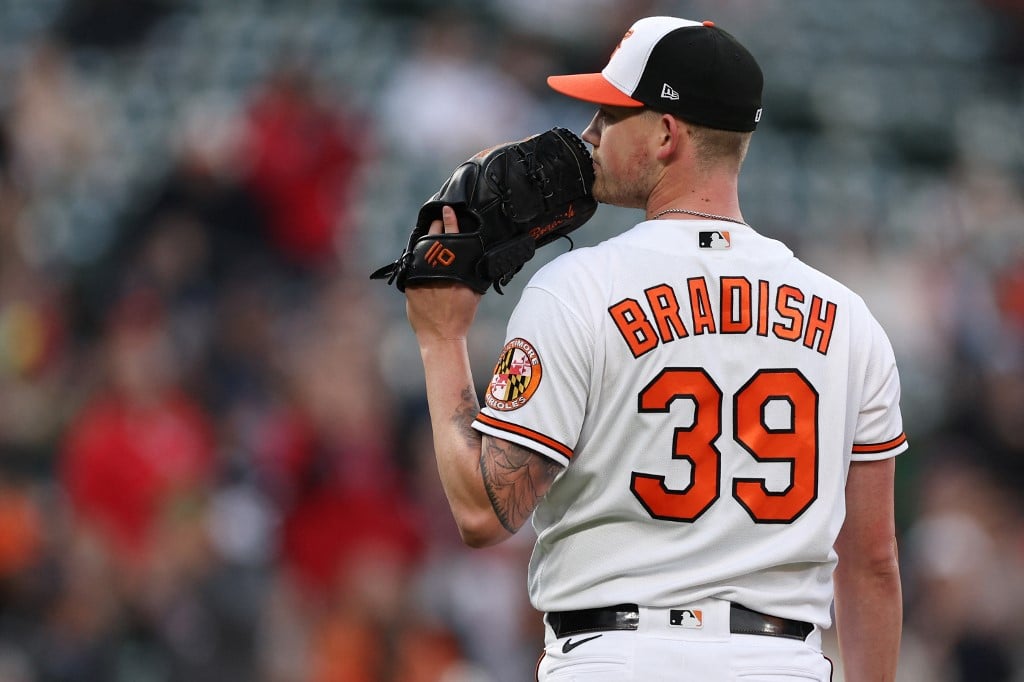 For today's top player props, three games in particular, interest me as worth investing in, so let's look into why you should invest in weak performances from these starting pitchers: Baltimore's Kyle Bradish, Kansas City's Daniel Lynch, and Philadelphia's Ranger Suarez.
Picks Summary
---
Wednesday, June 14, 2023 – 7:05 PM EDT at Camden Yards
---
---
Kyle Bradish (Orioles)
Kyle Bradish starts for Baltimore today.
One important quality to note about Bradish is that he is very much a fly ball-inducing pitcher – he generates ground balls only 42.4 percent of the time.
For example, he tries to induce a lot of fly balls with his favorite pitch to throw, which is his fastball.
By putting an above-average amount of spin on his fastball, he'll generate the appearance of rising action in it in order to get batters to swing underneath it and thus pop it up.
How Toronto's Lineup Matches Up
Bradish's tendency to induce fly balls is relevant because Toronto thrives against this type of pitcher. The Blue Jays slug .485 against fly ball pitchers compared to .353 against ground ball pitchers.
Toronto's lineup matches up superbly against Bradish in another key respect: he throws a fastball, slider, curveball, sinker, and changeup, and the Blue Jays rank fourth in slugging .441 against these pitches from righties.
History
Toronto has displayed its ability to match up well against Bradish.
Last year, Bradish faced Toronto five times and in each of those starts, he allowed three earned runs or more.
Hence, several Blue Jay batters already boast strong track records against Bradish. Vladimir Guerrero Jr., Bo Bichette, and George Springer all slug over .600 in over ten at-bats with Bradish on the mound.
Trend
Bradish's historical struggle against Toronto is consistent with an ongoing trend: he is likely to flounder against divisional rivals, the teams that know him best.
His two worst starts this year have come against division rivals: Boston scored seven runs on him in 2.1 innings while the Yankees accrued four runs on him in 4.1 innings.
For your first pick, expect Toronto to score a lot of runs off Bradish.
MLB Pick: Kyle Bradish Over 2.5 Total Earned Runs Allowed (-120) at BetMGM
---
Wednesday, June 14, 2023 – 08:10 PM EDT at Kauffman Stadium
---
---
Daniel Lynch (Royals)
Daniel Lynch starts for the Royals tonight. Lynch has the makings of a hittable pitcher: he relies extensively on his fastball – he throws this pitch close to 40% of the time, but this pitch lacks quality in itself. It places in the 39th percentile in velocity and in the 21st percentile in spin.
These numbers indicate that batters easily keep up with and keep track of the location of this pitch. As a result, he has minimal room for error: batters will surely pounce when he makes a mistake with his location.
Indeed, Lynch's fastball yields a .355 BA and .645 slugging rate.
Lynch's Results So Far
Lynch has made three starts so far.
In terms of FIP (like ERA but factors out fielding), he got to face a Colorado team that is awful outside of Coors Field and a Nationals team that likewise struggles to be productive.
He was good against those teams but had his worst struggle – to the tune of a 4.61 FIP – against a tougher test in Baltimore.
Given the low quality especially of his fastball, it stands to reason that he will have problems with tougher lineups while he might be able to survive the bottom-10 lineups.
How The Reds Match Up
Cincinnati has one of baseball's better lineups by far: ranking 10th in runs per game, the Reds are much better than Colorado away from Coors Field and much better than Washington.
Relevantly to today, because Lynch is a fly ball-inducing pitcher, the Reds slug .403 against fly ball pitchers compared to .360 against ground ball ones. So far, the Reds' bats are already in good shape.
Kansas City's two starting pitchers in this series have combined to induce Reds' batters to make soft contact at a combined rate of just 6.7%.
Cincinnati is sure to hit Lynch hard today.
MLB Pick: Daniel Lynch Over 2.5 Total Earned Runs Allowed (-120) at BetMGM
---
Wednesday, June 14, 2023 – 09:40 PM EDT at Chase Field
---
---
Ranger Suarez (Phillies)
Ranger Suarez starts for the Phillies today. His second-worst start of the year came on May 24 against these same Diamondbacks, although he got to face the Diamondbacks at home in Philadelphia. In that start, he allowed five earned runs in five innings.
Suarez is a pitcher who is rather hittable because his pitches lack quality in themselves. For example, his fastball places in the 33rd percentile in velocity and in the second in spin rate.
Another one of his favorite pitches to throw, the curveball, places in the ninth percentile in spin rate. Given this lack of quality, he likes to dance around the strike zone. But eventually, he does have to throw pitches inside the strike zone, in which cases batters are unlikely to swing and miss.
Chase Field
Tonight, the Diamondbacks are at an advantage because they already saw Suarez a few weeks ago. Plus, Suarez has a bad history at Chase Field where, in his career, he is 0-2 with a 7.45 ERA.
The Matchup
Suarez's outlook is negative tonight, perhaps most especially because he matches up poorly against Arizona's lineup.
He throws a sinker, curveball, changeup, fastball, and cutter and Arizona ranks fifth in slugging .463 against these pitches from lefties.
MLB Pick: Ranger Suarez Over 2.5 Total Earned Runs Allowed (-125) at BetMGM
---