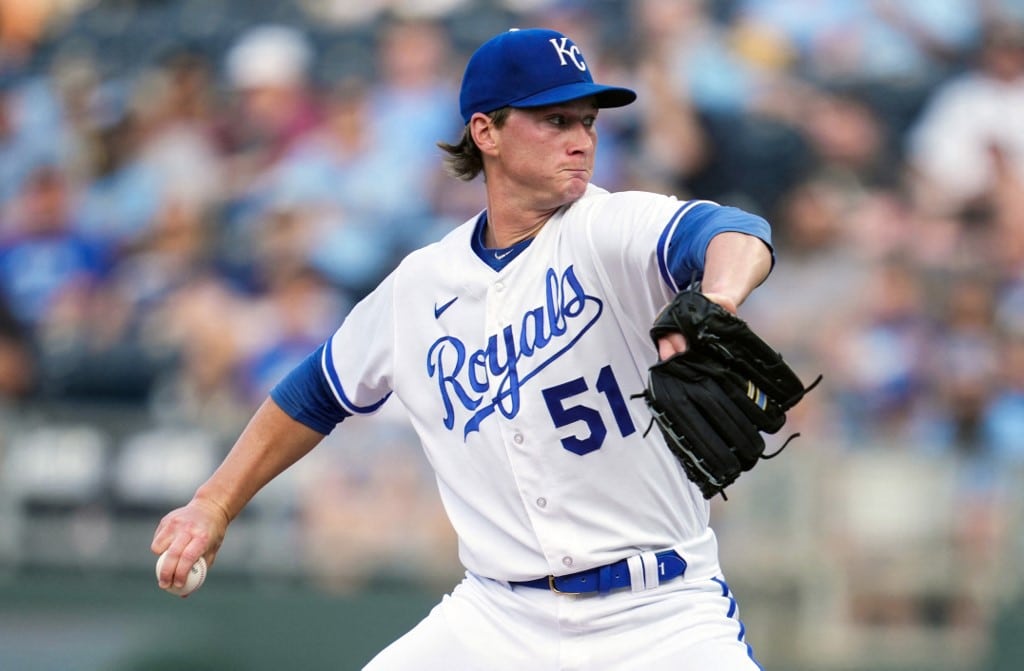 Top sportsbooks have released their MLB odds for today's baseball action.
Two games, in particular, interest me as worth investing in: Royals vs. Tigers and Red Sox vs. Twins.
For your MLB player props, I will recommend investing in a strong pitching performance from Kansas City's Brady Singer and in a weak one from Detroit's Matt Boyd and Minnesota's Sonny Gray.
Picks Summary
---
Wednesday, June 21, 2023 – 01:10 PM EDT at Comerica Park
---
Brady Singer (Kansas City Royals) 
Brady Singer starts for the Royals today. Singer is in a great bounce-back spot today after collecting the loss in both of his last two starts.
In the five starts that Singer has made directly following two in which he collected the loss both times, Singer has allowed two earned runs or fewer every time.
While his 6.33 ERA might turn away superficial bettors, this trend shows that Singer can be good and that there are situations in which he is reliable.
When Singer is in a good situation, there is indeed a lot to like about his pitching arsenal.
He favors his sinker and slider, with which he likes to attack the borders of the strike zone where batters tend to do less damage.
His most effective pitch is the slider.
Singer's slider is tight, meaning that its lack of horizontal movement renders it distinct from the slider that other pitchers throw.
Also as a result of its spin, Singer's slider nets him the most strikeouts.
Good Spot 
Singer is in a good spot because he is pitching during the day.
His career ERA is 1.08 lower in daytime games than in night-time ones.
Regardless of what time this game takes place, Detroit is an ideal opponent for him.
He has never lost against this team.
In his career, he is 6-0 with a 3.05 ERA against Detroit.
His overall success against the Tigers extends to their own ballpark.
Here, he is 2-0 with a 3.12 ERA.
Good Matchup 
Today, Singer's outlook is solid also because he matches up superbly against Tiger batters.
They slug .337, which is an awful figure, against his pitches from righties.
MLB Prop Pick: Brady Singer Under 2.5 Total Earned Runs Allowed (-129) at Caesars Sportsbook
---
Matt Boyd (Detroit Tigers) 
Detroit starts Matt Boyd today.
Comerica Park has been unfriendly to Boyd: in this venue, he has allowed five earned runs in each of his last three home starts.
Four home starts ago, he allowed six earned runs. Overall this season, his home ERA is 8.46 compared to 3.44 on the road. Partly why Boyd gives up a lot of runs is that he rather often gives up a lot of runs with one pitch. That is, he surrenders 1.40 home runs per nine innings.
He's also allowed a combined total of three earned runs in his past two starts. As heat maps show, he often makes mistakes with his location in that he leaves pitches in the more middle parts of the strike zone where batters tend to do greater damage.
This is especially true of his fastball, which is his favorite pitch to throw and which is also batters' favorite pitch to throw home runs off of. He wants to get this pitch more elevated to be higher up within or above the strike zone. But instead, he frequently misses his ideal area, leaving this pitch in a spot where batters more easily belt it out of the ballpark.
Kansas City's Lineup
History and matchup suggest that we will see a rather bad version of Boyd today. In his career, he is 7-11 with a 5.32 ERA against the Royals.
They match up well against Boyd because he is very much a fly-ball-inducing pitcher. Their slugging rate is .78 higher against fly ball-inducing pitchers than against ground ball-inducing ones.
Look out, among others, for Salvador Perez and Nicky Lopez. Both have already taken Boyd deep at least once before.
MLB Prop Pick: Matt Boyd Over 2.5 Total Earned Runs Allowed (+113) at Caesars Sportsbook
---
Wednesday, June 21, 2023 – 07:40 PM EDT at Target Field
---
Sonny Gray (Minnesota Twins)
Minnesota starts Sonny Gray tonight. With all due respect to Gray – his 2.37 ERA is obviously very pretty – but he is not that good. His ERA is still so low because it remains affected strongly by his amazing start to the season.
At the end of April, his ERA stood at 0.77. However, his May ERA was 3.91 and his June ERA is 3.45. Evidently, he is declining, which is really just to say that he is pitching more like one would expect him to.
Gray's arsenal is not so impressive. As heat maps show, he often leaves his pitches in the more middle parts of the strike zone where batters tend to do greater damage. This is especially true of his fastball, curveball, and sinker, which are his three favorite pitches to throw.
The velocity of his pitches is, furthermore, well below average.
Matchup Factors 
In terms of ERA, Gray's two worst starts of the season came against a team that matches up well against him – the Dodgers – and in a rematch – against Houston. Both situations apply to Gray's opponent tonight.
The Red Sox match up well against Gray in that he throws a fastball, curveball, sinker, cutter, sweeper, and changeup and they rank sixth in slugging .451 against these pitches from righties.
Boston also gets to see him for a second time after having faced him in April when he enjoyed top form. Among others, expect Justin Turner and Adam Duvall to thrive. Both slug 1.000 in at least seven career at-bats against Gray.
MLB Prop Pick: Sonny Gray Over 2.5 Total Earned Runs Allowed (+111) at Caesars Sportsbook
---