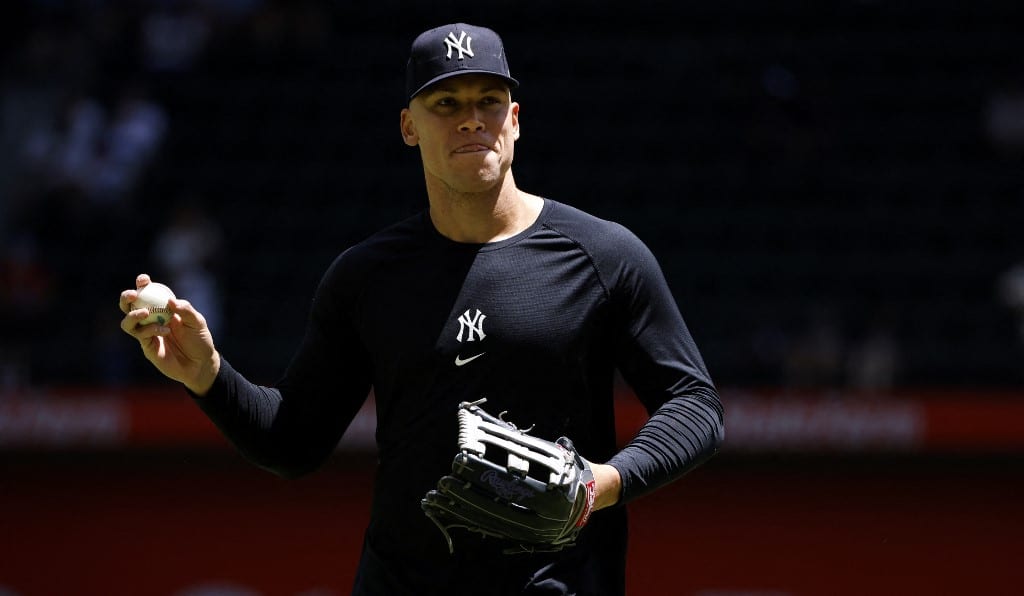 MLB Prop Pick: Aaron Judge Over 1.5 Total Bases (-135) at Caesars Sportsbook
---
Picks Summary:
Aaron Judge Over 1.5 Total Bases (-135)
Drew Rucinski Over 2.5 Earned Runs (-125)
Logan Webb Under 2.5 Earned Runs Allowed (-164)
J.D. Davis Over 1.5 Total Bases (+125)
Michael Conforto Over 0.5 Home Runs (+1075)
The New York Yankees will welcome back reigning American League MVP Aaron Judge from the injured list on Tuesday against the visiting Oakland A's. We've got two MLB props from that game and three from another one Tuesday via the MLB odds from the top-rated books.
---
Tuesday, May 09, 2023 – 07:05 PM EDT at Yankee Stadium
---
The biggest story in the majors on Tuesday should be the return of 2022 AL MVP and record-setting Aaron Judge from the injured list – something he avoided last year in having arguably the greatest offensive season in MLB history from someone without a veil of steroids hanging over him (i.e. Barry Bonds).
Judge's Return to Provide an Intangible Presence
That's why it was always a pipe dream when the Yankees re-signed Judge to a $360 million deal this offseason that he would have similar numbers ever again. The 31-year-old was batting .261 with six homers, 14 RBIs, and an OPS of .863 in 26 games before going down. Judge (hip strain) was injured sliding head-first into third base on April 26. He finished that game against the Twins but was removed in the fourth inning the next day against the Rangers.
"There's just that presence he has in being our leader," Manager Aaron Boone said of Judge. "The guys look to him; I think there is an intangible element to him being back in there as well."
During his time away from the team, Judge has been hitting off a machine, running and throwing, making sure that he would have no restrictions upon his return. New York has really been struggling without Judge. Facing the A's could mean a bit more for him as he grew up in Linden, California, about 70 miles from Oakland. The team will have to open a roster spot either by releasing outfielder Aaron Hicks, designating Jake Bauers or Willie Calhoun, or demoting Oswaldo Cabrera or Oswald Peraza.
The Prop Picks
Judge, who hit .167 with two homers last year vs. Oakland, hasn't seen struggling A's starter and 34-year-old Drew Rucinski (0-2, 7.71 ERA, 2.25 WHIP). He has allowed five runs in both starts this season spanning nine innings and this probably will be his last chance to stick in the rotation.
Rucinski has faced the Yankees once in his career and he didn't allow a run in two innings of relief while with the Marlins. In 43 career big-league games, Rucinski has a 5.68 ERA. The right-hander resuscitated his career the past four years in the Korean Baseball Organization.
MLB Prop Pick: Aaron Judge Over 1.5 Total Bases (-135) at Caesars Sportsbook
MLB Prop Pick: Drew Rucinski Over 2.5 Earned Runs (-125) at BetMGM
---
Tuesday, May 09, 2023 – 09:45 PM EDT at Oracle Park
---
The Nationals all of a sudden aren't that bad as they won the series opener 5-1 to get to 15-20. I'm not sure I saw them with their 15th win until June. They have some promising young pitching, but it's San Francisco's Logan Webb who we are backing here.
Webb to Lead Giants Against Nationals With Solid Pitching
Webb (2-5, 3.80 ERA) allowed exactly four runs in each of his past four starts, all Giants losses, but has allowed exactly two in each of his past three and gone at least six in each. It could be that Webb was pressing early on after signing a five-year $90 million extension with the team. The deal bought out three free agent years, as Webb had been scheduled to become a free agent after the 2025 season.
The one knock on Webb is that he has given up eight homers over 45 innings this year – surprising considering he gave up only 11 over a career-high 192 1/3 innings in 2022. In three career starts vs. Washington, Webb is 2-0 with a 3.45 ERA.
The Prop Picks
It's lefty Patrick Corbin for the Nationals, who is 1-4 with a 5.17 ERA and has a 5.73 ERA in two road starts. The veteran is still not very good but at least not arguably the worst pitcher in the NL like he was last year.
We like two Giants for good days against Corbin as Michael Conforto is 10-for-31 career off him with five homers and two doubles, and J.D. Davis is 11-for-37 with three doubles and four homers.
MLB Prop Pick: Logan Webb Under 2.5 Earned Runs Allowed (-164) at Caesars Sportsbook
MLB Prop Pick: J.D. Davis Over 1.5 Total Bases (+125) at BetMGM
MLB Prop Pick: Michael Conforto Over 0.5 Home Runs (+1075) at Bet365