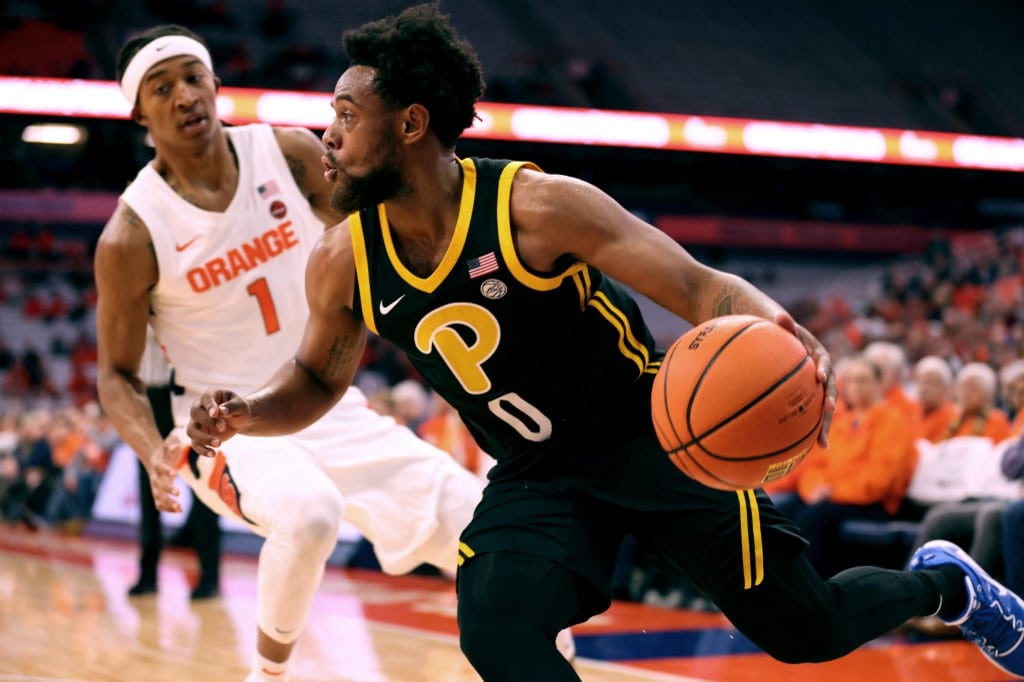 There's no secret that player props offer the best value for your college basketball picks. The betting market for these props isn't as established as the markets for point spreads and totals, and there are dozens of props available for every single game on the schedule, so you're much more likely to find some soft lines to exploit.
Case in point: Saturday's ACC matchup between the Syracuse Orange and the Pittsburgh Panthers. Player props don't always get posted as quickly as the lines for spreads and totals, but it didn't take long for this game to hit the NCAAB odds – and three of these props, in particular, are worth investing in, if we're crunching the numbers correctly.
Picks Summary
Nelly Cummings Under 5.5 Assists (-105) at Bet365
Judah Mintz Over 15.5 Points (-115) at Bet365
Blake Hinson Under 3.5 Three-Pointers (-170) at Bet365
---
Saturday, February 25, 2023 – 05:00 PM EST at Petersen Events Center
---
---
Syracuse in the Zone
Easily the best of these three props is on Pitt senior guard Nelly Cummings going Under 5.5 assists. Cummings has posted 4.7 assists per game this year, and the vigorish for this bet is -105 on the overseas NCAAB lines as we go to press.
The betting market appears to think that Cummings will find it much easier dishing dimes against Syracuse (16-12 SU, 15-12-1 ATS). This has been one of the worst seasons for the Orange in their long history under head coach Jim Boeheim, who is risking basketball obsolescence at age 78.
Boeheim's refusal to adapt to the new way of doing business in college hoops (i.e. throw money around) has caused would-be recruits to look elsewhere. The pain has been especially noticeable on defense, where Syracuse ranks No. 157 on Ken Pomeroy's efficiency charts.
Cummings Knows This Defense
Even the vaunted 2-3 Orange zone defense has allowed opponents to rack up 18.9 assists per game (No. 267) this year. And Cummings did post six assists the last time these two teams met on December 20 in Syracuse.
Having said all that, it was a very close contest that Pitt eventually won 84-82, with head coach Jeff Capel riding his starters almost the entire game – Cummings played 38 minutes, for example. That's less likely to happen at home with the Panthers favored by six points at Bet365 Sportsbook.
On the season, Cummings has played 31.9 minutes on average since making the move over from Colgate during the offseason. Combine that with the -105 vig for this bet, and you have ample reason to put the under in Saturday's NCAAB picks.
NCAAB Pick: Nelly Cummings Under 5.5 Assists (-105) at Bet365
---
Fresh Mintz
Not everything is going horribly for Syracuse. Freshman guard Judah Mintz has been one of their better players, posting a plus-2.7 on the Box Plus/Minus charts at Sports Reference; Mintz is second on the team in scoring at 16.0 points per game, which would be just enough to get him Over 15.5 points for our second player prop.
This prop happens to have -115 juice attached to it, so we're not looking at the same potential profit margin as the Cummings prop, but Pittsburgh's defense isn't particularly efficient either at No. 90 according to Pomeroy.
It gets worse when it comes to raw scoring. The Panthers have allowed 67.9 points this year (No. 118), and Mintz has gotten better and better as the season has worn on. He also scored 24 points against Pitt in their last meeting on 7-of-17 from the floor. There's no reason to think Mintz can't do the same this Saturday.
NCAAB Pick: Judah Mintz Over 15.5 Points (-115) at Bet365
---
Go for 3
Finally, we have Pitt guard Blake Hinson pegged to go Under 3.5 made threes against Syracuse, with the vig at -170 overseas. Chances are Hinson (2.6 3PM per game) will do just that, but is it worth the mouthful of chalk?
All signs point to yes – although it's the least tasty of our three NCAAB player props. At 6-foot-7, Hinson has the size to bust that 2-3 zone with his perimeter offense; then again, he only shot 2-for-9 from downtown in that previous meeting with the Orange, and that was in 39 minutes of work.
Syracuse will dare Hinson to do it nonetheless. They allow 28.9 trey attempts per game, second-most in Division I, so you'll definitely want to make this the smallest wager of the three on our list. Bet accordingly.
NCAAB Pick: Blake Hinson Under 3.5 Three-Pointers (-170) at Bet365
---