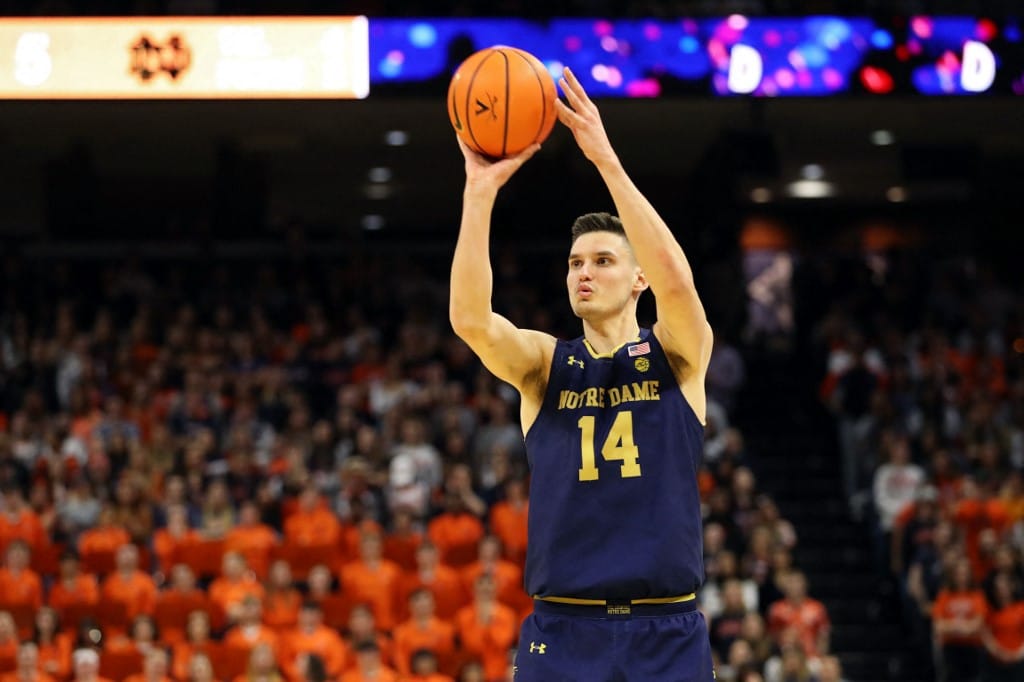 We have the betting odds for tonight's college basketball action, and two games, in particular, interest me as worth investing in for today's player prop picks:
Auburn vs. Alabama
Pittsburgh vs. Notre Dame
Picks Summary
Wendell Green Over 14.5 Points (-115) at Bet365
Wendell Green Over 3.5 Assists (-160) at Bet365
Nate Laszewski Over 15.5 Points (-125) at Bet365
---
Wednesday, March 01, 2023 – 07:00 PM EST at Coleman Coliseum
---
---
Distracted Alabama
About a week ago, a tremendous news story broke that has garnered a lot of national attention. Reportedly, Crimson Tide forward Brandon Miller brought the gun used in a killing committed by a now former Alabama basketball player named Darius Miles.
Miller has still playing, and I'm not sure if this contributes to the issue, but there certainly is an issue: Alabama's team is facing a unique distraction that is affecting its quality of play.
After all, these are all elite athletes – even a bad team requires concentration to beat. Because Bama players lack this concentration, they required overtime to overcome an awful South Carolina team.
Most recently, they beat Arkansas by three. Alabama is underachieving relative to its normal quality of basketball.
Backing the Opponent
We take advantage of this condition in which Bama players find themselves by investing in their opponent's player props. This is a viable strategy because it is the Crimson Tide defense, especially, that is struggling.
Two games ago, South Carolina scored 76 on them, including overtime. Most recently, Arkansas scored 83 on them.
Wendell Green
The Auburn player whom I am particularly interested in targeting is point guard Wendell Green.
I am interested in a point guard because Alabama's opponents have relied particularly on guard play to score as much as they've scored. Arkansas' Nick Smith, for example, just dropped 24 points on the Tide and fellow guard Davonte Davis added 21.
For Auburn, Green is his team's most involved player on a per-possession basis. Vastly more so than any other guard on the team, he is expected to score and distribute and he will do the most to make today's game a high-scoring one.
Green repeatedly scores over 20 points in different games to a relatively significant extent because he excels at drawing fouls.
Green's Prop Pick
Even before the onset of this distraction, Alabama struggled to defend without fouling. So, Green will reach the free throw line a lot in addition to scoring in other ways.
He also has a high assist rate on the season, which he'll continue to have as part of his team's productive effort against an underperforming Bama defense.
For your NCAAB Picks, invest therefore in Green's scoring total and in his assist total.
NCAAB Pick: Wendell Green Over 14.5 Points (-115) at Bet365
NCAAB Pick: Wendell Green Over 3.5 Assists (-160) at Bet365
---
Wednesday, March 01, 2023 – 07:00 PM EST at Joyce Center
---
---
Bigs Who Shoot the Three
Pittsburgh's defense enjoys a strong reputation, so this game is projected to be lower-scoring than other games in which a team plays Notre Dame.
But the strong reputation of Pitt's defense exists despite the team's performance against bigs who can shoot the three.
When the Panthers played Syracuse, for example, power forward Benny Williams scored 24 points for the Orange as part of his team's 82-point output.
In a similar vein, Hokies center Grant Basile scored 22 points when he played Pitt.
Nate Laszewski
Notre Dame has a center in Nate Laszewski who qualifies as the type of player against which Pittsburgh's defense yields higher scoring outputs.
He is both big and he can shoot the three. His three-point efficiency is remarkable for a center. From behind the arc, he is shooting over 40%, both on the season as a whole and during conference play.
Laszewski's Prop Pick
His last two games were lower-scoring, but he is primed to rediscover his groove. In particular, I like that he still attempted four threes last game despite not playing well.
This high attempt total shows that he maintains confidence in his shot.
Tonight's game provides just the opportunity for him to make those shots go in.
NCAAB Pick: Nate Laszewski Over 15.5 Points (-125) at Bet365
---