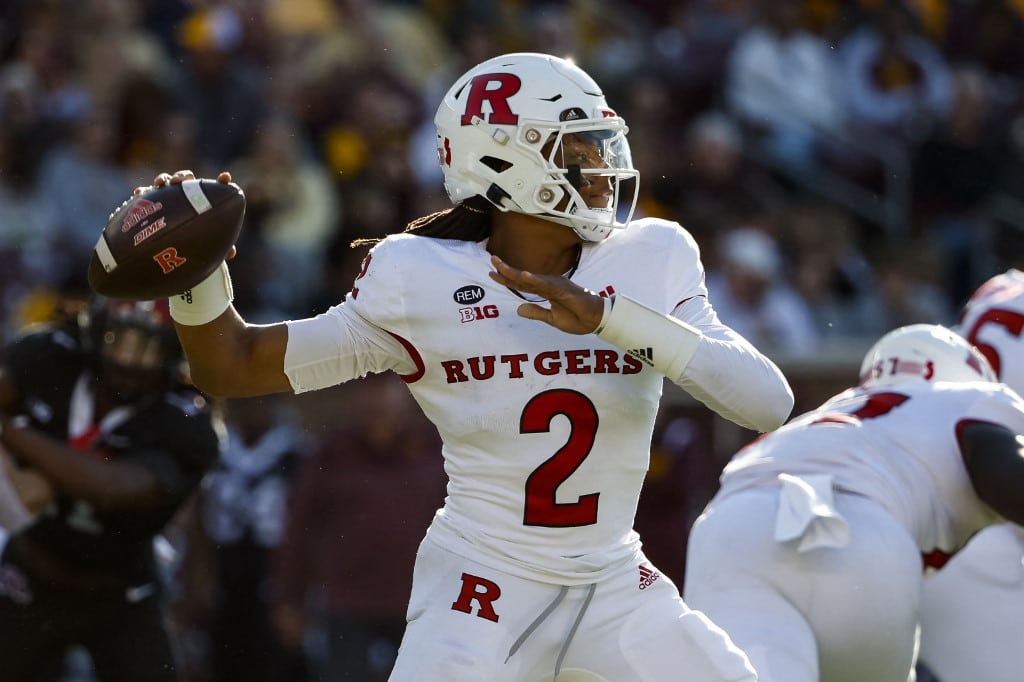 NCAAF Pick: Rutgers Over 4 Wins (-125) at Caesars Sportsbook
---
The Big Ten could be more balanced this year. This conference is typically a battle between Michigan and Ohio State.
But Penn State could make noise in the Big Ten this year. Let's take a look at the top teams and explore one of the alternative NCAAF futures market to get better value.
---
Big Ten Odds
Here are the current Big Ten odds for the 2023 season, via Caesars Sportsbook
Ohio State +170
Michigan +175
Penn State +550
Wisconsin +750
Iowa +1200
Illinois +3000
Minnesota +4000
Nebraska +6000
Maryland +8000
Purdue +10000
Michigan State +15000
Rutgers +25000
Northwestern +30000
Indiana +50000
---
The Big Ten
Penn State landed Drew Allar two years ago as a five-star prospect. He's a quarterback who saw some time last year and looked brilliant behind Sean Clifford.

Allar likely learned behind Clifford, which was huge because Clifford beat out Will Levis for the starting job at Penn State before Allar's commitment.

Clifford's time at Penn State was likely underrated. But he doesn't have the skill Allar will bring in.
Supporting Cast
Allar will also have Nicholas Singleton and Kayton Allen as running back. Singleton looked like one of the best running backs in the country last year as a freshman. He's got so much potential with Allar, making that quarterback-runningback duo look sensational.

Allar won't have many returning wide receivers. But a transfer in Dante Cephas should help him out. Plus, the defense still has top tackles and NFL targets like Abdul Carter, Adisa Isaac, and Chop Robinson.
Back In Ann Arbor
Meanwhile, Jim Harbough has been suspended for the first four games at Michigan. Michigan has a terrific team this year, with J.J. McCarthy, Blake Corum, and Donovan Edwards all returning. The offense should be sensational, while the defense still has seven starters returning. But Penn State has the players to compete against Michigan this year, especially at home.

On the other hand, Ohio State will look to Kyle McCord to lead the offense. He's stepping in for C.J. Stroud. Nobody knows what to expect. But expectations are high regardless. It might take some time for the offense to move. However, with Marvin Harrison Jr. returning at wide receiver, McCord has no excuses.

TreVeyon Henderson and Miyan Williams are returning for the ground game. Ohio State's always stacked. But they're relying heavily on McCord, and nobody knows what to truly expect.
---
Big Ten West Division
The Big Ten West is more worried about defense. Ohio State, Michigan, and Penn State will put up many points and play well defensively. That can't be said for the Big Ten West division.

Wisconsin, Iowa, and Minnesota aren't always the best offenses, but they play the best defense in the league.

The team that figures out offense the quickest will likely win the Big Ten West division and play in the Big Ten Championship game.
Masterminds
Wisconsin added Luke Fickell as head coach and brought Phil Longo to coordinate the offense. He's from North Carolina and will implement an Air Raid attack for Wisconsin. That's appealing, especially with the addition of Tanner Mordecai at quarterback from the transfer portal.

Meanwhile, Iowa's offense should improve with Cade McNamara starting at quarterback. He's a former Michigan quarterback with much experience in the Big Ten.

Plus, Minnesota is moving on from Tannger Morgan. They'll ride it out with Athan Kaliakmanis, who has so many intriguing wide receivers to throw the ball to. The offensive line has three returners too.

The Big Ten West could be fun this year. We might get more offense out of the top teams in the division.
---
Any Sleepers?
None of the teams not listed above will play for the Big Ten Championship. I can almost guarantee it.

But I'm looking at some schedules and like the Rutgers Scarlet Knights to at least earn six wins and multiple Big Ten wins.

Rutgers needs to develop Gavin Wimsatt, but they've added the best staff that the program has ever seen. They've got legitimate experience with their coaching staff and a quarterback in Gavin Wimsatt, who was already named the program's starter.
---
Rutgers Win Total
The Rutgers Scarlet Knights are projected to earn just four wins this season. But I'm not buying it.

The Scarlet Knights should defeat Northwestern (Week 1), Temple (Week 2), Wagner (Week 5), and Virginia Tech (Week 3) to start out the year.

That's already four wins. They'd need one win over Indiana (Week 8) or Michigan State (Week 7) to earn at least five wins.
The Pick
Rutgers lands a Bowl Game and earns a win over Indiana and Michigan State, along with those other four wins.

Therefore, give me the Scarlet Knights to earn at least five wins. If they only win four, it's a push, and the bet gets voided anyway.
NCAAF Pick: Rutgers Over 4 Wins (-125) at Caesars Sportsbook
---