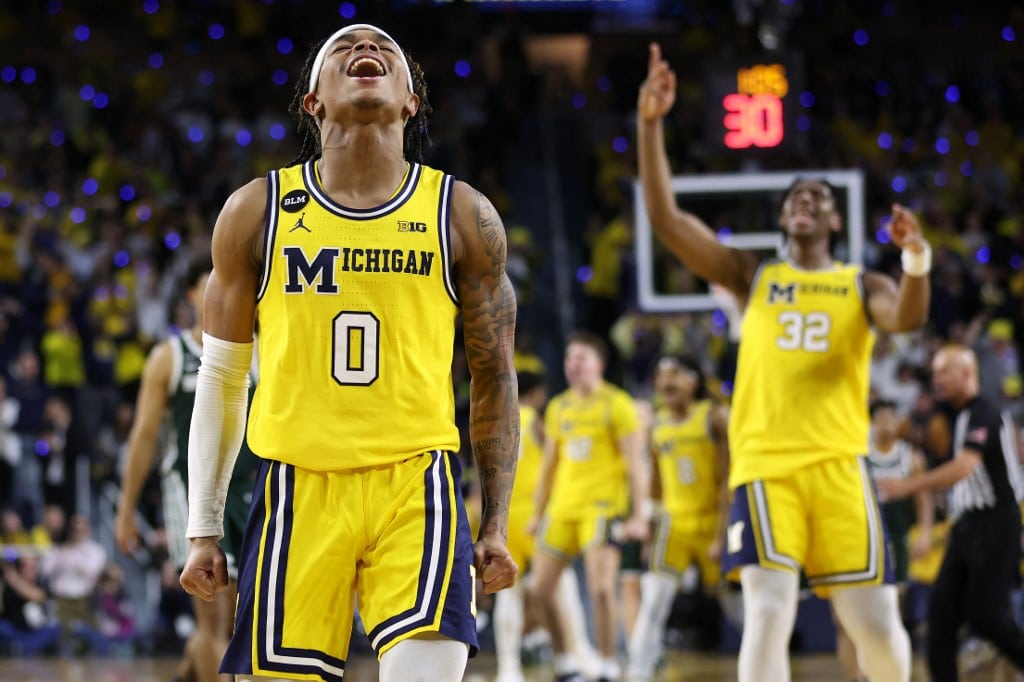 The sportsbooks have released their betting odds for tonight's slate of college basketball games.
Three games interest me: Michigan vs. St. John's, Central Michigan vs. Florida State, and Florida Gulf Coast vs. Pittsburgh. For your best bets, I will recommend that you invest in Michigan, Central Michigan-Florida State "under," and Pittsburgh.
My recommendations are backed by OddsTrader's computer AI and by my handicapping.
Picks Summary
Michigan +2.5 (-110) at Bet365
Central Michigan-Florida State Under 153 (-112) at Unibet
Pittsburgh -9 (-110) at Bet365
---
Monday, November 13, 2023 – 06:30 PM ET at Madison Square Garden
---
Our computers project that, despite being listed as an underdog, Michigan will defeat St. John's.
I, too, believe that the Wolverines will upset St. John's tonight. Accordingly, you should play the Wolverines.
Misleading Season Opener
The Johnnies' season-opener creates a misleadingly positive impression of them. While they won by a lot, their opponent was Stony Brook, a team that went 11-22 last year while losing to the likes of North Carolina A&T and William & Mary.
Their season-opener masks critical issues that their offseason has opened up.
St. John's Is in Trouble
During the offseason, the Red Storm underwent a tremendous overhaul, after 13 players departed, while only one returned.
The one returning player, Joel Soriano, is likely not helpful to the team, his surface-level stats notwithstanding. A deeper statistical dive can help one make the case that St. John's last year actually played better when Soriano was not on the court.
In order to be competitive against a tournament-caliber team like Michigan, the Johnnies will need to rely on their new players having a higher level of chemistry and quality than they needed to show against lowly Stony Brook.
Against Stony Brook, the Red Storm relied on a mixture of guys who had never played together and who had come from the likes of Harvard, Penn, Iona, and Oregon State.
The caliber of their former programs and the extent of their success in previous seasons cast doubt on the sufficiency of their talent level compared to a program like Michigan.
Michigan's Offense Is Too Strong
Michigan has faced two teams that, per KenPom's metrics, are significantly tougher than Stony Brook. The Wolverines won both games by 25 or more points. They scored over 90 points in both games.
Their transition into this year has been smooth due to their greater extent of returning players, including point guard and key facilitator Dug McDaniel. St. John's allowed 74 points to Stony Brook, which is especially alarming given the latter's inefficiency from behind the arc.
The Johnnies will have trouble keeping up, especially since they are a team that likes to score inside. They won't score as easily as Michigan, because they face a Michigan defense that uses its length to limit opposing two-point efficiency very effectively.
NCAAF Pick: Michigan +2.5 (-110) at Bet365 (check our Bet365 Review)
---
Monday, November 13, 2023 – 07:00 PM ET at Donald L. Tucker Center
---
Our computers indicate that this game will finish with a total of 138.
This is 15 points below the over/under posted by oddsmakers. I agree that this game will be rather low-scoring and believe that you should play the "under."
Central Michigan's Guard Play
The Chippewas are a rather young team, as they return two starters and bring in twelve new players, including six freshmen. Five of those freshmen are guards, which reflects their current interest in recruiting guards.
A look at their current selection of point and shooting guards makes sense of why they sensed the need to restock at the position.
Their shooting guards, Paul McMillan and Derrick Butler, struggle to make shots. McMillan's career three-point percentage is 28.6 while Butler has yet to make a three-pointer in his career. Both players also struggle as facilitators, although the primary point guard is Anthony Pritchard, who is extremely turnover-prone.
Thanks to the likes of Pritchard, the Chippewas rank 340th nationally at limiting turnovers.
The upshot of this is that the Chippewas love to shoot threes, but they struggle to create open shooting opportunities and they struggle to make shots.
Can The Chippewas Score Inside?
While the Chippewas would much rather shoot from three, scoring inside is also an option. However, the Seminoles, unsurprisingly the tallest team in the nation, will be difficult to score on inside.
With a deep array of centers and power forwards, the Seminoles are aggressive and energetic when defending the basket. Their shot-blocking ability tends to deter teams from even trying to score at the basket.
Takeaway
The upshot of the above analysis is to say that Central Michigan's offense, who most recently mustered 64 points against Louisiana Monroe, would have to do some heavy-lifting in order for the "over" to hit. This is a high total, at 153. If the Chippewas reach 60 points, then the Seminoles would still have to score over 93 points, which is a tough ask for any team.
For the above reasons, I don't foresee the Chippewas even reaching 60 points.
The Seminoles, who lost two of their top shot-takers from last season and who lack efficient three-point shooters outside of Darin Green, aren't reliable enough offensively to reach such a high point total.
When they attain a strong lead, they'll also want to rest their best scorers for their upcoming game against rival Florida.
NCAAF Pick: Under 153 (-112) at Unibet
---
Monday, November 13, 2023 – 07:00 PM ET Petersen Events Center
---
Our computers indicate that Pittsburgh will defeat Florida Gulf Coast handily, and I agree. You should play Pittsburgh, expecting the Panthers to win by upwards of 20 points.
Florida Gulf Coast's Last Game
The Eagles played a no-name school on Friday named Ave Maria, and I find it concerning that they only won by nine, 80-71.
The fact that Florida Gulf Coast allowed so many points on Friday demonstrates continuity with their struggles on defense last season, when they gave up 84 points to Queens and 91 points to Central Arkansas, to offer two examples.
Pittsburgh's Offense
Through two games, the Panthers are averaging over 94 points per game. They rely especially on returning forward Blake Hinson, who is an efficient three-point shooter but is also effective inside the arc where he displays a nice collection of post-up moves with his quick feet, which also help him draw fouls at a high rate.
Beyond Hinson, the Panthers are able to make ample use of their bench, which shows their depth of scoring quality.
The point here is that Pittsburgh has a very effective and talented offense, which must have an extremely positive outlook tonight against a struggling Florida Gulf Coast defense.
Pittsburgh's Defense
The Panthers rank top-50 nationally in defensive efficiency.
With their unique height and length, they have good perimeter defenders, which is useful against a team, like their opponent tonight, that loves to shoot threes.
Pittsburgh is allowing 56 points per game so far, positioning it to win in a blowout tonight.
NCAAF Pick: Pittsburgh -9 (-110) at Bet365
*The line and/or odds referenced in this article might have changed since the content was published. For the latest information on line movements, visit OddsTrader's free betting odds tool.