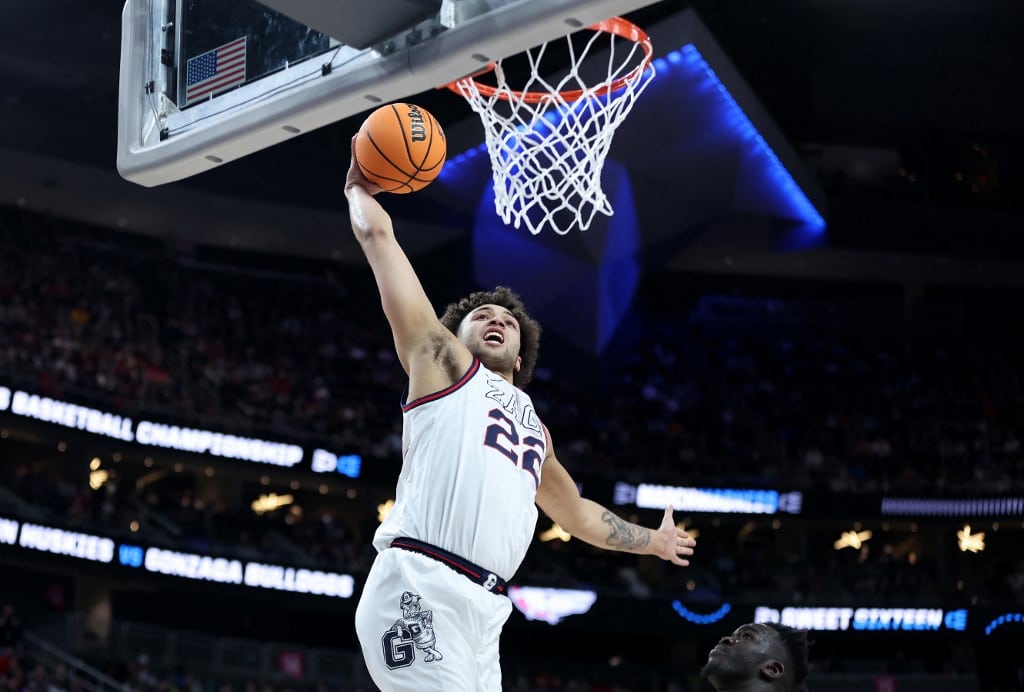 The best betting odds for today's slate of college basketball games are here, and three games particularly interest me: Purdue vs. Gonzaga, Florida State vs. UNLV, and Virginia vs. Wisconsin.
For your best bets, I will recommend wagering on Gonzaga, UNLV, and Virginia to cover the spread.
My recommendations are backed by OddsTrader's Computer AI and by my handicapping.
Picks Summary
Gonzaga -5 (-110)
Purdue-Gonzaga Over 155.5 (-110)
UNLV +4 (-110)
UNLV ML (+150)
Virginia -4 (-110)
*All odds from Bet365 (check our Bet365 Review)
---
Monday, November 20, 2023 – 05:00 PM ET at Stan Sheriff Center
---
Our computers project that lower-ranked Gonzaga will pull off the upset victory in a high-scoring affair.
I agree with this projection and therefore urge you to invest in both Gonzaga and the "over."
Drew Who?
A lot of Purdue fans and backers think that Gonzaga will be a relatively easy opponent for their team in the Maui Invitational. Their reasoning is that center Drew Timme is no longer with Gonzaga.
This kind of thinking makes sense for someone who roots for Purdue: the Boilermakers themselves rely heavily on their big man, center Zach Edey, so they must believe that losing Timme must be just as catastrophic as their losing Edey would be.
But my point here is that such an emphasis on a center is absurd. Purdue supporters should know better after seeing their Edey-led Boilermakers lose to a 16 seed in last year's NCAA Tournament because their guard play was inferior.
Gonzaga has the guards to beat Purdue – and it still has some quality big men.
Ryan Nembhard
The Bulldogs will win because they will have the best point guard on the court. This point guard is Ryan Nembhard, who was one of 20 point guards to be named on the 2024 Bob Cousy Award Watch List.
A transfer from Creighton, where in his conference he was one of the most efficient three-point shooters and one of the top assist-getters, Nembhard gives Gonzaga the guard play that it sorely lacked last year.
He will really test a young Purdue backcourt that has only had to deal with either weak opponents or teams led by poor point guard play.
When the Boilermakers lost to a 16 seed last March, quick guards provided their downfall. Nembhard is both quick and supremely skilled.
Pace
With his speed, Nembhard likes to up the tempo – led by Nembhard, Gonzaga ranks 81st in adjusted tempo.
This tempo will make a Purdue team uncomfortable that under Matt Painter is characteristically disposed to grind games out slowly – something that the Boilermakers need to do especially since they obviously like to play their giant seven-footer Edey.
Bigs
Gonzaga's bigs will draw Edey away from the basket, where he would rather hang around as a rim protector.
Braden Huff is already 2-for-3 from deep. Edey's distance from the basket will undercut Purdue's shot-blocking endeavor.
Takeaway
My point is that Gonzaga will score in droves. While I haven't said anything about Gonzaga's defense, the fact that it surrendered 71 points to Yale inspires pessimism.
This will be a high-scoring game, but this will also be Gonzaga's game because it is radically more comfortable than Purdue is in an up-tempo game.
The underdog and "over" go together.
NCAAF Pick: Gonzaga -5 (-110) at Bet365
NCAAF Pick: Over 155.5 (-110) at Bet365
---
Monday, November 20, 2023 – 05:30 PM ET at Ocean Center
---
Our computers indicate that UNLV will upset Florida State, and I agree: you should invest in UNLV both ATS and ML.
Florida State Around The Basket
Leonard Hamilton's Florida State teams are typically at their best on both offense and defense when the action unfolds around the basket.
On offense, they use lengthy guards and forwards who will try to finish over top of defenders and who will be aggressive and draw fouls. On defense, Hamilton runs a substitute-heavy system in which various bigs and other well-sized defenders block a lot of shots.
UNLV Won't Back Down
If Florida State wants to bully UNLV like it bullies other teams, it won't have luck. The Runnin' Rebels are, in fact, just coming off a game in which they bullied Pepperdine, scoring 50 points in the paint in the process. They have ample size and strength that they can utilize to feast inside.
Spread Them Out
But UNLV is also inclined to do what Florida did – for example in the beginning of the second half – in its blowout win over the Seminoles. The Gators spread the Noles out and used the space to score a lot.
UNLV likes to spread out its players and perhaps set screens to get, among others, point guard Dedan Thomas going downhill. He will be a lot for Florida State's defense to handle.
Consider that the Noles gave up 89 points in their first real test – UNLV ranks 60th nationally in offensive efficiency and has the ability to play in ways that will bother the Seminoles.
Don't Foul
Florida State's determination to score inside and to use its aggressiveness to draw fouls will be futile.
UNLV boasts a stout interior defense that excels at defending without fouling – it ranks eighth nationally at limiting the opposing rate of free throw attempts.
NCAAF Pick: UNLV +4 (-110) at Bet365
NCAAF Pick: UNLV ML (+150) at Bet365
---
Monday, November 20, 2023 – 06:00 PM ET at Suncoast Credit Union Arena
---
Our computers project a strong Virginia victory, and I agree. Accordingly, you should invest in the Hoos.
How To Beat Virginia
Virginia is always stout defensively under Tony Bennett. The Hoos utilize a pack-line system that makes scoring inside difficult by creating a wall of defenders in the middle and by doubling the post, such that opposing scorers get pushed toward the perimeter.
Teams score against Virginia, especially by getting hot from deep – recall the UMBC game, for example.
Wisconsin's Offense
The Badgers are not built to score against Virginia. They will want to get hot from deep in order to defeat UVA's pack-line defense. However, they are shooting 29% from deep.
They rank 302nd in rate of three-pointers attempted, presumably because they lack the confidence to perform well from behind the arc.
Virginia's Rim Protection
Virginia boasts excellent defensive bigs with which to stymy Wisconsin's interior scoring endeavor:
Blake Buchanan is very lengthy, and he uses his length to rank 85th nationally in block rate.
Ryan Dunn is also very athletic and has an even higher block rate than Buchanan.
Wisconsin won't make threes, because it can't shoot, and it won't make twos because UVA can defend them well.
Virginia On Offense
It won't take much scoring to cover the spread against the Badgers, but Virginia has what it takes to score a lot today.
Wisconsin's perimeter defense is very vulnerable – it just conceded 13 three-pointers to lowly Robert Morris, for example.
On offense, fittingly for them, the Cavaliers love to shoot the three. With the likes of forward Jake Groves, they rank 22nd nationally in three-point percentage.
NCAAF Pick: Virginia -4 (-110) at Bet365
*The line and/or odds referenced in this article might have changed since the content was published. For the latest information on line movements, visit OddsTrader's free betting odds tool.