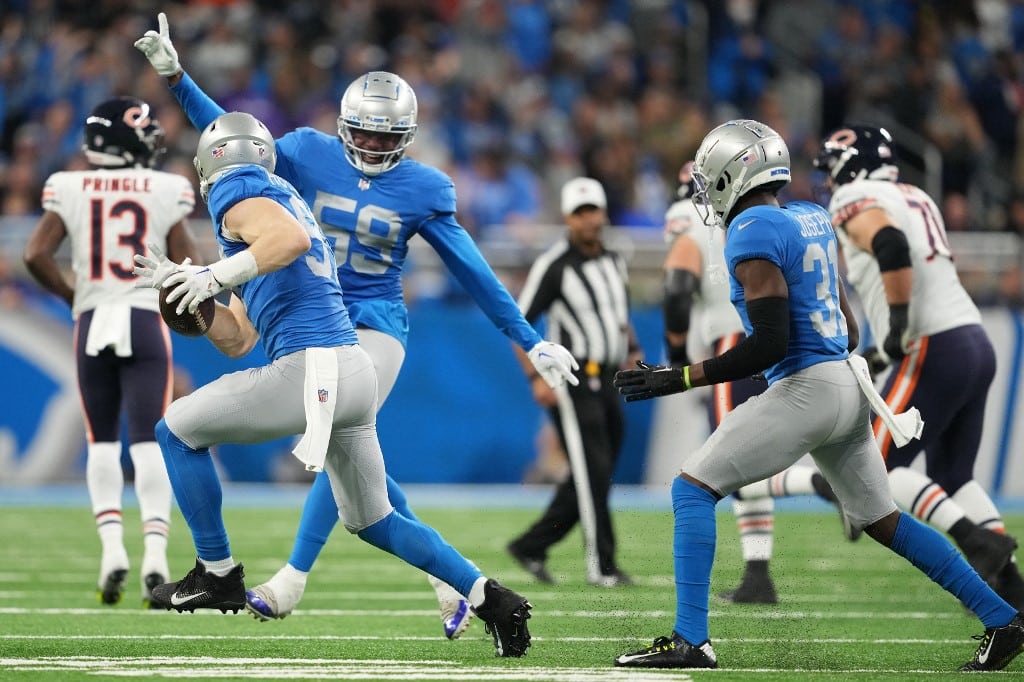 NFL Pick: 2023 Detroit Lions Under 9.5 Wins (+120) at BetRivers (check our BetRivers Review)
---
You know it is a new day in the NFC North when the Detroit Lions are favored to win the division. The Michigan team has not been a preseason division favorite since the 1982 season, and that ended up being a 9-game strike season where they finished 4th with a 4-5 record.
Jumping forward to 1992, that was before we found out who Brett Favre was in Green Bay, and the Lions were coming off a 12-4 season with their only playoff win in the Super Bowl era. But even in that year they were co-favorites in the division with Chicago. The Lions finished 5-11 – dead last in the old NFC Central.
Basically, the Lions and expectations do not go well together. But the team has an over/under of 9.5 wins at many of the top-rated sportsbooks, and they have remained a steady favorite to win the NFC North.
After a questionable offseason in the team improvement area, is this team ready to break out under Dan Campbell, or was the 1-6 start just as relevant as the 7-2 finish last year?
---
Significant Changes
We look at some of the marginal improvements the Lions made to their roster, and what could really make them jump to the next tier in 2023.
The Polarizing Draft
After making 5 draft selections in the top 68 picks, the Lions had one of the most polarizing draft hauls of 2023. They will be double and triple-guessed about their moves, which included a trade down from No. 6 to No. 12.
Should the Lions have remained put at No. 6 and drafted defensive tackle Jalen Carter to beef up the defensive line with Aidan Hutchinson?
Why not draft the best wide receiver in the class – most thought Jaxon Smith-Njigba – at No. 18 instead of going for an off-ball linebacker (Jack Campbell) many thought would be available in the 2nd round? Remember, Jameson Williams is suspended for 6 games for gambling, so the Lions will not see much again from their 2022 1st-round pick at wide receiver as they search for a competent No. 2 behind Amon-Ra St. Brown.
Positional value is the biggest complaint about Detroit's draft. Why draft running back Jahmyr Gibbs with the No. 12 pick when that position is so easy to replace with lesser resources? Will Gibbs and free agent David Montgomery from the Bears really move the needle from what Jamaal Williams and D'Andre Swift gave the Lions last year? That duo had 2,070 yards from scrimmage and 25 total touchdowns.
Rookie tight ends rarely produce in the NFL, and God knows the Lions have been burned by high picks at that position before with Brandon Pettigrew, Eric Ebron, and T.J. Hockenson. If you couldn't make Hockenson work to the point of trading him to rival Minnesota, what makes you think 2nd-round pick Sam LaPorta is going to be the answer this year? Goff has helped a tight end to 600 receiving yards in a season once in his 7-year career.
Good for Detroit if these players work out, but it is hard to see them having a huge impact in 2023, and it is hard to think they will not be questioned about giving up positional value.
What Can Make Detroit Better in 2023?
Beyond the questionable draft, Detroit's free-agency moves are also lacking a real buzz or beacon for change.
A safety like C.J. Gardner-Johnson had a career year for the Eagles last year with 6 interceptions, but that was more picks than he had in 3 years combined for the Saints. In Detroit, he will not have the services of a pass rush that gets 70 sacks or a corner duo as strong as Darius Slay and James Bradberry.
The offense brought Marvin Jones back. The former Lion is a solid receiver with good hands, but at 33 years old, his best days are behind him. His 33.1 yards per game in Jacksonville last year was his lowest average since his rookie season in 2012.
Corner Emmanuel Moseley from the 49ers will hopefully be an improvement after the team cut ties with Jeff Okudah, the disappointing No. 3 pick from the 2020 draft who allowed 8.8 yards per target in his first full season last year. For the 49ers, Moseley allowed 5.9 yards per target in 2022, but he also was limited to 5 games due to injury. In 2021, it was the same thing as Moseley allowed 5.8 yards per target in 11 games played. He needs to stay out of the injury list after making it through one full season in 5 years for San Francisco.
Speaking of the 49ers, they can be a blueprint for what can really make Detroit improve its defense and take the next step in 2023. Detroit's secret weapon could simply be Aidan Hutchinson, the No. 2 pick in the 2022 draft, stepping up his game to Defensive Player of the Year caliber similar to what Nick Bosa did for the 49ers.
Look at what these players did in their rookie seasons:
Nick Bosa (2019): 16 games, 9.0 sacks, 1 INT, 1 forced fumble, 25 QB hits, 45 pressures, 47 total tackles, 16 tackles for loss
Aidan Hutchinson (2022): 17 games, 9.5 sacks, 3 INT, 0 forced fumbles, 15 QB hits, 30 pressures, 52 total tackles, 9 tackles for loss
Bosa was injured 2 games into his 2020 season, but when he came back in 2021, he had 15.5 sacks and a league-high 21 tackles for loss. The Lions need Hutchinson to get closer to that level this year if they want to comfortably be a division winner with a chance to do something in the postseason in a weakened conference.
---
2023 Schedule Analysis and Pick
Teams who start a season poorly and finish it hot are historically not a great bet the following year. In fact, Detroit is only the 10th team since the 1970 merger to start 1-6 and finish with 8 or 9 wins. Of the previous 9 teams, none won more than 9 games the next year, and only 2-of-9 made the playoffs.
The Lions could statistically be a better team in 2023, but the record may not change much, if at all. The schedule starts with a brutal test in Kansas City on the night when the Chiefs unveil their championship banner. A win there would change all the expectations for these Lions, but the 0-1 start is most likely.
The division is there for the taking, but that extends to all 4 teams. Detroit may be looking at 3-3 in the division as a realistic scenario. The Lions have 4-of-6 on the road to end the season, and while most games will be played in a stadium with a roof, it is worth pointing out that Goff tossed just 6 of his 29 touchdown passes on the road last year – the most lopsided ratio ever for a season with 25 touchdown passes.
The Lions will also have some tough trips to the Ravens (Week 7), Chargers (Week 10), Saints (Week 13), and Cowboys (Week 17). Detroit was 3-6 against teams with a winning record last year, and the only 10-win team the Lions beat was Minnesota, which was statistically the worst 13-win team in NFL history. The offense is also unlikely to maintain that ridiculously low turnover ratio in the final 11 games from last year.
It is easy to root for the Lions as the NFL's underdog franchise, because nothing ever seems to go their way all these decades. But even in a year where they are favored to win the NFC North, it is hard to see this working out better than 9-8 again. Let's go with the under for your NFL picks.
---
2022 Recap: The Good, the Bad, the Ugly
The Lions were a hard team to figure out in 2022, because most NFL teams do not start 1-6 and most do not finish 7-2, let alone do both things in the same year. But Detroit's path to a winning record was still unusual in the way the Lions would lose 48-45 to Seattle one week, then lose 29-0 to the Patriots a week later.
Frankly, the narrative for 2022 in the NFC North is largely written the way it is because of the Lions sweeping Green Bay in two low-scoring games. The Lions were able to intercept Aaron Rodgers 4 times, which is unheard of. Rodgers threw as many interceptions against Detroit last season as he did in the previous 11 seasons combined.
Detroit's defense was not good by any stretch last year, but it got the job done in those wins over Green Bay to prevent the Packers from making the playoffs as a wild-card team. Detroit itself largely did not qualify with a 9-8 record thanks to dropping that 48-45 game to Seattle, which did earn the No. 7 seed on the final day of the regular season.
But it was a wild season for the Lions, who got to 20-plus points most weeks as Jared Goff had his finest season since he led the Rams to the Super Bowl in 2018. Wide receiver Amon-Ra St. Brown became a household name after catching 106 balls, and running back Jamaal Williams had an amusing season with 17 touchdowns (13 of them from the 1 or 2-yard line). The Lions had 4 turnovers in their final 11 games, tied for the 2nd-fewest turnovers in a team's final 11 games since 1950.
Crushed Hopes
But Detroit's playoff hopes suffered a major blow in Week 16 when the Lions lost 37-23 as a road favorite in Carolina. Things were going so well with a 6-1 run with the only loss coming to Buffalo on Thanksgiving after a last-second field goal. The Lions looked ready to roll into the playoffs, but they were steamrolled by Carolina's rushing offense, which had 320 yards.
The Lions rushed for 45 yards, the only game of the season where they were under 80 yards. The defense also failed to generate a takeaway, something that only happened one other time in the season opener against Philadelphia.
That Carolina loss gives some pause to how good the Lions will be in 2023, because the roster has not been improved enough to trust that this team can be expected to win the games it is expected to win.
NFL Pick: 2023 Detroit Lions Under 9.5 Wins (+120) at BetRivers
---