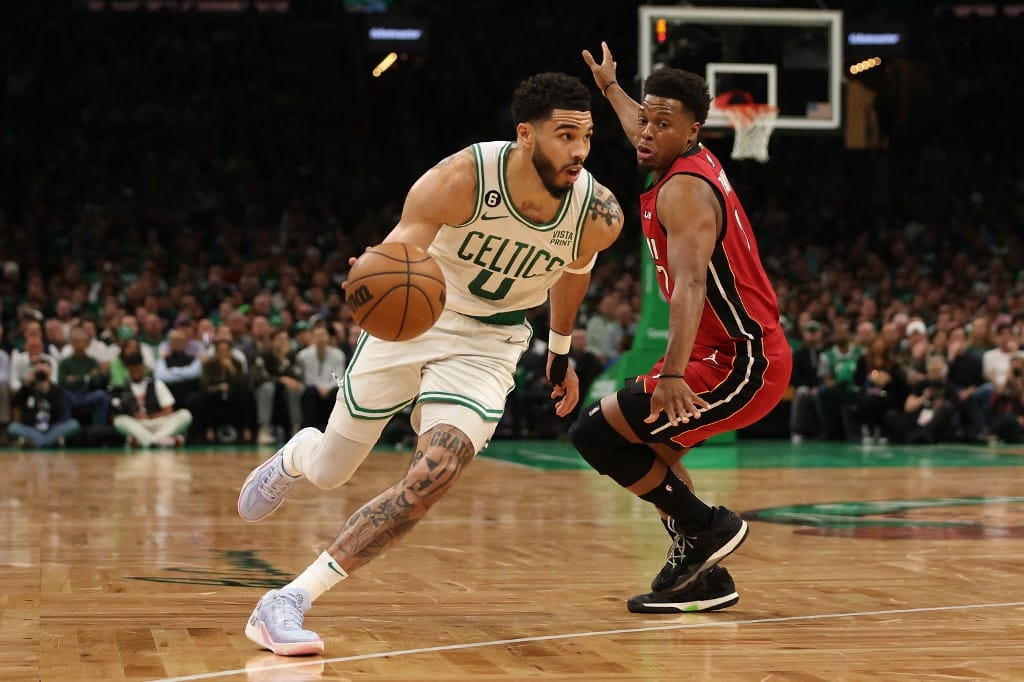 Picks Summary
The Eastern Conference Finals continue tonight. The Boston Celtics host the Miami Heat, with the Heat having a 1-0 lead in the series. 
This will be a fun and exciting game and we will win some money on it as well because I used the OddsTrader tool to find the very best NBA player props.  
---
Friday, May 17, 2023 – 08:30 PM EDT at TD Garden
---
Derrick White (Boston Celtics)
The Boston Celtics and Miami Heat will take the floor with the Miami Heat holding a 1-0 lead in their Eastern Conference Final series. Tonight's game is huge because if Miami were to take a 2-0 lead back to Miami, they would become the overwhelming favorites to advance to the NBA Finals. 
All hands will be on deck for the Boston Celtics and they need great play from their stars and their role players.
The Pick
Derrick White has been a key piece for the Boston Celtics this season. Derrick White is a traditional point guard who knows how to get his teammates involved.
White is also a dogged defender and he is excellent at slowing down his ball-handling counterparts. The Celtics need Derrick White to have a big game if they are going to get the win tonight. 
Derrick White has gone over tonight's point prop total of 8.5 in 8 straight games against Miami. Over that eight-game span, White is averaging 14.8 points per game. White is averaging 12.7 points per game this postseason. 
White had 11 points in just 21 minutes in Game 1, shooting 66.7% from the field and was 3-5 from 3-point range. I expect another big game from Derrick White and he will go over his point prop tonight.  
NBA Prop Pick: Derrick White Over 8.5 points (-111) at BetMGM
---
Caleb Martin (Miami Heat)
The Miami Heat got the win in Game 1 and it was a team effort. Players such as Gabe Vincent, Max Strus, and Caleb Martin were all instrumental in the Miami Heat win. I expect to see another big game from the Miami Heat small forward tonight.  
The Pick
Caleb Martin is averaging 11.2 points per game this postseason. Martin had 15 points, 4 rebounds and three assists in the Heat win on Wednesday night. Martin played for 30 minutes. If Martin is to get this amount of playing time, he will surely go over this prop total tonight. 
Caleb Martin has gone over tonight's point prop total in three of his last four games. Over the course of those four games, he is averaging 11 points per game.
Martin will continue to show why he is an important piece of this Miami Heat team and prove to his coach that he needs to play even more minutes. Our second player prop for the evening is Caleb Martin Over 9.5 points.
NBA Prop Pick: Caleb Martin Over 9.5 points (+100) at BetMGM
---
Jayson Tatum (Boston Celtics)
With everything on the line tonight we can expect a big game from Boston Celtics star Jayson Tatum. Tatum has consistently come through when the Celtics have needed him this season. Tatum has been excellent at scoring the basketball, but he has also become a rebounding monster as well.  
The Pick
Jayson Tatum averaged 8.8 rebounds per game during the regular season but he has upped that to 10.4 rebounds per game during the postseason. Tatum is 6 ft 10 and has excellent rebounding ability, and the Celtics will need all the help they can get tonight.
Tatum only had seven rebounds in Game 1 but he has a Double-Double in four of his last six games. Tatum will push the Boston Celtics to be their best tonight and record another Double-Double.
NBA Prop Pick: Jayson Tatum Double-Double – Yes (-111) at Caesars Sportsbook
---