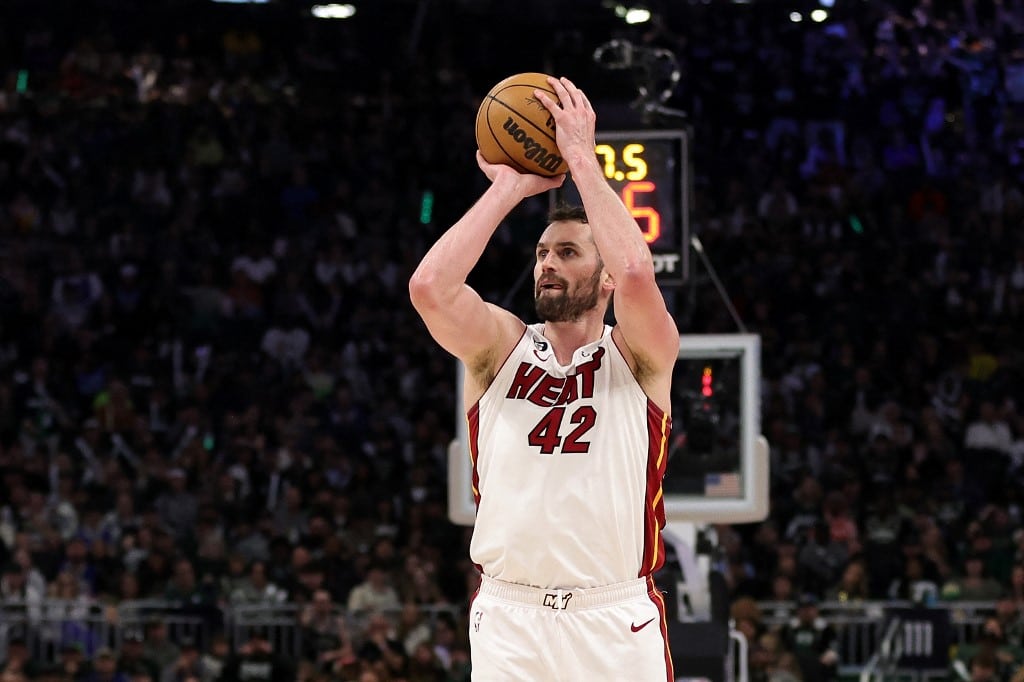 NBA Prop Pick: Kevin Love Over 5.5 Points (-125) at Caesars Sportsbooks
---
Top Picks for Friday
The Miami Heat and Denver Nuggets continue the NBA Finals in Miami. Denver won Game 1 in a convincing victory, 104-93. The Heat bounced back with a 111-108 win on Sunday in Game 2. Denver then prevailed with a 109-94 win in Game 3. For this exciting game, we will find the best player props for you to make winning NBA picks.
---
Friday, June 09, 2023 – 08:30 PM EDT at Kaseya Center
---
Kevin Love (Miami Heat)
After being virtually unplayable in the series against the Boston Celtics, Kevin Love is now playing a key role for the Miami Heat in the series against the Denver Nuggets. The Celtics are a smaller team, and Love's size was not needed. However, against the Nuggets, the Miami Heat needs Love's size and ability to space the floor. He started in Game 3 and played 16 minutes.
The Pick
Against the Boston Celtics, who had virtually no post-scoring threat, Kevin Love barely played. Love might not be the best perimeter defender, yet he is a strong low-post defender. This helps against the likes of Nikola Jokic and Aaron Gordon.
This prop is set low and all it takes is 2 three-point shots for Love to go Over. Love went 2-5 from three-point range in Game 3 and went Over his point prop. He will get the opportunity again Friday night. This prop should be set at 6.5 so it's off by one point, giving us a nice edge.
NBA Prop Pick: Kevin Love Over 5.5 Points (-125) at Caesars Sportsbooks
---
Bam Adebayo (Miami Heat)
Miami is in a must-win situation here. The Heat cannot afford to go back to Denver with a 3-1 deficit. Friday's game is virtually an elimination game and all hands will be on deck for the Miami Heat. That means even more minutes for star players such as Jimmy Butler and Bam Adebayo.
The Pick
Bam Adebayo has gone Over this rebounding total in three of his last five games. Over that period, he is averaging 12.2 rebounds per game. He showed how effective he can be on the glass in Game 3. They will need another strong effort from Adebayo on the glass. Miami needs Adebayo in the lineup.
The Heat is struggling with the size of the Nuggets and were outrebounded 58-33 in Game 3. There is no way the Miami Heat can win a basketball game when they're outrebounded by 25 boards. Adebayo was one of the Heat's best rebounders, scoring 17 of the Heat's 33 rebounds, more than 50% of the team's rebounds! Bam Adebayo will go Over his rebounding prop again.
NBA Prop Pick: Bam Adebayo Over 10.5 Rebounds (-117) at BetRivers
---
Jamal Murray (Denver Nuggets)
Jamal Murray was electric in Game 3, securing a triple-double. Murray had 34 points, 10 rebounds, and 10 assists. He was 12-22 from the field and was 3-6 from three-point range. Murray played 44 minutes and was plus 14 in the box score.
The Pick
Jamal Murray is averaging 27.4 points per game in the postseason after averaging only 20.8 points per game in the regular season. During the regular season, Murray only played 32.8 minutes per game but that is up to 39.7 minutes per game in the postseason.
With the increased minutes, we are going to see increased production from Jamal Murray. Murray has gone Over this point prop total in six of his last eight games. Jamal Murray will do it again and will go Over his point prop in Game 4.
NBA Prop Pick: Jamal Murray Over 25.5 Points (-120) at Bet365
---