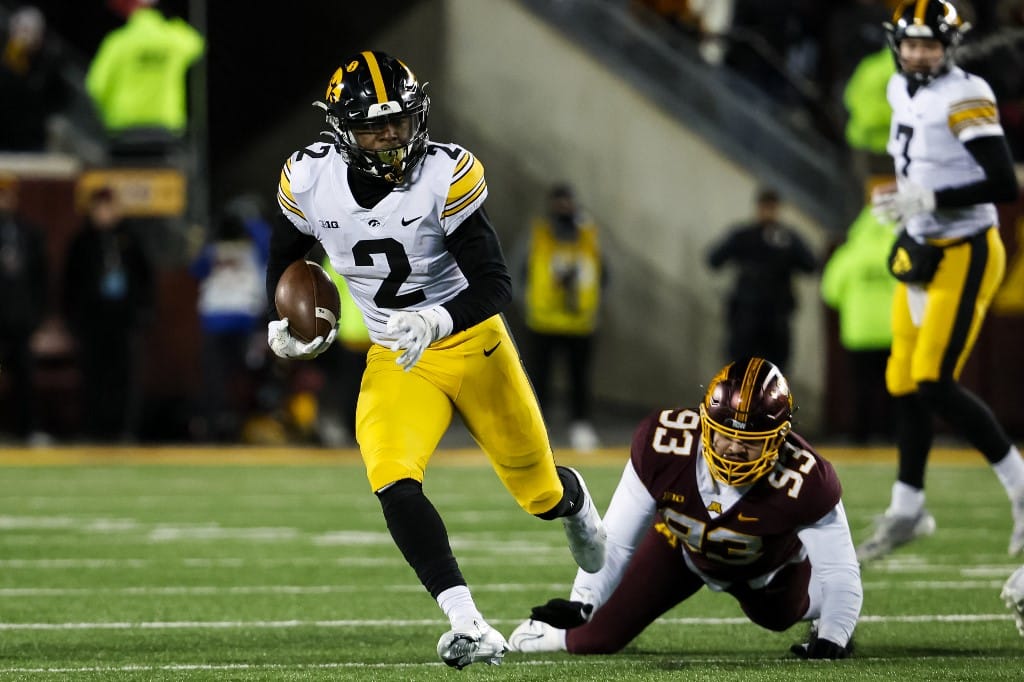 Top NCAAF Pick: Iowa Over 8 Wins (-145) at Caesars Sportsbook
The Iowa Hawkeyes were extremely close to earning another Big Ten Championship appearance last season, but the offense just wasn't good enough.
How will this year's team do with new quarterback, Cade McNamara at quarterback? Let's take a look at the NCAAF odds board matchups and odds for this team and analyze their chances.
---
2023 Iowa Hawkeyes Season Preview
The Iowa Hawkeyes will look to improve on an 8-5 overall record last season. Kirk Ferentz will coach in his 25th straight season for Iowa. In those previous 24 seasons, Iowa has gone 186-115.

Ferentz is just two career head coaching wins away from 200. In his 28 years as a head coach, Ferentz has gone 198-136.

Last year, Iowa's offense was challenged. There was no consistency, and the offense struggled to put up points. However, the defense was super dominant and scored points themselves at a very high rate for a defense.

Despite that, Iowa was incredibly close to playing for another Big 10 Championship. The Hawkeyes' loss to Nebraska was the sinking point for the Hawkeyes, but this team has won at least eight in seven of Iowa's last eight seasons. That's an incredible feat, especially in the Big Ten.

The Hawkeyes need more offensive talent if they compete for championships in the Big 10 and the College Football Playoff. Below, we'll discuss whether the Hawkeyes have enough to return and win the Big 10 Championship.
Iowa's Offense
The Iowa Hawkeyes were one of the worst offenses in the nation last year. That's hard to believe, knowing that Iowa still won eight games, but that's the truth. Iowa was 129th in total yards, 122nd in scoring, 128th in third-down conversions, and failed to rush at a high level against other Big Ten teams.

But the Hawkeyes look better offensively this season. They've added Cade McNamara as quarterback. He's probably the best quarterback Iowa has had in half a decade. He's already played at a high level in the Big 10.

McNamara transferred out of Michigan when he was beaten out for the starting job by J.J. McCarthy. It wasn't anything McNamara did. It had everything to do with what McCarthy did. McCarthy won the job when McNamara got hurt and then never lost the job.

The Hawkeyes won't have Sam LaPorta at tight end, but Iowa always finds good tight-end targets for their squad. This year likely won't be different. Iowa also added Michigan transfer Erick All, who will look to get some reps along with Luke Lachey.

Meanwhile, the offensive line is typically good for Iowa. They're usually big and strong and lead the run game to big yardage. Last year, Iowa didn't get that. The Hawkeyes need to get better offensive line protection, not just for McNamara but also for the run game.

McNamara will get Iowa their first mobile quarterback in a few years. He can make plays with his feet. But again, he'll need to be protected in the pocket. Still, Iowa's offense should be much better heading into this season.
Iowa's Defense
Iowa's defense has always been top-tier. That won't change this year. They won't have fun prospects like Jack Campbell, Seth Benson, Riley Moss, and Lukas Van Ness. They've lost these guys to the NFL.

Nevertheless, this defense was second in the nation in scoring defense. The pass rush was electric, and the secondary always played at a high level. The pass defense was 6th in college football and was 11th against the run.

Iowa was also tremendous at getting off the field on third downs. The Hawkeyes still got Cooper DeJean, who added 75 tackles and five interceptions last year. DeJean even took three of those interceptions to the house. The defense will also have Deontae Craig and Joel Evans, who are both terrific at getting to the quarterback.

They've got senior leadership on the defensive line. That should help clog the middle, and with the addition of Nick Jackson from the transfer portal, you can expect another big season from this Iowa defense.
Iowa's Win Total
The Iowa Hawkeyes are projected to win eight games this season. The line is set at -145 for the Over and +125 for the Under.

The Hawkeyes will take on Utah State (Sept. 2) in their first matchup at home and should get that one. Then they'll face Iowa State (Sept. 9) on the road, but Iowa State has started to struggle as of late and will be at the bottom of the Big 12 this season.

Iowa would then take on Western Michigan (Sept. 16) and should be 3-0 to start their season. A loss to Penn State (Sept. 23) would be likely next, but at home against Michigan State (Sept. 30), I've got Iowa earning another win.

After that, they'll face Purdue (Oct. 7) at home. They'd be 5-1 through six games. Then I've got them losing to Wisconsin (Oct. 14) on the road but defeating Minnesota (Oct. 21) and Northwestern (Nov. 4) in their next two games. They should also take care of business against Rutgers (Nov. 11) and will win a revenge game against Nebraska (Nov. 24).

Therefore, I've got Iowa earning ten wins, quickly getting over eight wins on the NCAAF futures market.
Top NCAAF Pick: Iowa Over 8 Wins (-145) at Caesars Sportsbook
---