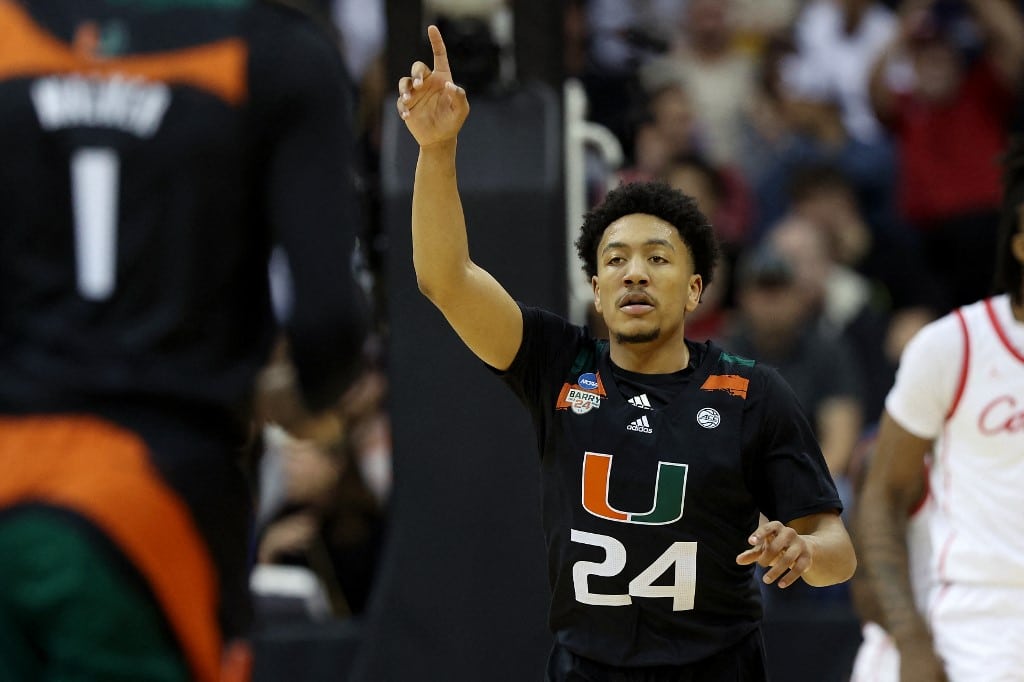 ---
Picks Summary
---
---
A chance for Texas to play the Final Four in its own state is on the line for the second-seeded Longhorns on Sunday when they face No. 5 Miami in the NCAA Tournament's Elite Eight round.
Which side of the 4.5-point spread at the NCAAB odds is the smart lean? We also have a total play.
---
Sunday, March 26, 2023 – 05:05 PM EDT at T-Mobile Center
---
---
Who says that Miami and Texas are football schools? (Actually, neither has done much that substantial in football in years, but we digress) The fifth-seeded Hurricanes and No. 2 Longhorns meet for the Midwest Region title in Kansas City on Sunday evening. CBS has the telecast.
These programs have met three times in the modern era with Texas leading 2-1. They last met in the second round of the 2008 NCAA Tournament with No. 2 Texas beating No. 7 Miami 75-72. Probably the best-known player from that game would be UT guard DJ Augustin.
Enjoying Big Bucks
Few schools are taking bigger advantage of the name, image, and likeness free-agent market than Miami thanks to billionaire booster John Ruiz, the owner of LifeWallet.
Last offseason, Nijel Pack, an All-Big 12 guard at Kansas State in 2022, transferred to Miami because he signed a two-year, $800,000 agreement with LifeWallet, which included a car. UM's women's team also is in the Elite Eight thanks big part to NIL transfers Haley and Hanna Cavinder.
Miami's Backcourt Is Unmatched
UM closed as a 7.5-point underdog in the Sweet 16 Friday against No. 1 Houston and that spread was always a bit odd considering the Hurricanes were ACC regular-season champions and have one of the nation's top backcourts in Pack, ACC Player of the Year Isaiah Wong and Jordan Miller (transfer from George Mason). All three of those guys were terrific in an 89-75 upset.
Good luck finding anyone who thought that stellar Houston defense would allow that many points. Pack had 26 points and four rebounds, Wong 20 points and six rebounds, and Miller 13 points and six boards. The Hurricanes shot 51.7% from the field (second-best against Houston this season) and turned it over only six times.
The Hurricanes have scored at least 63 points in every game they have played this season, one of just five teams (Gonzaga, Marshall, Toledo, and Youngstown State) to do so in every outing this year. The 89 points were a school record in the Dance. Houston hadn't given up 89 in a game since November 2019.
Final Four Ahead?
Miami improved to 14-11 all-time in the NCAA Tournament, including 10-5 under head coach Jim Larranaga, 5-4 as a lower seed and 3-1 as the fifth seed, and 11-9 as a single-digit seed.
The Hurricanes are the third team ever to make the Elite Eight in back-to-back years while seeded fifth or lower, alongside LSU (1986, 1987) and Butler (2010, 2011). Miami has never made the Final Four.
Hurricanes are 6-1 ATS in their last 7 NCAA Tournament games.
Hurricanes are 4-1 ATS in their last 5 games following an ATS win.
Hurricanes are 9-3 ATS in their last 12 games vs. a team with a winning straight-up record.
Under is 6-2 in the Hurricanes' last 8 NCAA Tournament games.
Credit to Rodney Terry
Are you getting serious Steve Fisher vibes with Texas? You may remember that way back in 1989, Michigan coach Bill Frieder was fired right before the Wolverines were to play in the NCAA Tournament because became known Frieder was leaving after the Dance for Arizona State.
He was replaced on an interim basis by assistant Steve Fisher, who wasn't expected to be a serious candidate to replace Frieder full-time. But then the Wolverines won it all and Fisher got the job.
Texas dumped Chris Beard with a cause – he's now at Ole Miss – in early January after a domestic incident regarding Beard, although the charges were eventually dropped. Rodney Terry was named interim coach, and there's no possible way UT can not give him the full-time job now.
Texas is 22-7 under Terry, and he has guided the Longhorns to eight wins against AP Top 25 opponents. UT is in the Elite Eight for the first time since 2008 and the eighth time in program history and was last in the Final Four in 2003.
Texas Missing Disu?
The Horns beat No. 3 Xavier 83-71 in the Sweet 16 on Friday despite barely having center Dylan Disu, who averaged 22.5 points in the first two rounds. Disu started and played for two minutes and then took a seat for good with a boot on his left foot. Terry said Disu only played against the Musketeers because he wanted to reward him for his hard work and that it all was planned.
"We really wanted to play for him," said Marcus Carr, who scored 18 points in the win. "We knew how much this would mean for him. We all got emotional in there just knowing he wouldn't be out there. We all knew the job we had to do for him."
Disu is officially day-to-day and if he doesn't play, that's a huge deal because Texas would have a big frontcourt advantage on Miami if Disu is in there.
Too Much Uncertainty
That Disu injury is fairly significant so we have to take the points.
Longhorns are 5-16 ATS in their last 21 Sunday games.
Longhorns are 3-11-1 ATS in their last 15 NCAA Tournament games.
Under is 7-1 in Longhorns last 8 overall.
NCAAB Pick: Miami +4.5 (-115) at BetMGM
NCAAB Pick: Under 149.5 (-110) at Bet365
---