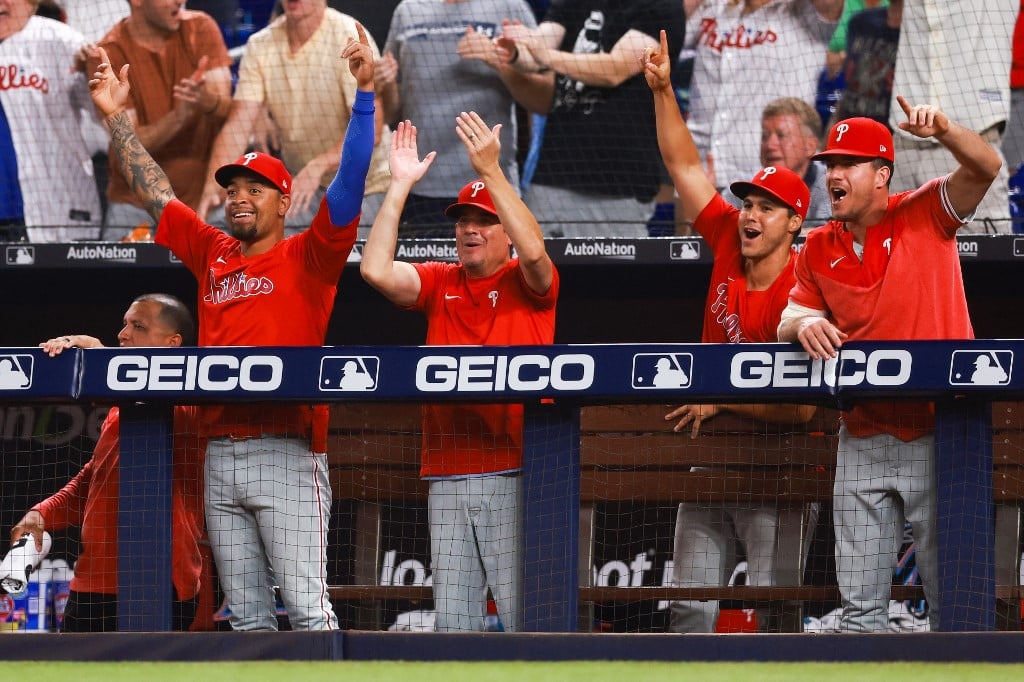 The more things change, the more they stay the same. Justin Verlander is back with the Houston Astros, the same team he led to their only two World Series titles; Houston acquired Verlander from the New York Mets ahead of Tuesday's 6 PM EDT trade deadline.
There was plenty more trade action where that came from. It's possible we'll get sideswiped by some late-breaking news that isn't available yet as we go to press, but for now, the computers at OddsTrader have identified three games from Wednesday's slate that are worth putting in your baseball picks.
Picks Summary
---
Wednesday, August 2, 2023 – 06:40 PM EDT at loanDepot park
---
We've featured the Phillies (57-49, minus-1.47 betting units at press time) in our MLB picks quite a lot lately, as they mount something of a playoff push in their defense of the National League pennant. That push includes the addition of All-Star pitcher Michael Lorenzen (4.21 xFIP) from Detroit ahead of the deadline.
They're not the only ones loading up for bear. The Marlins (57-50, plus-4.11 units) have pulled off a couple of interesting moves; they picked up INF Jake Burger (.806 OPS) from the Chicago White Sox, then sent INF Jean Segura (.556 OPS) and a prospect to the Cleveland Guardians for 1B Josh Bell (.701 OPS).
Assuming all the trades are cleared in time, these moves will benefit Miami more when it comes to Wednesday's matchup with the Phillies. Zack Wheeler (3.37 xFIP) will start for Philadelphia opposite Braxton Garrett (3.07 xFIP), with Wheeler carrying a 14-7 team record for Philly and the Marlins 15-5 behind Garrett.
Lorenzen will eventually shore up the Phillies rotation, but for now, Wheeler will have to contend with a Miami batting order that ranked No. 21 on the FanGraphs WAR charts before Tuesday's wheeling and dealing – and No. 26 in the month of July.
Obtaining Burger and Bell will help, but not enough to prevent the Phillies from winning Wednesday's contest 3.9 runs to 3.4. That's according to the OT computers; no complaints from us humans, and as -125 road faves, we've got just enough potential profit margin here to recommend Philly for a standard single-unit wager.
MLB Pick: Phillies ML (-125) at WynnBet
---
That's right: It's the rare moneyline-total combo for our computer-approved MLB picks. That same 3.9-3.4 projection for Philly-Miami leaves us with enough room for a slight lean towards Under 7.5; we'd rather see the vigorish at -105 or longer before unloading a full single unit of our hard-earned bankroll.
Wheeler (3.74 ERA, Under 10-8-3) and Garrett (4.08 ERA, Over 11-9) have both pitched better than their ERAs would indicate, so that works in our favor; unfortunately, they'll probably have the roof closed in Miami because it's early August – and there's rain in the forecast – but this is otherwise a pitcher's paradise, ranking No. 22 overall with a park factor of 94 for runs at Baseball Savant.
That number should hold up pretty well with the roof closed. They're only able to open it up for roughly 14% of games, and when they do, it's almost like they're playing indoors anyway, given the way the stadium is protected from the wind.
The Under would have been even tastier before they brought the centerfield wall in from 418 feet to 407 in 2016, and then down to 400 feet just four years later. And there's certainly a chance that Burger and/or Bell will make a quick impression for their new employers. Again, make it a small bet unless you can get -105 vig at the MLB odds boards or better when you read this.
MLB Pick: Under 7.5 (-120) at Caesars Sportsbook
---
Wednesday, August 2, 2023 – 07:05 PM EDT at Yankee Stadium
---
The Yankees (Under 54-47-5) must think they have enough to get by now that Aaron Judge (1.102 OPS) is back in uniform. The only pick-up they made at the deadline was middle reliever Keynan Middleton (3.34 xFIP) from the White Sox.
Meanwhile, Tampa Bay (Over 56-49-4) has upgraded their rotation – perhaps – by bringing in Aaron Civale (4.57 xFIP) from Cleveland. But he probably won't start until Saturday; Shane McClanahan (3.00 ERA, 3.83 xFIP) gets the nod Wednesday opposite Gerrit Cole (2.64 ERA, 3.61 xFIP).
The OT computers aren't fooled by those shiny ERAs this time. They have New York winning this matchup 4.3 runs to 4.1, on what promises to be a warm evening at Yankee Stadium with 5-10 mph crosswinds from first to third. Bet accordingly – the computers have spoken.
MLB Pick: Over 7.5 (-114) at SBK
---