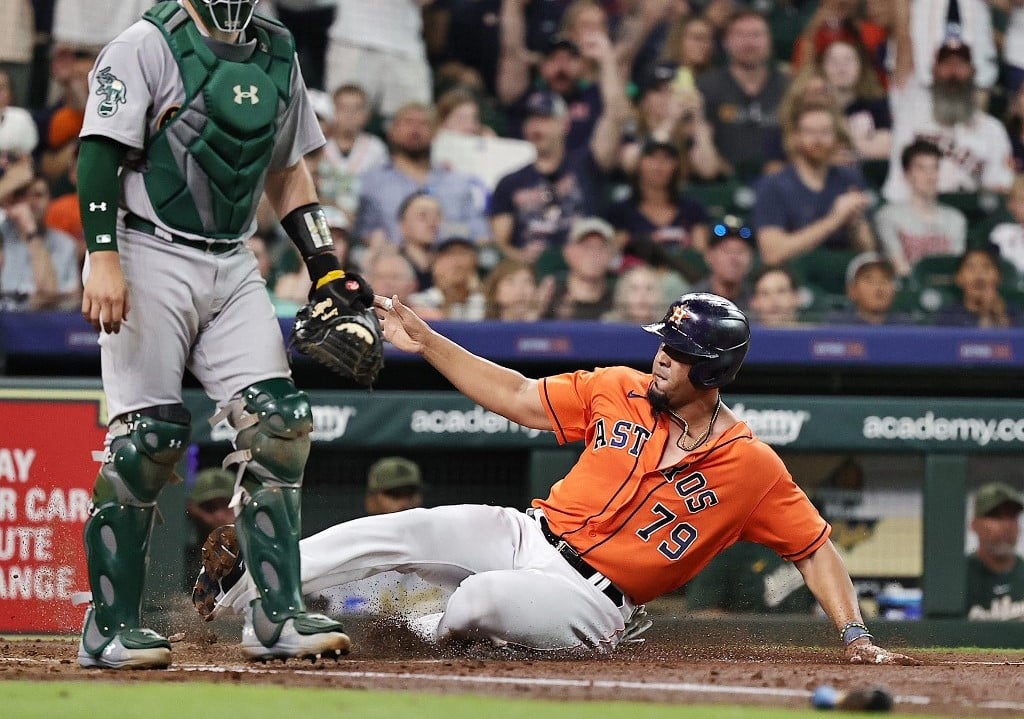 Top Picks for Saturday
---
If starting pitching is the most important thing in baseball, then no wonder the Oakland Athletics are so awful. They have the worst rotation in the majors according to the WAR (Wins Above Replacement) charts at FanGraphs, posting an aggressively bad minus-1.6 WAR.
It follows suit that the A's are dead last in the standings at 10-36 (minus-18.93 betting units) as we go to press. But we're not fading Oakland this Saturday; the computers at OddsTrader have better things in mind for our next batch of baseball picks.
---
Saturday, May 20, 2023 – 04:10 PM EDT at Minute Maid Park
---
---
There's more than one way to take advantage of Oakland's horrible pitching. The Over is 27-18-1 for the A's this year, including 15-6 on the road, and they'll be in Houston for Game 2 of this three-game set at Minute Maid Park, which has a park factor of 102 (No. 13 overall) for runs this year, according to Baseball Savant.
Granted, the defending champs aren't hitting the ball like they used to. Houston has fallen from sixth to No. 22 in hitting WAR at FanGraphs, with their team OPS slipping from .743 (No. 7) to .689 (No. 26). Losing LF Michael Brantley (.785 OPS last year) to shoulder surgery hasn't helped.
The Pitchers
The good news is that JP Sears (4.70 xFIP) is pitching for Oakland. Sears isn't even the worst the A's have to offer; his rolling Game Score of 47.8 at FiveThirtyEight is third on the team, but still well below the American League West average of 52.
Also below the division average: Houston's Hunter Brown (3.61 xFIP), whose rolling Game Score of 51.7 is artificially low because he's only made 10 big-league starts thus far. None of those starts was against Oakland, so we're not sure what will happen this Saturday, but the A's are No. 21 overall in hitting WAR according to FanGraphs, so at least there's one thing they're not league-worst at.
The Field
It's supposed to be getting into the high 80s in Houston this Saturday, so there's a good chance they'll keep the roof closed at Minute Maid Park, which they usually have to start doing in mid-May.
In either case, the computers at OddsTrader have Houston pounding Oakland 7.1 runs to 3.4, giving us a 2-run cushion between the projections and the actual MLB totals at WynnBet.
MLB Pick: Over 8.5 (-115) at WynnBet
---
Saturday, May 20, 2023 – 07:15 PM EDT at Busch Stadium
---
---
That's right: Three times in a row for us putting the Under in our MLB picks during this four-game series. It didn't work out this past Thursday when the Cardinals won 16-8 (Over 9.5), but the Dodgers made up for it Friday with their 5-0 victory (Under 8.5).
The OT computers like St. Louis to win Game 3 by a final score of 4.5 runs to 4.3, which suggests we're getting at least a smidge of betting value on Under 9.5 at -110 betting odds.
Miles Mikolas (4.36 xFIP) is due up for St. Louis; he has the Over at 6-3 this year, while Noah Syndergaard (4.42 xFIP) has the totals split 4-4 for Los Angeles.
Saturday's forecast calls for light winds blowing in from left field at Busch Stadium, so we're getting at least some help from the weather gods despite the warm temperatures in the low 70s. Life could be worse.
MLB Pick: Under 9.5 (-110) at Caesars Sportsbook
---
Saturday, May 20, 2023 – 10:07 PM EDT at Angel Stadium
---
---
This is another repeat pick, although we're switching from the Under to the Over this time, and we're doing it on a bit of a technicality: Most sportsbooks have the total for Saturday's contest at 8.5 runs as we go to press, and the OT computers do recommend Under 8.5 with the Angels winning five runs to 3.4.
The trick here is that the juice for said 8.5-run total is -120 at most locations. The +100 juice at BetRivers makes us prefer taking Over 9 instead; these subtleties are part of the reason why we need to put the computer projections in context before we make our sports picks.
We've also got 10-mph winds blowing straight towards center field to help us get those runs across the plate – and we might need it, with Louie Varland (3.26 xFIP) taking the mound for Minnesota opposite Patrick Sandoval (4.62 xFIP). Bet accordingly – the computers have spoken.
MLB Pick: Over 9 (+100) at BetRivers
---