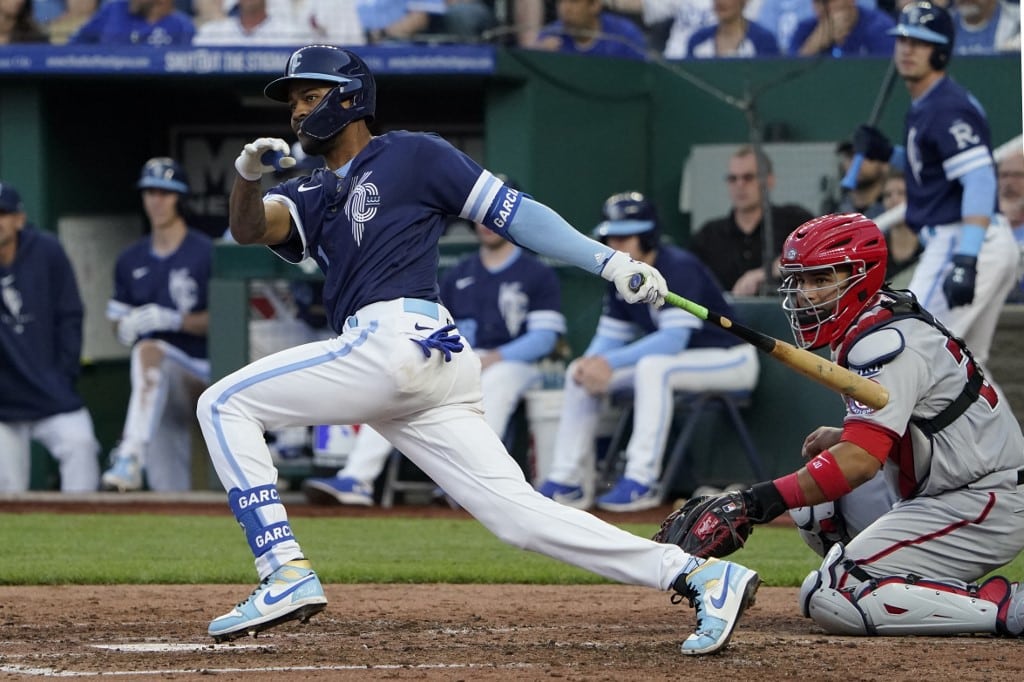 It's time once again to wade through the treacherous waters of the American League Central. The weakest division in the majors has four of their five teams losing money hand-over-fist, none worse than the Kansas City Royals at 15-36 and minus-13.94 betting units on the moneyline.
They may not be easy on the eyes, but the Royals are a gorgeous "buy low" commodity for Saturday's MLB bets – and we have the best MLB computer picks at OddsTrader to prove it.
Picks Summary
---
Saturday, May 27, 2023 – 04:10 PM EDT at Kauffman Stadium
---
---
There are two sides to every baseball game, and while Kansas City may be last in the AL Central, their opponents this Saturday are the Nationals, currently living in the National League East basement at 21-29.
Miracle of miracles, Washington is 4.04 betting units in the black at press time, having been the underdogs in all but two of their victories thus far. That's still the case against the Royals, but just barely, with the Nats priced at -105; they could easily be the favorites by the time you read this.
There's no question Kansas City has been the worse team after 50 games. But their minus-73 run differential translates to an 18-33 expected win record, three games better than their actual win record. In other words, the Royals haven't performed quite as poorly as advertised.
Is Washington Good Enough?
Neither has Washington. They're one game below their expected 22-28 record, based on their minus-24 run differential, but that's still pretty much in line with their performance level. Add it all up, and the OT computers have the Royals winning this one 4.1 runs to 3.8.
The Nats (No. 23 overall) are slightly better than Kansas City (No. 25) in both pitching and hitting according to the WAR charts at FanGraphs, and at first blush, you'd think they have the advantage Saturday, with nominal ace Josiah Gray (2.65 ERA) taking the hill opposite Brady Singer (7.48 ERA).
Watch out for those tricky stats. Look at xFIP instead of ERA, and Singer comes out ahead, 4.75 to 4.93. Gray has been somewhat fortunate to leave 85.3% of his runners stranded, compared to just 56.3% for Singer; we can't promise that Singer's luck will even out this Saturday, but it should in the long run.
MLB Pick: Royals ML (-115) at Caesars Sportsbook
---
Saturday, May 27, 2023 – 04:10 PM EDT at Truist Park
---
---
Our remaining MLB picks are against the total – and we're going Under again. The Under is 180-163 this past month, a success rate of 52.5% that makes it a profitable pick against -110 vigorish.
We'll need a bit more reason than that for Saturday's tilt between Philadelphia (Under 25-22-3) and Atlanta (Over 30-20). The Phillies are obliging; they have Zack Wheeler (3.64 xFIP) penciled in for this matchup, with his personal 5-3-2 Under record on the season.
Wheeler was an All-Star in 2021, leading the senior circuit with 247 strikeouts (10.42 per nine innings), and he's not far off that pace thus far with 64 Ks (10.11 K/9). Plus, he's done a reasonably good job versus Atlanta hitters, allowing a combined .671 lifetime OPS.
On the flip side, Charlie Morton (4.09 xFIP) hasn't been quite as good against Philadelphia, giving up a .721 lifetime OPS. And the weather report calls for temperatures in the low 70s over Truist Park. But maybe those 10-15 mph crosswinds will send a few would-be hits beyond the fair pole in right.
The computers say the Phillies will win 4.2 runs to four, so extra innings could ruin things for us; protect yourself with a suitably small bet size, just in case.
MLB Pick: Under 9 (-118) at SBK
---
Saturday, May 27, 2023 – 04:10 PM EDT at T-Mobile Park
---
---
We had the Over for Friday's game between the Pirates (Under 25-22-2) and Mariners (Under 27-23); that contest has yet to begin as we go to press, but we're switching to the Under anyways now that it'll be Luis Castillo (3.35 xFIP) pitching for Seattle versus Roansy Contreras (5.43 xFIP).
There's no questioning Castillo's bona fides, and they've got the No. 2 bullpen in baseball according to FanGraphs WAR – yet the Mariners have split Castillo's totals at 5-5 after 10 starts.
Meanwhile, the M's only rank No. 15 in hitting WAR at FanGraphs, so maybe they won't do too much damage against Contreras (4-4-1 Totals). The computers have Seattle winning 4.7 runs to 2.7, so bet accordingly – the computers have spoken.
MLB Pick: Under 7.5 (-120) at Caesars Sportsbook
---