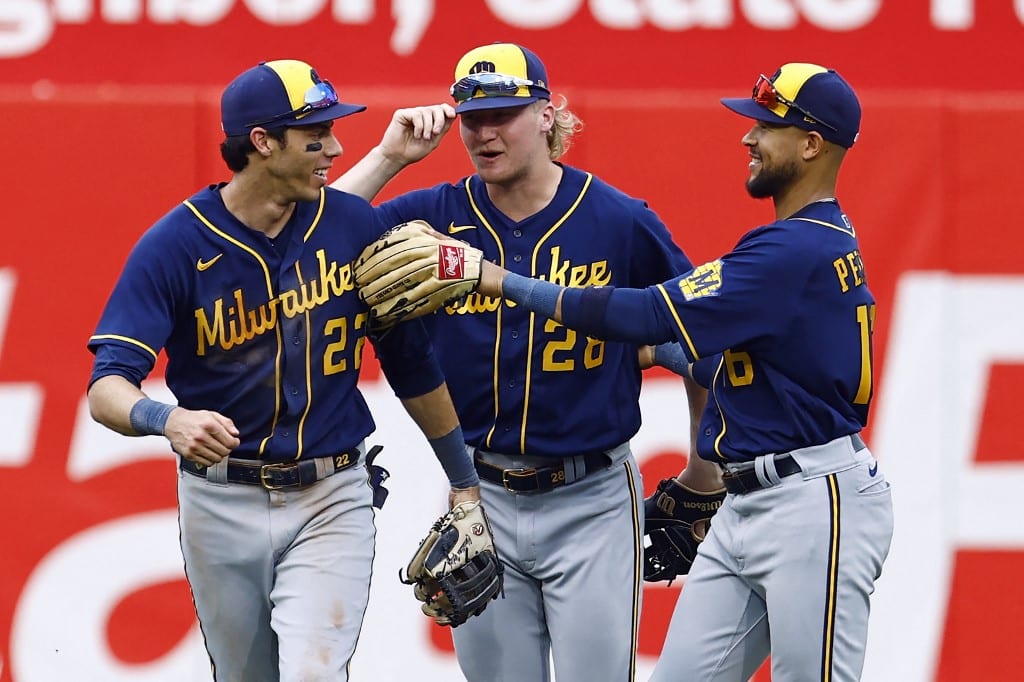 Not everyone agrees with the old-school way of betting on baseball. Some prefer to stick exclusively with the computer-generated MLB projections, which have definitely gotten more prescient over the years. Never mind all that "fade the public" talk.
The thing is, both approaches are useful – and they often arrive at the same point. The computers here at OddsTrader like both the Milwaukee Brewers and Minnesota Twins for Friday's baseball picks; these happen to be two classic small-market picks who have featured in this space quite often. Let's see what makes them so tasty this time around.
Picks Summary
---
Friday, July 21, 2023 – 08:10 PM EDT at American Family Field
---
While everyone's been going ape over the Cincinnati Reds, the Brewers (54-43, plus-10.13 betting units at press time) have reclaimed first place in the National League Central standings, taking two of three off Cincy before the All-Star break, then sweeping the Reds immediately after.
Milwaukee followed that up with a 2-1 series win over the Philadelphia Phillies at Citizens Bank Park. Even with this hot streak, the Brewers still have a minus-3 run differential on the season, and have been fortunate to go 18-8 in one-run games and 5-2 in extra innings – especially considering their bullpen ranks No. 19 overall in WAR according to FanGraphs.
So where does this team get its betting value, aside from playing in Flyover Country? It helps that Atlanta (62-33, plus-6.47 units) is supplying the opposition. Their won-loss record is commensurate with their plus-145 run differential, but this is a recent World Series champion, and a dominant name on the public money charts.
The Brewers are near the bottom of said charts despite being the more profitable team thus far. That's the main reason why Milwaukee is a slight home dog on the odds board, in a matchup the OT computers have them winning 5.3 runs to 4.6.
This might be a golden opportunity for Milwaukee to capitalize on their betting value. Michael "Please Don't Call Me Mike" Soroka (5.40 ERA, 4.86 xFIP) is making his fifth start for Atlanta after missing most of the previous three seasons to multiple Achilles tears.
But is it too late already? Soroka has allowed just five earned runs in his last three starts combined after getting lit up in his first two trips to the mound. Then again, he was pulled after giving up two of those runs to the Chicago White Sox this past Sunday in just three innings. More on them in a moment.
Freddy Peralta (4.41 ERA, 4.07 xFIP), himself an All-Star in 2021, responds for Milwaukee; he's been even more effective now that spring is behind us, allowing three runs or fewer in each of his last five starts – and none to the Reds last Saturday in six innings of work. It might be closer to a coin flip than the projections suggest, but a single-unit wager on the home dogs is still the right call.
MLB Pick: Brewers ML (+115) at WynnBet
---
Friday, July 21, 2023 – 08:10 PM EDT at Target Field
---
Our second moneyline bet for Friday's MLB picks is Milwaukee's AL Central equivalent. Or at least they should be; Minnesota (50-47, minus-5.65 units) is somehow in the red this year, even with a plus-41 run differential that translates to a 53-44 Pythagorean record.
That "somehow" is partly because more people are betting on the Twins. And that will likely be the case again this Friday when they host the White Sox (41-57, minus-13.08 units), who are just as awful as their minus-69 run differential. Not nice.
Joe Ryan (3.77 ERA, 3.69 xFIP) twirls for the Twins opposite Lance Lynn (6.06 ERA, 3.84 xFIP) in a duel the OT computers have Minnesota winning 5.6 runs to 3.3. It's that pesky ERA again, isn't it? The gap between these teams is probably smaller than this, so downsize your bets in turn.
MLB Pick: Twins ML (-159) at WynnBet
---
Friday, July 21, 2023 – 07:05 PM EDT at Yankee Stadium
---
Well, this is awkward. This contest opened with a total of 8.5 on Friday's MLB odds board, and that price is still available at press time if you shop around – but most online sportsbooks have moved up to nine runs already in early action.
This is fine? The computers think the Royals (Under 53-44-1) and Yankees (Under 50-43-4) will combine for 8.7 runs this Friday, with the Yankees winning 5.5 runs to 3.2. We think Kansas City might do even better versus young Clarke Schmidt (4.31 ERA, 4.21 xFIP), enough to make Over 9 worth a slight lean if you can't get a better price. Bet accordingly – the computers have spoken.
MLB Pick: Over 8.5 (-110) at Caesars Sportsbook
---