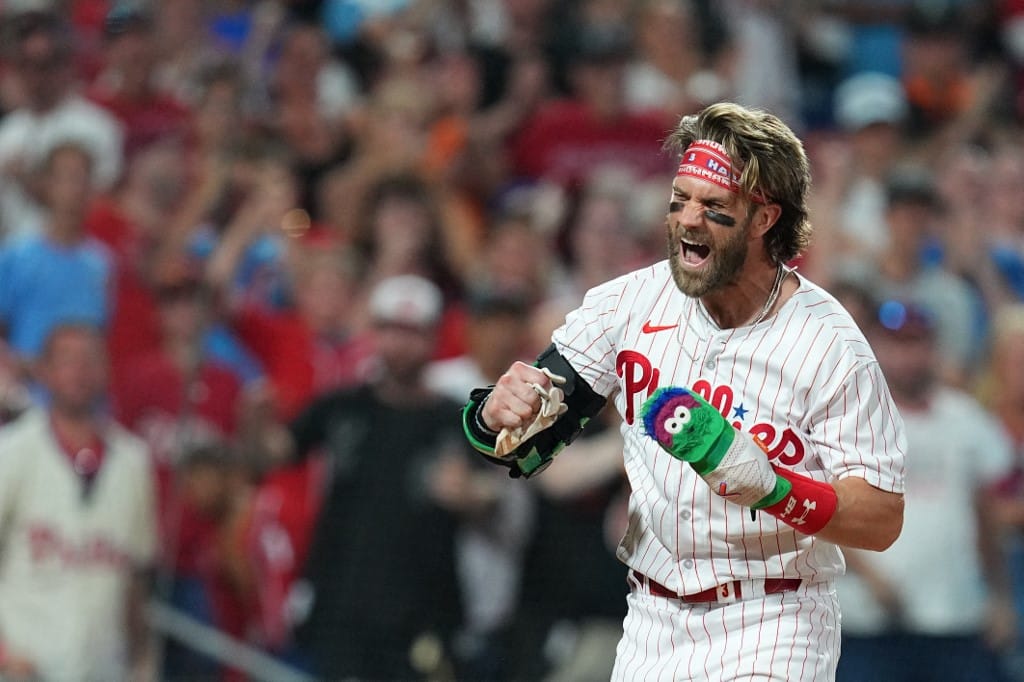 Just when we thought it was safe to bet on the Philadelphia Phillies, they dropped a 1-0 decision to the Cleveland Guardians last Saturday. Not ideal, but it was the right call, and we got the right price at -113; the Phillies were bumped up to -124 on the closing MLB odds at Unibet.
Is this the definition of madness? Or are we correct to put the Phillies in our baseball picks again this Tuesday when they host the Baltimore Orioles, the new first-place team in the American League? The computers at OddsTrader have all the answers – as usual.
Picks Summary
---
Tuesday, July 25, 2023 – 06:40 PM EDT at Citizens Bank Park
---
It was definitely an outlier this past weekend when the Phillies (53-46, minus-1.64 betting units at press time) scored zero runs off Cleveland rookie Tanner Bibee. But Philly did outscore the Guardians 13-12 in their series despite dropping two of three.
The experiment with Bryce Harper at first base and Kyle Schwarber at DH has also paid dividends – except the Phillies only used this lineup in Games 1 and 3. Harper (.789 OPS) was successful both in the field and at the plate; Schwarber (.743 OPS) had just the one hit in this series, but also three walks, and perhaps most importantly, zero errors in left field.
Speaking of which, it looks like Jake Cave (.588 OPS) has first crack at that LF spot, although he did complete the golden sombrero in Sunday's 8-5 win over Cleveland. Overall, the Phillies are now a more defensively sound team that should have some added betting value going forward.
Maybe they'll realize said value against a Baltimore team (61-38, plus-17.85 units) that has vaulted into first place with 12 wins in their last 15 contests. The Orioles may be on top of the AL standings, but their plus-48 run differential is equivalent to a 55-44 Pythagorean record, six fewer wins than their actual record.
Baltimore's been living a charmed life this season, going 18-9 in games decided by one run – though their bullpen does lead the majors in WAR according to FanGraphs. Kyle Gibson (4.36 xFIP) could use some of that help; the O's are 12-9 behind Gibson for 3.04 units in earnings, converting each of his last two starts into victories after Gibson posted a No Decision.
We're counting on Taijuan Walker (4.39 xFIP) to get the job done for us Tuesday. Walker is up 6.79 units this year on a team record of 14-6, and the OT computers have Philly winning this matchup 4.8 runs to 4.6, giving us just enough breathing room for a proper single-unit wager at -130 or longer.
MLB Pick: Phillies ML (-130) at WynnBet
---
Tuesday, July 25, 2023 – 08:10 PM EDT at Guaranteed Rate Field
---
This week is heavily focused on interleague rivalries, including Tuesday's Windy City tilt between the Cubs (Over 50-44-3) and White Sox (Under 49-44-6). Neither team is threatening to make the playoffs this year, but this should still be a heck of a game, with the OT computers predicting the Pale Hose to win 4.8 runs to 4.5.
No complaints at our end. This looks like a solid projection, even with Kyle Hendricks (3.38 ERA, 4.63 xFIP) and Michael Kopech (4.29 ERA, 5.22 xFIP) both performing worse than their ERAs suggest. Their somewhat hidden struggles, and the warm summer evening in Chicago, can help the Cubs and White Sox hitters overcome both the baseball odds and that 10-mph breeze blowing down the third-base line.
MLB Pick: Over 9 (-115) at Bet365
---
Tuesday, July 25, 2023 – 07:40 PM EDT at Target Field
---
It'll be even warmer in Minneapolis this Tuesday, and that 10-mph breeze is now a crosswind blowing from first to third, so there's more reason to bet the Over in this contest – especially now that the juice is available at +100. The OT computers peg Seattle (Over 48-47-1) and Minnesota (Under 49-46-1) to score 4.2 runs apiece, so extra innings looms large as well.
We're also dealing with a familiar pitching matchup: George Kirby (3.23 ERA, 3.71 xFIP) for the Mariners, and Pablo Lopez (4.22 ERA, 3.50 xFIP) for the Twins. The same two starters met last Thursday in Seattle, where the M's (+1.5, –225 on the run line) spoiled our picks by winning 5-0. But they'll be at Target Field this time, which has a park factor of 102 for runs (No. 9 overall) at Baseball Savant. Bet accordingly – the computers have spoken.
MLB Pick: Over 8 (+100) at Caesars Sportsbook
---