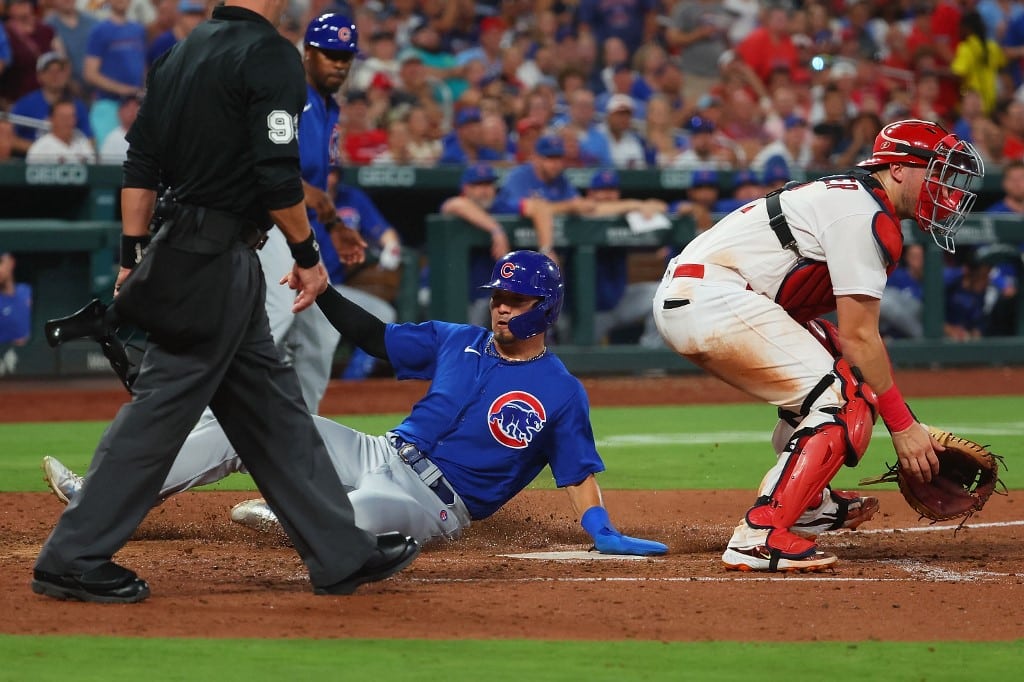 These are interesting times in Major League Baseball. Tuesday's trade deadline is fast approaching, and players are already being swapped around like baseball cards – need 'im, got 'im. That means there's every chance some of the games we're looking at on Saturday's MLB odds board will have been affected by the time you read this.
Nevertheless, we persist. We're using the OddsTrader computer projections as they appeared at press time to see which baseball picks they recommend; we've reviewed those picks and selected the tastiest three based on what we know right now, but you can and should make your own adjustments in real time.
Picks Summary
---
Saturday, July 29, 2023 – 07:15 PM EDT at Busch Stadium
---
The I-55 Rivalry is always worth checking out, even if the Cubs (51-51) and Cardinals (46-58) are struggling to stay relevant in the National League Central race. No matter: We're looking at Saturday's 10-run total, and the Under looks tempting with St. Louis projected to win five runs to 4.4.
Have the OT computers become sentient? Both the expected starters in this contest have artificially inflated ERAs, but if anything, this projection might be a bit short on scoring:
However much stock you put in these projections, Saturday's matchup is a fairly obvious value pick for the Under. Taillon (Over 10-6-1) and Wainwright (Over 7-5) have both had their issues this year, but you can't really blame them for the following stats they've posted at FanGraphs:
Taillon: .317 BABIP against, 61.4 LOB%
Wainwright: .368 BABIP against, 60.4 LOB%
Wainwright's numbers are especially out of line. This is a classic "regression to the mean" spot, enhanced by the 10-mph winds forecast to be blowing down the third-base line at Busch Stadium. It's even worth investing a single unit of your bankroll if you can get -105 juice or better by the time you read this.
MLB Pick: Under 10 (-115) at WynnBet
---
Saturday, July 29, 2023 – 08:40 PM EDT at Petco Park
---
We're back in San Diego for Game 2 of this three-game set, having already recommended Over 8 for Friday's opener; that's a late start on the Left Coast, so we're not privy to the results, but the OT computers have the Padres taking the rematch 4.8 runs to 4.6.
Okay, this time it looks like ERA has fried a few diodes, at least when it comes to San Diego starter Yu Darvish (4.80 ERA, 3.92 xFIP). His personal 9-8-2 Under record "should" be even more profitable than that, but opposing hitters have managed a fortunate .311 BABIP off Darvish this year.
Then again, Martin Perez (4.91 ERA, 5.14 xFIP, Over 12-5-1) has been pretty bad for Texas. And the Rangers do have the top-hitting lineup on the FanGraphs WAR charts. It's almost enough to make you forget that Petco Park is No. 28 overall in the majors according to Baseball Savant, with a park factor of 90 for runs.
It isn't even that warm in San Diego right now. But there is some good news on the weather front: winds of around 10-15 mph blowing towards right field. We're going to suggest the same -105 tipping point for vigorish before you unload a proper single-unit bet on this Over, but with a touch less enthusiasm than we have for that Cubs-Cardinals pick.
MLB Pick: Over 8.5 (-120) at Bet365
---
Saturday, July 29, 2023 – 07:10 PM EDT at Citi Field
---
If you think Petco Park is death to hitters, check out what they built in Flushing Meadows. Citi Field ranks one spot lower at No. 29 with its park factor of 90 for runs; this is also the worst venue in the majors for hits (88), and second-worst for doubles (90). And that's after moving the fences in eight years ago.
The OT computers like the Mets to win 4.5 runs to four, and both Patrick Corbin (5.01 ERA, 4.49 xFIP) and Carlos Carrasco (5.82 ERA, 5.00 xFIP) have performed better than advertised, but there's something about this projection that doesn't quite measure up. Why so low?
Maybe it's that 10-mph wind bearing down on home plate. But with the sultry summer weather and the poor air quality advisory for New York (bad air has been linked to a rise in errors on the diamond), we're going to recommend a suitably small wager for this one. Bet accordingly – the computers have spoken.
MLB Pick: Under 9.5 (-115) at Caesars Sportsbook
---