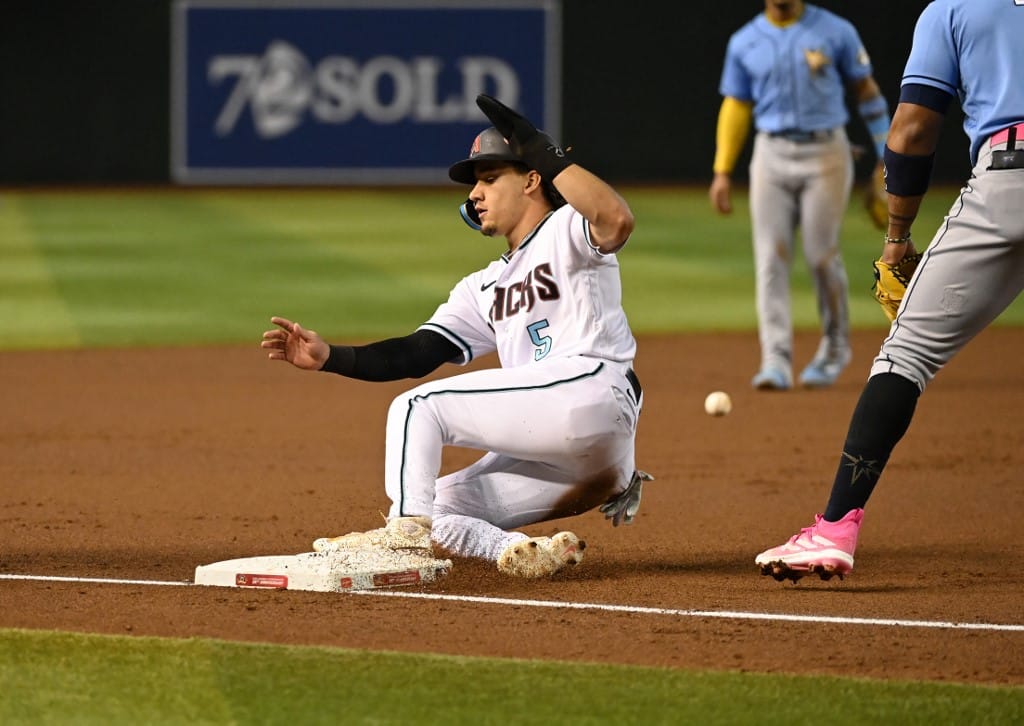 Computers have played a big role in baseball betting the past 20 years or so. Sadly, we're losing one of the leading sources for free advanced stats now that Nate Silver is no longer with the FiveThirtyEight website that he founded back in 2008. But we still have the machines at OddsTrader and their MLB projections to work with.
Those computers have been very busy indeed. Wednesday's slate is chock full of betting opportunities, and after taking a closer look at the projections, we've identified three totals that are worth your consideration, starting with a high-octane matchup in the desert heat.
Picks Summary
---
Wednesday, June 28, 2023 – 09:40 PM EDT at Chase Field
---
Actually, the roof will be closed at Chase Field for this series – as you might expect with daytime temperatures expected to reach 105 degrees. But this is still an excellent spot for the Over with the Rays (Over 45-32-4) providing the best batting order in baseball, and the Snakes (Over 38-36-5) ranking eighth in that category on the WAR charts at FanGraphs.
The OT computers certainly think so: They have Tampa Bay winning this contest 6.7 runs to 5.4. That projection should set off some alarm bells. Let's look at Wednesday's starting pitchers and see if ERA is to blame again:
Zach Eflin, TBR: 3.35 ERA, 3.14 xFIP
Zach Davies, ARI: 7.82 ERA, 4.97 xFIP
As expected, the computers have probably assigned Tampa too many runs based on Davies and his horrible ERA, which is inflated by an unsustainably large .370 BABIP against. Davies has also been quite unfortunate to leave just 51.0% of his runners stranded this year.
We're still putting the Over in our MLB picks. While the Rays might have the best record in baseball, they also have the No. 27-ranked bullpen on the FanGraphs WAR charts, and Arizona's isn't much better at No. 21. But let's make it a small bet to account for the roof being closed.
MLB Pick: Over 9 (-115) at Caesars Sportsbook
---
Wednesday, June 28, 2023 – 09:38 PM EDT at Angel Stadium
---
They'll be open to the elements in Anaheim this Wednesday, and while it won't be anywhere near triple digits, the weather forecast calls for clear skies, temperatures peaking in the low-70s, and 5-10 mph winds blowing directly towards center field.
Angel Stadium is also one of those rare West Coast venues where scoring isn't at a premium. The "Big A" has a park factor of 102 for runs this year (No. 11 overall) according to Baseball Savant; granted, the Under is 21-15-1 for the Angels at home, but they've been facing some tough pitchers lately.
Lucas Giolito (3.41 ERA, 4.29 xFIP) isn't chopped liver by any means, but he hasn't pitched nearly as well for the White Sox (Under 20-16-4 away) as his ERA would suggest. Same goes for Jaime Barria (2.14 ERA, 4.19 xFIP) as he prepares to make his fifth start of the year for L.A.
The OT computers have the Angels winning this game 5.9 runs to 3.4, which may be a bit lopsided towards Los Angeles, but the Sox "should" be able to bridge that gap somewhat; meanwhile, their No. 25-ranked bullpen is definitely in danger Wednesday against the fourth-ranked batting order on the FanGraphs WAR charts.
MLB Pick: Over 8.5 (-125) at WynnBet
---
Wednesday, June 28, 2023 – 07:10 PM EDT at Citi Field
---
They can't all be Overs. Citi Field has been one of baseball's stingiest parks ever since it opened in Queens back in 2009, although they did trim the dimensions in 2012 (and again in 2015) to make it more hitter-friendly.
This is still the No. 25-ranked stadium (not including Mexico City or London) at Baseball Savant this year with a park factor of 90 for runs. And Wednesday's forecast calls for a 60% chance of rain, albeit with 5-10 mph winds blowing out to right field.
Our Under should get a boost with Kodai Senga (3.52 ERA, 4.05 xFIP) taking the mound for New York opposite Wade Miley (2.91 ERA, 4.94 xFIP). The OT computers say Milwaukee will win this matchup 4.1 runs to 3.3, and we might have to adjust each of those numbers upward about a half-run, but that still leaves enough room for a slight lean towards the Under at -105 betting odds.
Bet accordingly – the computers have spoken.
MLB Pick: Under 8.5 (-105) at Bet365
---