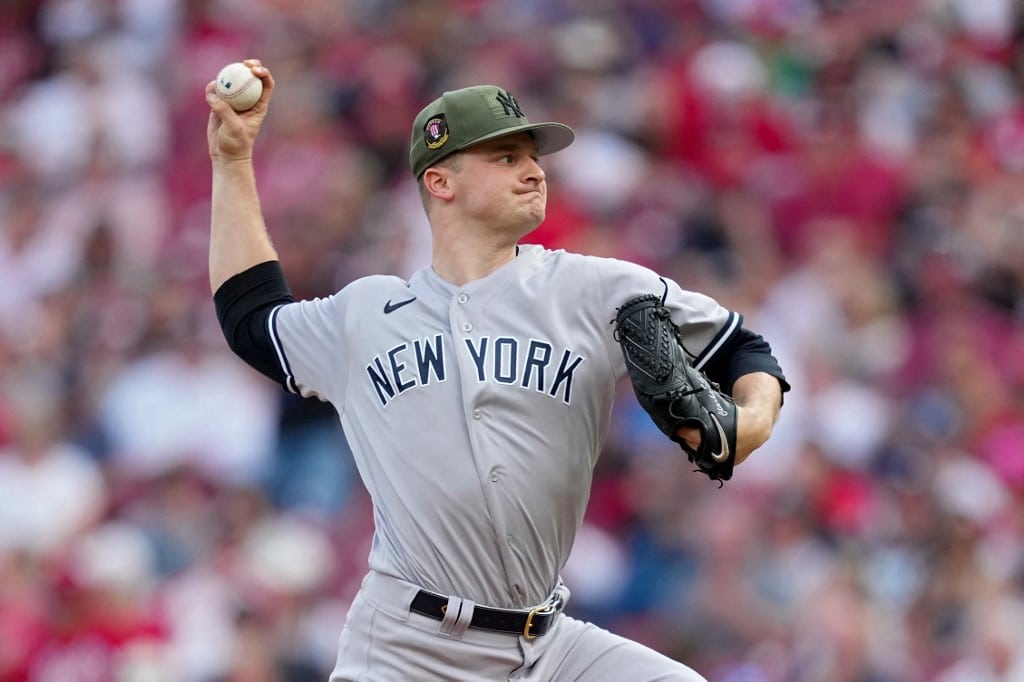 MLB Computer Pick: Yankees ML (-130) at Caesars Sportsbook
---
Of all the major pro sports in North America, baseball has by far the most frustrating entry draft. Even with the updates they've made in recent years to their antiquated system, the Major League Baseball draft still goes 20 rounds deep, plus compensatory picks – and all of this for prospects whose future success is much harder to pin down than for players in the NBA Draft, for example.
Hidden gems do pop up from time to time. The computers at OddsTrader have singled out the New York Yankees as a sharp choice for Thursday's MLB computer picks, and it might be because of the young righty the Yankees are sending to the hill.
Picks Summary
---
Thursday, May 25, 2023 – 07:05 PM EDT at Yankee Stadium 
---
Step Forward Clarke Schmidt
Okay, 27 isn't exactly young in the real world, but it is when you're a big-league pitcher. Clarke Schmidt (3.89 xFIP) was taken in the first round way back in 2017, but he missed that year to Tommy John surgery, and Schmidt didn't make his MLB debut for the Yankees until he got a cup of coffee in 2020. Thursday will be his 16th start in the majors.
Things have not gone well from a betting perspective. New York supporters are down 3.01 units in Schmidt's 10 appearances this year, with the Yankees (30-20, plus-3.95 units) going 4-6. But when you compare Schmidt's solid xFIP to his awful 6.00 ERA, you can see why there might be some value in Thursday's matchup. 
AI Concurs
The computers agree. They've got the Yankees beating the Baltimore Orioles (31-17, plus-10.67 units) 5.1 runs to 4.5, a fair and reasonable gap that makes New York worth betting a single unit at -130 on the MLB odds board at Caesars Sportsbook.
While Schmidt may be a diamond in the rough, the Orioles still have the advantage on the mound with Kyle Gibson (4.54 xFIP), at least according to the Elo ratings at FiveThirtyEight, which have Gibson 34 points ahead of Schmidt.
The Pick
Then again, this has been one of Gibson's worst years, at least up to this point. Baltimore is still 1.61 units ahead in his 10 starts with a team record of 6-4, but they were shut out themselves in three of his last four outings, including a 6-0 loss to the Kansas City Royals as -145 road faves.
The Yankees have also shredded Gibson for a combined .901 OPS, although in a relatively small sample size of 36 at-bats. And that's with Aaron Judge going just 1-for-5 with zero home runs. Thursday's game should be very interesting indeed – catch it on YES if you have access.
MLB Pick: Yankees ML (-130) at Caesars Sportsbook
---
Thursday, May 25, 2023 – 01:10 PM EDT at Tropicana Field
---
Going Under
It's totals for our remaining baseball picks, and the OT computers like the Under for both, although just barely. They've got the Blue Jays (Over 24-23-2) beating the Rays (Over 29-18-3) 4.4 runs to four, shimmying below the 8.5-run total by the slightest of margins.
That's a sharp projection in our view, although it's hard to tell what you're going to get out of Alek Manoah (5.88 xFIP) these days. Manoah is having an incredibly inconsistent start to his 2023 campaign, driving the Over to a 7-3 record, including each of his last four starts – all losses for Toronto.
The Pick
Things won't get any easier against Tampa Bay. Zach Eflin (3.02 xFIP) is up next, having split the totals in his eight starts thus far; current Jays have a combined .606 lifetime OPS against Eflin with just one home run in 35 at-bats.
This is why a slight lean on the Under still makes sense here.
MLB Pick: Under 8.5 (-110) at Caesars Sportsbook
---
Thursday, May 25, 2023 – 04:05 PM EDT at Nationals Park
---
Elementary, Dear Computers
You can't score runs if you can't hit. The Padres (Under 32-15-1) are only No. 15 on the FanGraphs WAR charts for hitting, despite all the big bats in their lineup; the Nationals (Under 24-21-3) are even worse at No. 22, but they were expected to struggle this year anyway.
Be that as it may, you should make this one a slight lean as well. The computers say San Diego is going to win 4.7 runs to 4.5, so we have a bit more breathing room this time with the total at 9.5 runs, but not much.
The Pick
We're also a bit worried about Blake Snell (4.65 xFIP) starting for the Padres opposite rookie Jake Irvin (5.73 xFIP in four games). But at least they're expecting 5-10 mph winds blowing toward home plate this Thursday. Bet accordingly – the computers have spoken. 
MLB Pick: Under 9.5 (-120) at Caesars Sportsbook
---