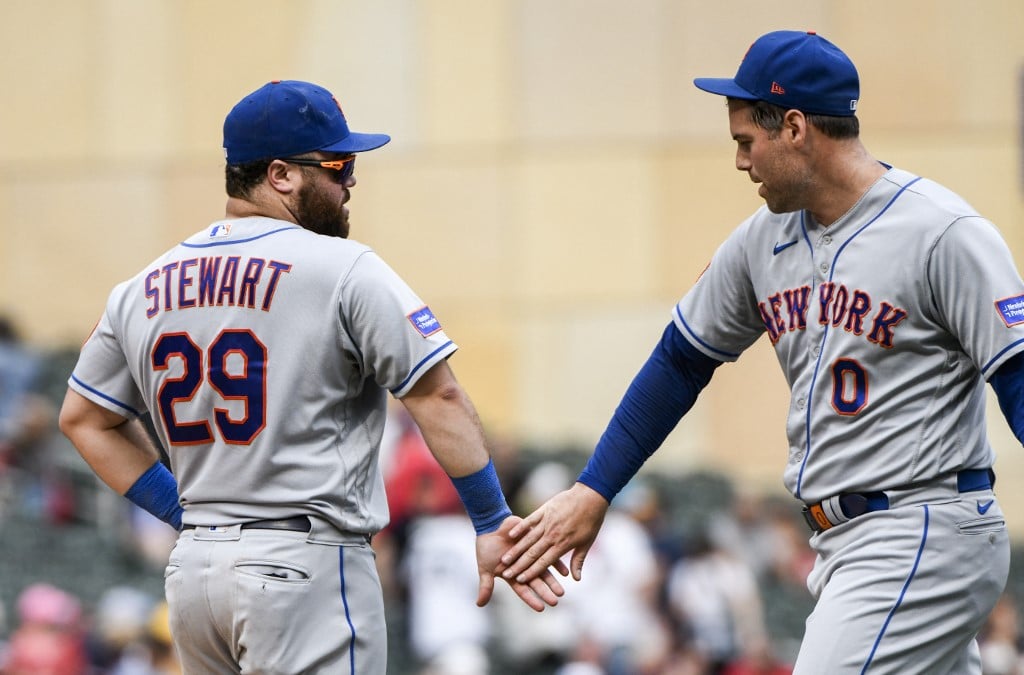 Top sportsbooks have released their MLB odds for today's baseball action.
Three games interest me as worth investing in: Diamondbacks vs. Mets, Marlins vs. Brewers, and Angels vs. Mariners.
I will recommend that you invest in Mets ML, Marlins-Brewers Under, and Mariners RL. These picks are backed by OddsTrader's computers and by my handicapping.
Picks Summary
---
Monday, September 11, 2023 – 07:10 PM EDT at Citi Field
---
Our computers indicate that the Mets will defeat Arizona by a clear margin.
I argue that you should agree with our computers and invest in the Mets ML.
Zach Davies starts for Arizona tonight. Davies' last start, in which he allowed five earned runs in three innings at home to lowly Colorado, reflects his season-long struggles with limiting the productivity of opposing offenses.
These struggles are evident in his 6.81 ERA, yet they are most apparent in his road games. Whereas his ERA is "only" 6.23 at home, it is 8.38 on the road. As manifested in his last start, Davies is continuing to have the worst season of his career.
In a demonstration of his poor command, he's walking batters at a high rate. Opponents are crushing his pitches with a high rate of hard contact, taking advantage, especially of the times when Davies does keep his pitches within the strike zone.
Davies in Citi Field
Davies is especially unlikable today because he has a bad history in the Mets' ballpark, even though this history extends to seasons in which he was not as bad as he currently is.
In his career, he is 0-2 with a 7.11 ERA in four starts in Citi Field.
Davies vs. Mets Batters
Several Mets batters own solid track records against Davies. Among others, Brandon Nimmo and Francisco Lindor are particularly reliable today.
Both slug over 1.300 in six or more career at-bats against Davies.
Jose Quintana starts for the Mets tonight. Unlike his Diamondbacks counterpart, Quintana enters tonight's game in strong form. He has allowed a combined total of one run in his last two starts.
While locking down the Nationals might not seem impressive – he did this in his last start – two starts ago, he shut down mighty Texas. A more extensive look at Quintana's starts illuminates his reliability.
He has allowed two earned runs or fewer in five of his last six starts, with the one exception coming in Atlanta.
MLB Pick: Mets ML (-135) at Bet365
---
Monday, September 11, 2023 – 07:40 PM EDT at American Family Field
---
Our computers project this to be a low-scoring game.
For your MLB Picks, you should play the "Under" by this projection.
Jesus Luzardo starts for the Marlins today. Luzardo enters today's game in tremendous form: he has allowed a combined total of two earned runs in his last three starts.
Skeptics may say that his form must not be so great, because he allowed those runs in his last start, but there are two responses to skeptics' supposition that his good form is waning.
That start took place against the Dodgers, who have one of baseball's strongest lineups.
He was unfortunate to allow as many runs as he did.
He did a good job of limiting hard contact and inducing soft contact but was a victim of a high BABIP (batting average of balls in play). His 1.76 FIP (like ERA but factors out fielding) in that start reflects how well he actually performed.
This success against the Dodgers is thus consistent with his previous two starts, which shows that his form remains very strong.
What is perhaps most impressive about his current stretch of starts is that he not only performed excellently against the Dodgers, but he also shut down the Rays.
Baseball's best lineups pose no problem for him. Neither will Milwaukee's.
Luzardo's Arsenal
Luzardo throws a fastball, slider, changeup, and sinker. He matches up well against a Brewers' lineup that ranks well below average against his pitches from lefties.
So, not only is Milwaukee objectively weaker, hitting-wise, than Tampa Bay and L.A., but the Brewers' lineup also suffers a matchup disadvantage.
Brandon Woodruff starts for the Brewers tonight. Woodruff, like Luzardo, enters today's game pitching well.
He has allowed a combined total of three runs in his last two starts, most impressively limiting the rival Cubs in their ballpark.
He is thriving against matchups similarly difficult to the one he'll encounter today.
MLB Pick: Under 7.5 (-115) at Bet365
---
Monday, September 11, 2023 – 09:40 PM EDT at T-Mobile Park
---
Our computers indicate that Seattle will dominate the Angels.
You should agree and, accordingly, bet on the Mariners RL.
Team Spot
The Mariners might seem to be in bad form because they have lost three in a row, but don't misread their schedule: they can hardly be condemned for losing three in a row to the Rays.
It's not like they looked bad or gave up. They were competitive in those games but faced a superior team. Now, they get to face a much softer test, which their losing streak will prevent them from taking lightly.
Today, the Mariners are especially hungry for victory.
The Angels start Reid Detmers tonight. Detmers has faced Seattle twice this season.
His first start against Seattle was decent. However, it took place back in April, a time that is so far removed from September to merit forming a part of this game's analysis.
More recently, on August 4, Detmers allowed seven earned runs in four innings to the Mariners. His start in April is irrelevant because the Mariners, especially hitting-wise, have improved tremendously.
It is this improved version of the Mariners that has figured Detmers out and now, hungry, gets to face him five weeks after their last encounter.
Matchup Details
Seattle's improvement has propelled it to tenth in runs per game. The Mariners also hit Detmers' pitches from lefties much more effectively than before.
Primarily, Detmers throws a fastball, slider, and curveball. Since the second half of the season, the Mariners rank seventh with a .468 slugging rate against these pitches from lefties.
Logan Gilbert starts for Seattle tonight. Gilbert shows strong form, having allowed a combined total of seven earned runs in his last four starts.
He has remained successful, despite being victimized by an unfortunately high BABIP in his last start.
Angels' Lineup
Unlike Gilbert, the Angels' lineup enters tonight's game in poor form. L.A. has allowed three runs or fewer in four of their last five starts.
MLB Pick: Mariners -1.5 (-110) at Bet365
---