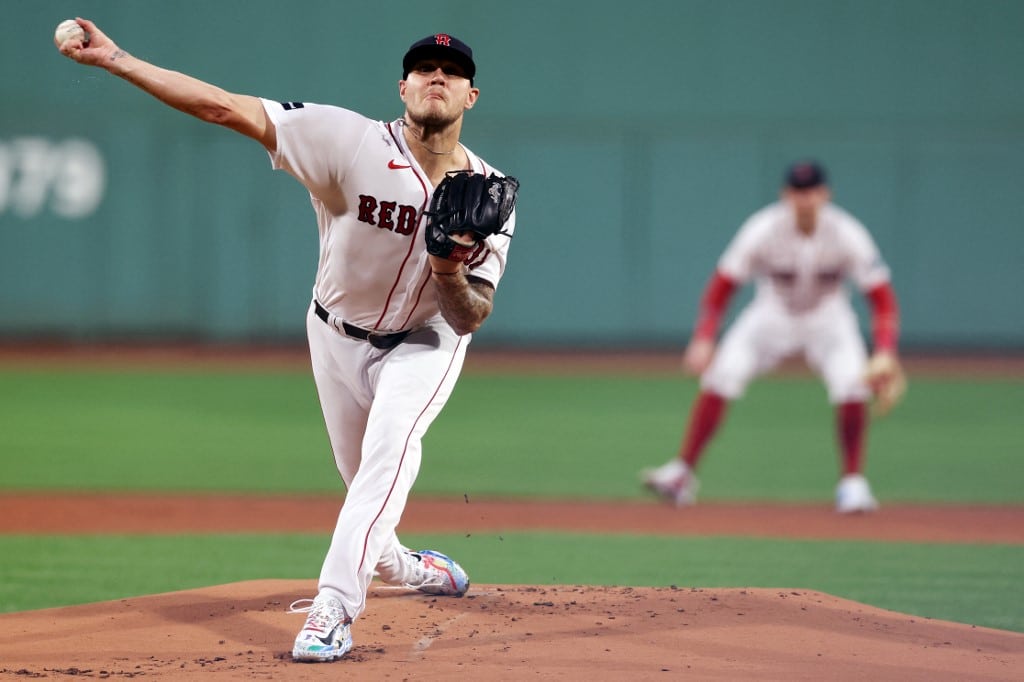 Top sportsbooks have released their MLB odds for today's baseball action.
Three games interest me: Yankees vs. Red Sox, Royals vs. White Sox, and Padres vs. Dodgers.
For your best bets, I recommend investing in the Red Sox ML, White Sox RL, and Padres RL. These bets are supported by the computers at OddsTrader and by my own handicapping.
Picks Summary
---
Wednesday, September 13, 2023 – 07:10 PM EDT at Fenway Park
---
Our computers call for a Boston victory.
Accordingly, you should invest in the Red Sox ML.
New York starts Clarke Schmidt tonight. In both of his last two starts, Schmidt allowed three runs.
While allowing three runs isn't terrible, the fact that he allowed them to Detroit entails that one cannot expect him to do any better against a stronger Boston lineup.
Put differently, Schmidt's form is uninspiring, but also in general, Schmidt is guilty of doing things that make him reliably easy to hit.
As heat maps show, he often leaves his pitches in the middle parts of the strike zone where batters tend to do greater damage.
Matchup vs. Red Sox Lineup
Schmidt not only faces an objectively tougher Red Sox lineup that scores more runs per game than Detroit, but he also faces a tougher matchup.
Primarily, Schmidt throws a cutter, sweeper, sinker, and curveball. Boston's hitting outlook is especially strong tonight because it ranks sixth with a .432 slugging rate against his pitches from righties.
One Red Sox batter who has proven his ability to take advantage of his team's matchup edge against Schmidt is Rafael Devers. Devers is 4-for-10 with a double and a homer in his career facing Schmidt.
Boston starts Tanner Houck tonight. Houck is due for some good luck tonight after being victimized by a high BABIP (batting average of balls in play) in both of his last two starts, in which he yielded a higher ERA than FIP (like ERA but factors out fielding).
However, he won't need luck against a Yankees lineup that he matches up well against. Houck throws a slider, sinker, cutter, split finger, and fastball.
The Yanks rank 26th with a .398 slugging rate against his pitches from righties.
MLB Pick: Red Sox ML (-125) at Bet365
---
Wednesday, September 13, 2023 – 07:40 PM EDT at Guaranteed Rate Field
---
Our computers project a dominant White Sox win.
I agree, and I suggest that you should play White Sox RL.
Steven Cruz starts for the Royals tonight, but he is not really a starting pitcher. He has made five appearances this season, and all of them came as a reliever.
In his longest outing, he lasted 1.1 innings. So, this will be a bullpen game for the Royals. We must assess Kansas City's pitching outlook by looking at the quality of their bullpen.
Royals' Bullpen Game
Kansas City cannot be expected to do well when relying on its bullpen. As measured by ERA, the Royals own baseball's second-worst bullpen.
Their bullpen's ERA is better than Colorado's, whose ERA is inflated by its extremely hitter-friendly home ballpark. The Royals are one of four bullpens whose ERA is higher than 5.00.
White Sox Lineup
Chicago is enjoying getting to face the Royals' pitching. So far this series, the White Sox have scored 16 runs in two games.
Andrew Vaughn is one contributor to Chicago's strong hitting form. In this series, he is 3-for-8 with two doubles.
Mike Clevinger starts for Chicago tonight. Clevinger, in his last start, threw seven shutout innings in Detroit.
This performance is consistent with what he has tended to do most recently. In addition to allowing one run or fewer in two of his last three starts, he has, more extensively, allowed one run or fewer in four of his last six starts.
These stats suggest that Clevinger is reliable in general right now.
Clevinger vs. Royals
But Clevinger is reliable especially tonight because he gets to face a division rival and a weak lineup – the Royals rank 26th in runs per game.
Clevinger tends to thrive against weak lineups at home. Examples of his victims in Chicago include the Guardians, Tigers, and A's.
One should expect him to thrive against a Royals team that ranks 22nd with a .404 slugging rate against his pitches from righties.
MLB Pick: White Sox -1.5 (+135) at Bet365
---
Wednesday, September 13, 2023 – 10:10 PM EDT at Dodger Stadium
---
Our computers project that tonight's game will be tight.
I argue that, accordingly, you should invest in the Padres RL.
Bounce-Back Trend
The Padres RL is listed at -175. This might seem chalky, but it's actually not chalky enough.
One reason why the bounce-back trend applies to this game is because the Padres are coming off a blowout loss.
In the second half of the season, the Padres were 8-3 in the game following one in which they lost by four more runs. This trend, which amounts to a 72-percent win rate, is especially impressive given the fact that they have a losing record.
The fact that their win rate is vastly higher in this bounce-back spot than their overall win rate indicates that losing by many runs makes them play much better in their following game.
In terms of the win probability implied by the odds, this bounce-back trend alone indicates that -175 is generous.
San Diego starts ace Blake Snell tonight, but even apart from this bounce-back trend, Snell is a pitcher worth backing without a second thought.
Since the end of May, Snell has been one of baseball's best pitchers. His repeated ability to hold opponents to one run or zero runs is evident in his starts against the Rays and Rangers, which indicates that he reliably victimizes tough lineups and weaker ones.
Most recently, Snell has allowed a combined total of two runs in his last three starts. Thus, he enters today's game in strong form.
Ryan Pepiot starts for the Dodgers. Snell will outduel Pepiot, who has benefited from an unsustainably high strand rate and a fortunately low BABIP (batting average of balls in play).
Not as well-tested as Snell, Pepiot has also benefited from facing soft tests like Miami multiple times.
MLB Pick: Padres +1.5 (-175) at Bet365
---