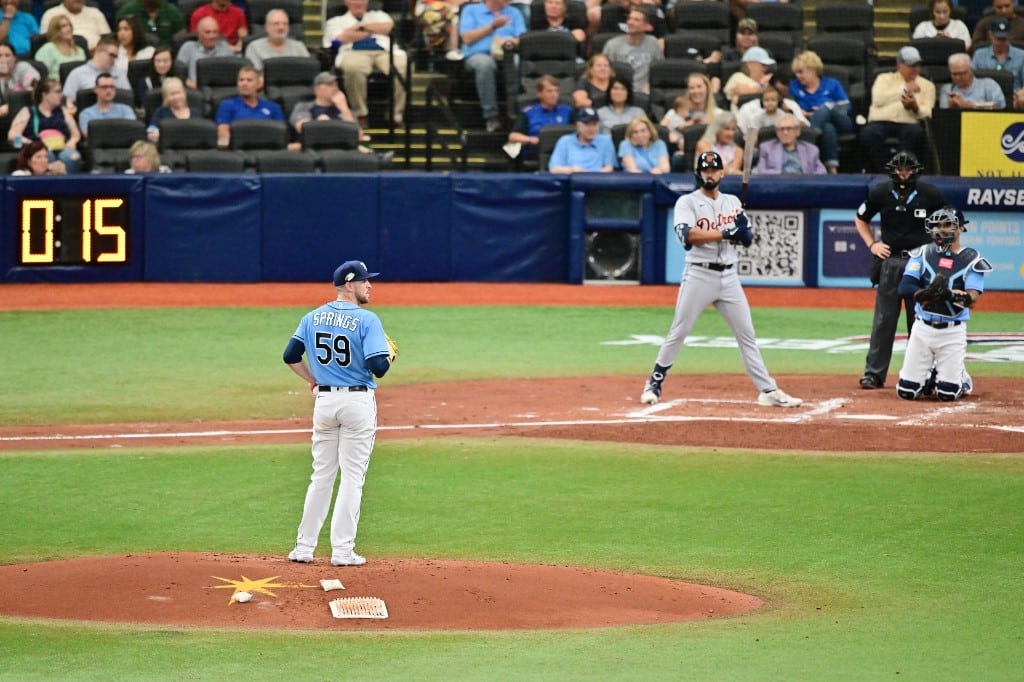 The pitch clock has made a tremendous impact on the speed of how baseball games are played, reducing the time how long games are today. That is the single largest difference about this, but there are other aspects that are popping up that we could not possibly know until we began to see how the games are being played.
The Rule Itself Has Become a Non-Issue
In the first part of April, after having all of the spring training games and the first two weeks of the baseball season, the average is less than one violation per game involving the pitcher or the hitter, thus, it is not a major problem.
Tough Times for Older Pitchers
Older middle-of-the-road starters have shown a harder time adjusting to this point. It is hard to say for sure, but if you look at the ERAs or WHIPs of several veteran pitchers who are No. 3 to No. 5 starters for their respective teams, they have some big numbers. There are names like Lance Lynn, Miles Mikolas, Jameson Taillon, and Rich Hill who have gotten out of the blocks slowly.
That is not to say the pitch clock is to fault for poor performances. However, these are hurlers in their 30s or older, who have primarily pitched a certain way for a long time, are not at the peak of their velocity level anymore, and have to use deception more these days to get hitters to stikeout.
No More Slowing Things Down
Any pitcher that has played in the big leagues four or more seasons, grew up under the mantra of – when things are not going your way, take your time and slow the game (process) down.
Well, for now, that thinking is useless, and if you watch almost any pitcher in 2023 and their command or delivery is a little off-kilter to start a game or they are just having a tough inning for whatever reason, they are on an island and the only person that is going to save them is themselves.
We have seen several pitchers appear to be gasping for air, caused by nerves and having to work way faster than they are accustomed to and they are earning more runs.
Starting Pitchers Are Not Alone
The same is also happening to late-inning relievers who are used to taking their time to control the rhythm of their appearance. These pitchers are often about velocity or sharp-breaking pitches and if those are not working as usual or the home plate umpire is not giving them their typical strikes, there is no more walking around the mound and grabbing a rosin bag to gather your composure.
The same is true of hitters. If they don't like a called strike, previously, they could saunter outside the batter's box, do a quick crotch grab, and fiddle with the batting gloves for 30 seconds before getting back in the box.
In this year's baseball version, you have about three seconds to mentally regroup and either a pitch has to be thrown or taken.
Generally, this has not changed the scoring overall, but in-game betting options can work in your favor against the MLB odds if you are paying attention and see the frustration of a pitcher that starts allowing more walks.
Stolen Bases Way Up
The other effect of the pitch clock is stolen bases. Base runners know that pitchers can now only make two throws to a base. Thus, the more skilled base runner will try to draw throws from the pitcher to use up his limit.
The other feature is when the clock runs down, not only are runners trying to time up to steal, increasing numbers are taking a short lead but timing their steps to take off and have a running start even before the pitcher completely delivers the ball.
This will be an ongoing cat-and-mouse game as the season continues, but right now it is advantageous to the base runner.
---