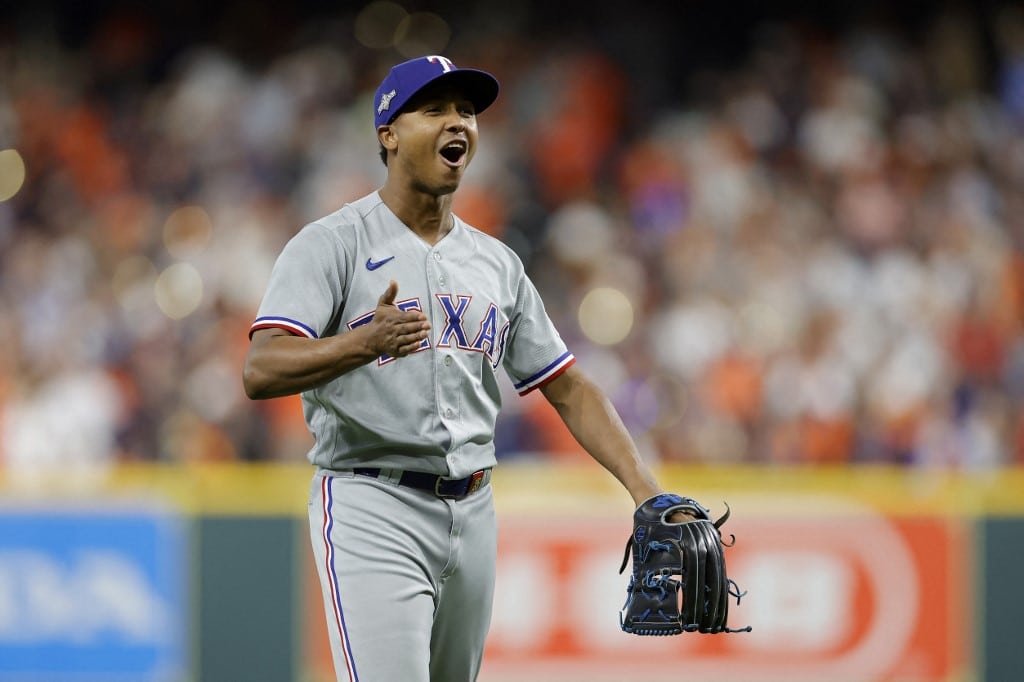 With the betting odds for today's baseball action available, we're ready to make our bets at the best sportsbooks.
Houston is playing Texas, and this game is worth zeroing in on.
For your best bets, you should invest in the Rangers ML. This recommendation is backed by OddsTrader's computer AI and by my handicapping.
Top MLB Pick
---
Wednesday, October 18, 2023 – 08:03 PM EDT at Globe Life Field
---
Our computers project a Rangers victory, and I agree.
For your MLB picks today, you should play the Rangers.
Cristian Javier (Houston Astros)
Cristian Javier starts for the Astros tonight.
Javier might seem to be worth backing because of his last start, but while he did do well against the Twins, it's hard to give him much credit.
Minnesota, despite playing in what is arguably baseball's weakest division, failed to break the top ten in runs per game. A comparatively weak offense, the Twins, suffered also in the postseason against a lot of pitchers besides Javier.
Supporters of Javier might say that his previous start was also strong. But Javier caught Arizona in the midst of a slump during which it failed to score more than a run in a given game.
To think that Javier can do well against Texas, a team that boasts one of baseball's best and highest-ranking lineups, because he did well against the Twins and the slumping Diamondbacks, is absurd.
Matchup History
We clearly cannot use considerations of current form to determine Javier's outlook today. What is more reasonably informative is his history against Texas.
Javier faced the Rangers once this year: this start took place on July 3 in Arlington.
In that start, they dominated Javier. He allowed eight earned runs in 4.1 innings. Texas' home run total (two) was half as high as its strikeout total (four).
The Rangers thrived against Javier because they crushed his pitches. While struggling to induce soft contact, Javier allowed hard contact at a rate of over 50 percent.
Javier's Arsenal
Javier's arsenal helps explain why he is so vulnerable.
He throws a fastball, slider, curveball, and changeup, an while throwing four pitches isn't bad per se, he does rely extensively on two of them. His fastball and slider combine to make up almost 90% of his arsenal.
This extensive reliance on two pitches, which is more typical of a relief pitcher than a starting pitcher, makes him easier to figure out.
Moreover, these two pitches are problematic. As heat maps show, he often leaves them in the more middle parts of the strike zone, where batters tend to do greater damage.
He doesn't throw them particularly hard, either.
Matchup Details
Javier is susceptible to struggling against Texas because the Rangers match up well against his favorite pitches.
They rank fifth with a .453 slugging rate against his two favorite pitches from righties.
Rangers Batters
When considering Rangers batters, obviously a hit machine like Corey Seager can be counted on to thrive tonight.
But don't forget about lower-profile hitters like Leody Taveras, who is likewise primed to contribute today. During the postseason, Taveras is batting .348 and slugging .609.
Taveras' strong form is especially likely to continue in view of his positive history against Javier. In his career, Taveras is 5-for-16 with a double and a homer when facing Javier.
Max Scherzer (Texas Rangers)
Texas starts Max Scherzer tonight.
Scherzer is well-known for his fastball, his favorite pitch, which features significant movement and good spin, both of which make it harder for batters to make good contact with it.
However, the quality of his additional offerings merits praise. In addition to his slider, he also features extensively a changeup, curveball, and cutter. These three pitches yield .207, .187, and .135 batting averages, respectively.
The quality of the various pitches in his arsenal distinguishes him from Javier given the latter's reliance on two problematic pitches.
Scherzer's Spot
Scherzer is in a great spot today because he reliably bounces back in rematches against a given team.
For example, on April 4 he was thrashed by Milwaukee. In the rematch on June 29, he held this team to two runs in six innings.
His ability to succeed in rematches attests to his intelligence, his ability to make adjustments in order to make more effective use of the various components of his repertoire.
Indeed, unlike Javier, he certainly has proven his matchup potential against his opponent tonight. On June 19, he held the Astros to one run in eight innings. 
Tonight, he will return to this level of dominance over Houston.
MLB Pick: Rangers ML (-125) at Bet365
*The line and/or odds referenced in this article might have changed since the content was published. For the latest information on line movements, visit OddsTrader's free betting odds tool.