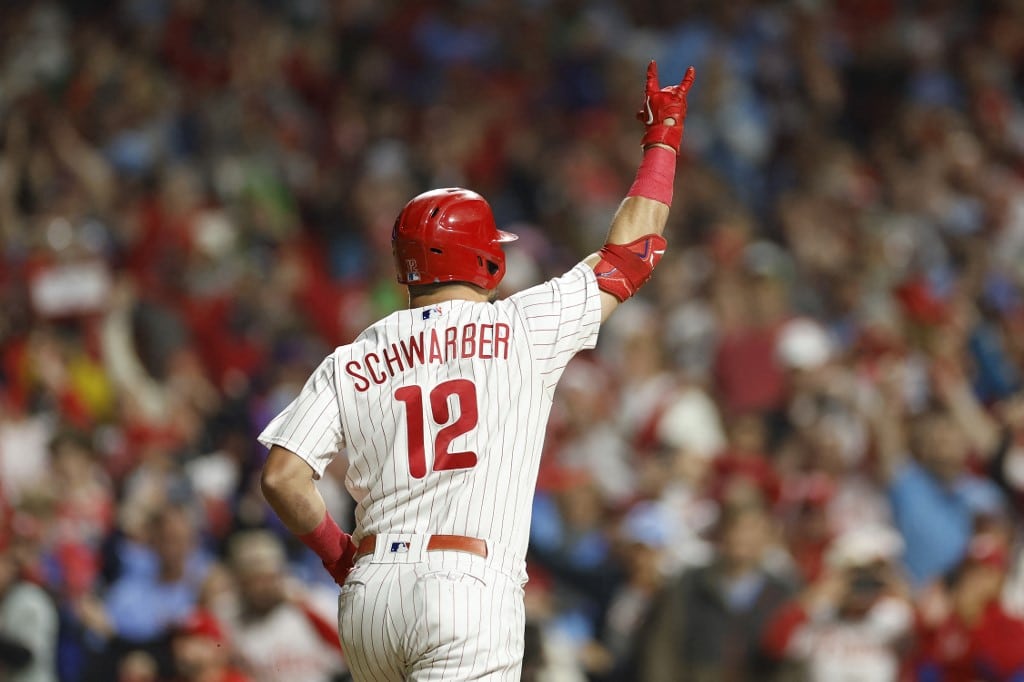 We have an action-filled day for today's playoff games, and both games, Phillies vs. Diamondbacks and Astros vs. Rangers, present great wagering opportunities.
For your best bets, I will recommend that you invest in the Phillies and Astros moneyline, as well as the total for the Astros-Rangers game.
My recommendations are backed by OddsTrader's computer predictions and by my handicapping.
Picks Summary
Phillies ML (-125)
Astros ML (-105)
Astros-Rangers Over 9.5 (-105)
*All odds from Bet365 (check our Bet365 Review)
---
Thursday, October 19, 2023 – 05:07 PM EDT at Chase Field
---
Our computers project a clear Phillies victory, and I agree. You should wager on Phillies ML.
Ranger Suarez (Philadelphia Phillies)
Ranger Suarez starts for Philadelphia today.
Suarez enters this game in strong form, which is evident in his postseason success to date. In his first postseason game, he held Atlanta to one hit and zero runs in 3.2 innings.
He then had the tough task of facing the same lineup, the mighty Braves, a second time. In the rematch, he held Atlanta to one run in five innings.
He is progressing to pitch more innings while remaining just as successful even against uniquely tough matchups.
Matchup Details
Suarez's success against Atlanta is impressive because the Braves own one of baseball's best lineups – they rank first in runs per game – and because they match up well against Suarez on paper, in terms of the pitches that he throws. A lefty, Suarez throws a sinker, fastball, curveball, changeup, and cutter.
His outlook against the Braves appeared negative because they rank first with a formidable .527 slugging against his pitches from lefties. However, they posed no real problem for him.
The upshot of his success against Atlanta is that Suarez is well-tested and clearly in strong form.
Today's opponent will be much easier for Suarez than Atlanta was, as the Diamondbacks match up poorly against him. They rank 25th with a .409 slugging rate against his pitches from lefties.
Bonus Consideration
As a further bonus, in addition to facing a softer test that he matches up well against, Suarez will benefit from the starting time of this game.
In his career, he enjoys a 3.12 daytime ERA compared to 3.55 at night.
Brandon Pfaadt (Arizona Diamondbacks)
Brandon Pfaadt starts for Arizona.
Pfaadt's last performance creates a misleadingly negative impression of him: his success against the Dodgers might seem to recommend him today, however, the Dodgers simply did not show up to the postseason. They mustered two runs in each of their games, struggling against various different pitchers.
Plus, Pfaadt reliably does worse after a good performance. His game-by-game results reveal this negative tendency that worsens his outlook for today.
Pfaadt vs. Phillies Batters
The biggest reason, though, why Pfaadt's outlook today is negative is that he matches up poorly against Philly batters. Already sizzling as a group, Philadelphia is primed to hit Pfaadt's pitches.
Pfaadt throws a fastball, sweeper, changeup, sinker, and curveball, and the Phillies rank sixth with a .451 slugging rate against his pitches from righties.
MLB Pick: Phillies ML (-125) at Bet365
---
Thursday, October 19, 2023 – 08:03 PM EDT at Globe Life Field
---
Our computers indicate that this game will be a high-scoring affair that results in a Houston victory. Accordingly, you should play Astros ML and the "over."
Jose Urquidy (Houston Astros)
Jose Urquidy starts for the Astros tonight, and he looks to continue his strong form.
After concluding the regular season by allowing two hits and zero runs in his last nine innings, he started the postseason by holding the Twins to two runs in 5.2 innings.
He must be looking forward to Texas, who has yet to see him this year. In his career, though, Urquidy has developed incredible confidence against this team, being 5-0 with a 2.82 ERA against the Rangers.
Andrew Heaney (Texas Rangers)
Texas starts Andrew Heaney tonight.
Houston has an advantage that Texas does not have: the Astros have seen the starting pitcher who they'll face tonight four times already this season. Consequently, the Astros are extra well-prepared for this game.
Indeed, Houston has Heaney figured out. Astros batters flourished in their last two meetings with Heaney. On July 28, Heaney allowed three runs in five innings to Houston. More recently, on September 4, the Astros scored three runs in 4.2 innings against Heaney.
Matchup Details
One can't be surprised by the fact that Houston has Heaney figured out because the Astros match up well against him.
Heaney throws a fastball, slider, and changeup, and the Astros rank fourth with a .477 slugging rate against his pitches from lefties.
Total
The game will go "over" the total primarily because Houston will hurt Heaney badly.
However, the Rangers won't get shut out.
Guys like Corey Seager and Marcus Semien, who slug over .770 in nine or more at-bats against Heaney, will help ensure that today's game is high-scoring.
MLB Pick: Astros ML (-105) at Bet365
MLB Pick: Over 9.5 (-105) at Bet365