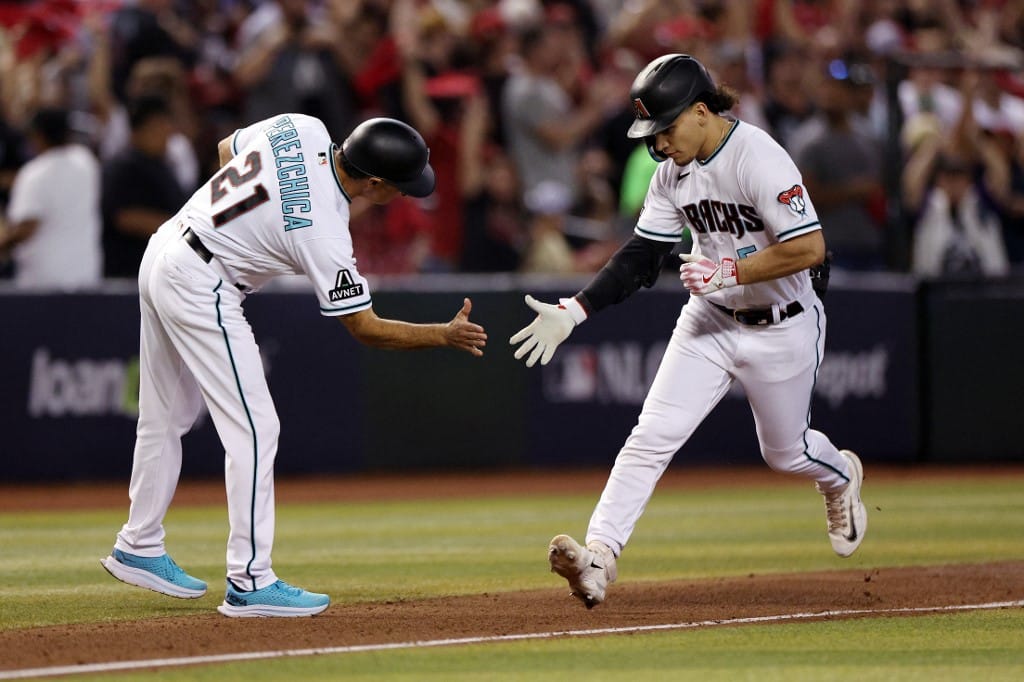 The sportsbooks have released their betting odds for tonight's baseball action.
Both games are worth investing in: Diamondbacks vs. Phillies and Rangers vs. Astros, and for your best bets, I will recommend investing in Diamondbacks RL and Astros ML.
My recommendations are backed by OddsTrader's computers and by my handicapping.
Picks Summary 
Diamondbacks -1.5 (-135)
Astros ML (-125)
*All odds from Bet365 (check our Bet365 Review)
---
Monday, October 23, 2023 – 05:07 PM EDT at Citizens Bank Park
---
Our computers project tonight's game to be very close. Everybody will want to pick the Phillies to win at home, but don't fall for the trap.
In alignment with our computer projection, you should play the Diamondbacks RL.
Merrill Kelly (Arizona Diamondbacks)
Arizona starts Merrill Kelly today.
One reason why many bettors are looking to invest in Arizona is that they saw how poorly he performed in his last start, which took place against Philadelphia.
They figure that Philadelphia is sure to hit Kelly well again after they just did so less than a week ago, but this is an erroneous way of looking at things.
Kelly's last start was indeed a terrible one. One in which he allowed four earned runs or more. However, he has proven to be excellent at bouncing back after terrible starts.
Before his last start, he allowed four or more earned runs in four different starts. After each of those four terrible starts, he limited his next opponent to one earned run.
This trend is particularly impressive given the fact that he's sustained it away from the comfort of his home venue and even in the most hitter-friendly of ballparks, Colorado's Coors Field.
History vs. Phillies
Regardless of the spot, Kelly should be expected to thrive against Philadelphia more often than not. In his career, he owns a 2.75 ERA in three starts against the Phillies.
His track record is strong against the most important Philly batter. Bryce Harper is 1-for-5 in his career facing Kelly.
Kelly's Arsenal
In descending order of frequency, today's Diamondbacks starter throws a fastball, changeup, cutter, sinker, curveball, and slider. He can count on his three most frequent pitches to be his most effective ones.
Opponents hit .224 against his fastball, .180 against his changeup, and .220 against his cutter. Having three excellent pitches will allow him to last longer in this game.
Aaron Nola (Philadelphia Phillies)
Aaron Nola starts for the Phillies tonight. For sure, Nola has excelled in this postseason. But it can't last forever.
His postseason performance has been strange given the extent to which it has differed from his regular season performance – his regular season ERA was a poor 4.46.
The immenseness of this disparity between his regular and postseason performances suggests that he is due to fall back down to Earth because he is playing beyond himself.
Nola vs. Diamondbacks Batters
While Nola did well in his last start against Arizona, it is difficult to succeed twice in a row against the same lineup.
This time, Arizona's batters will be extra well-prepared to figure Nola out.
Indeed, one should expect the Diamondbacks to hit well against Nola given his career-long history against them. Nola owns a 7.67 ERA in five career starts versus Arizona.
Look out, among others, for Christian Walker. Walker is 2-for-6 with a double in his career facing Nola.
MLB Pick: Diamondbacks -1.5 (-135) at Bet365
---
Monday, October 23, 2023 – 08:03 PM EDT at Minute Maid Park
---
Our computers indicate that Houston will win tonight's Game 7 battle.
Accordingly, you should invest in the Astros ML.
Max Scherzer (Texas Rangers)
Texas is starting Max Scherzer tonight. This is a catastrophic decision for the Rangers, one which will facilitate an Astros triumph tonight.
Recent history indicates the problem: Scherzer is getting killed on the mound, especially by Houston. Scherzer has made one postseason start. This start took place on October 18 in Arlington against these same Astros.
On October 18, he allowed five earned runs in four innings. One may try to make the excuse that he was just getting his feet wet. However, this poor performance is consistent with what he did in his last regular season effort against Houston. On September 6, he allowed seven earned runs in three innings to the Astros.
The fact that both of these awful starts are recent suggests that the Astros have Scherzer figured out and that there is nothing about Scherzer's current form that suggests his ability to alter their strong stretch of play against him.
Cristian Javier (Houston Astros)
Cristian Javier starts for Houston tonight. Unlike Scherzer, Javier enters tonight's game in strong form.
Javier's strong form extends into the regular season, when he threw six shutout innings against the Diamondbacks. In the postseason, he boasts a 1.69 ERA in two starts after locking down the Twins and Rangers.
While it's difficult to lock down the same lineup twice in a row, it's equally difficult for a lineup to produce as much as Texas did yesterday in two consecutive nights.
Plus, Javier will be even better tonight because, for the first time this postseason, he gets to pitch at home, where, as measured by ERA, he is much better than on the road.
MLB Pick: Astros ML (-125) at Bet365
*The line and/or odds referenced in this article might have changed since the content was published. For the latest information on line movements, visit OddsTrader's free betting odds tool.