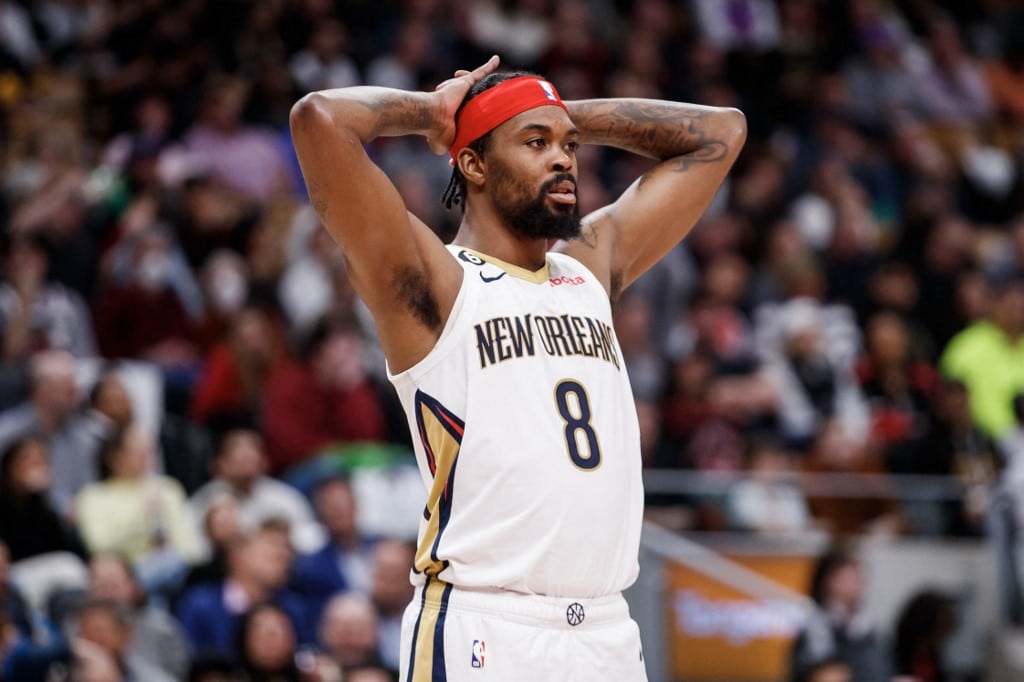 NBA Pick: Pelicans/Timberwolves Under 227.5 (-113) at BetRivers
---
Picks Summary:
Pacers vs. Knicks: Knicks -8.5 (-113)
Kings vs. Nuggets: Over 229.5 (-110)
Pelicans vs. Timberwolves: Under 227.5 (-113)
Top Sportsbooks have released their NBA odds for today's NBA action.
For reasons that I will explain, you should play the spread for the first game and the total for the second and third games.
---
Sunday, April 09, 2023 – 01:00 PM EDT at Madison Square Garden
---
Computer Projection
Our computers predict that New York will defeat Indiana 125-111.
With such a result, the "Over" would hit easily and the Knicks would cover the spread.
Should we agree with this projection and bet accordingly?
Indiana's Decline
I cannot recommend betting the "Over" because this would require the Pacers to do something well. Right now, though, the Pacers are horribly unreliable in every respect. Our computers do a good job of accounting for their current decline.
Indiana has lost seven of its last eight games, with the one win coming at home. During this losing rut, the Pacers' offense has been quite poor at times. On April 2, for example, Indiana mustered 105 points, but also, Indiana's defense has been awful. The Pacers have allowed 120 or more points in five of these last seven games.
Indiana's offensive and defensive regression ensures that the Knicks will be a good play today.
Pacers' Perimeter Defense
To hammer my point home, let's consider a specific aspect of Indiana's defense. On the season, Indiana allows 12.4 made threes per game. This stat is bad but not awful. But in the last three games, the Pacers are allowing 13.3 made threes per game.
If this were a season-long stat, then Indiana would rank second-to-last in the category.
Knicks' Shooters
New York can take advantage of Indiana's unreliable perimeter defense. Ranking 11th in made threes per game and trending dramatically upwards, the Knicks can rely on plenty of shooters.
Knicks' shooting guard Immanuel Quickley, for example, is an absurd 13-of-23 from deep in his past two games combined.
NBA Pick: Knicks -8.5 (-113) at BetRivers
---
Sunday, April 09, 2023 – 03:30 PM EDT at Ball Arena
---
Computer Projection
Our computers predict a 119-119 game.
If this were to hit, Denver would cover the spread, and the "Over" would hit.
Of course, a tie game would also entail overtime, which means more points and a stronger likelihood that the "Over" hits more easily.
Declining Denver
Denver is snoozing its way into the postseason. Currently, the Nuggets have lost three games in a row. After being blown out by Houston, the Nuggets lost to Phoenix and Utah by four points.
The Nuggets locked in the number one seed in the West, so they can afford to relax. What this entails is that the starters are not playing the whole game. They played three-quarters of their last game, for example.
Offense But Little Defense
While out there, Nuggets' starters have been productive. They were raining threes in their last game, especially during a 76-point output in the second and third quarters. Evidently, the willpower is there to score. But the defensive intensity has been inconsistent – and this makes sense, it is funnier to play offense than it is to play defense.
Sacramento's Shooting
Denver's perimeter defense has declined. In its past three games, Denver is allowing 13.3 made threes per game.
Sacramento is well-built to take advantage of this decline because the Kings love to shoot threes. They make the fifth-most threes per game.
So, for your NBA picks, expect them to keep pace with offensive-minded Denver.
NBA Pick: Over 229.5 (-110) at BetMGM
---
Sunday, April 09, 2023 – 03:30 PM EDT at Target Center
---
Computer Projection
Our computers project a 115-112 New Orleans win.
Should we take our cue from this projection and play the Pelicans and the "Under"?
Great Situational Spot
This game presents a great spot for the "Under."
New Orleans is on an extended 15-5 "Under" run as top scorer Zion Williamson remains injured.
On the other side, Minnesota is coming off a unique game in which it scored 151 points largely thanks to some insane three-point shooting. The Timberwolves will fall back down to Earth, especially against the team that ranks number one at limiting opposing three-point percentages.
NBA Pick: Under 227.5 (-113) at BetRivers