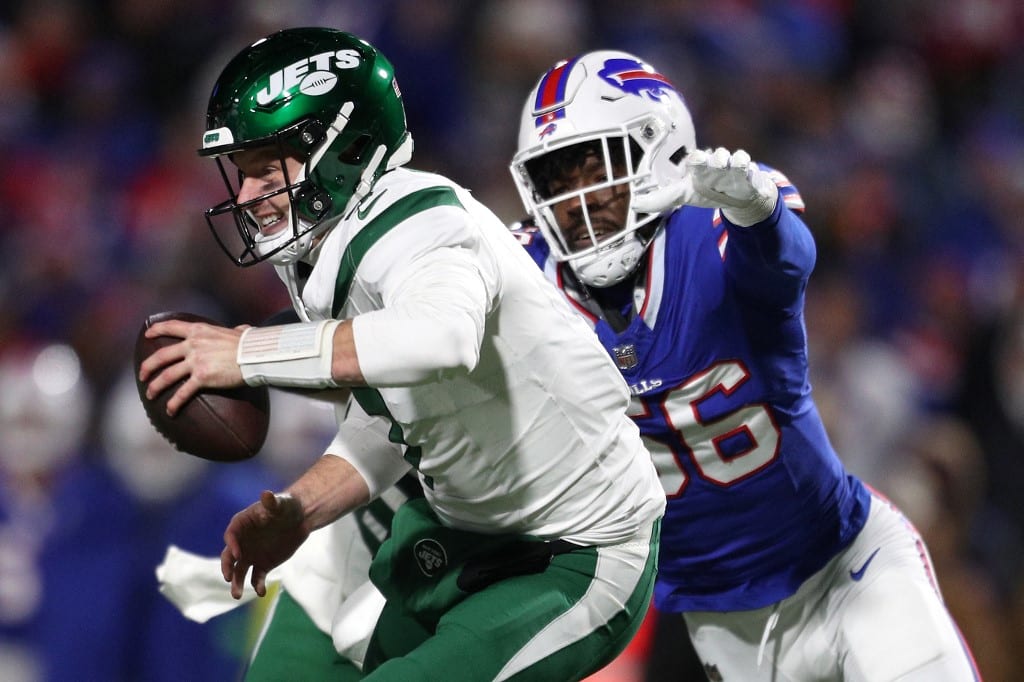 The NFL's Week 12 schedule has a special holiday schedule with a trio of divisional games on Thanksgiving, including staples with the Detroit Lions and Dallas Cowboys hosting the afternoon games before the Seattle Seahawks face the San Francisco 49ers at night. The NFL is having its first-ever Black Friday game when the New York Jets host the Miami Dolphins in an AFC East clash.
We make our best bets for Week 12's holiday slate below, and you can always find these bets at our top sportsbooks.
Picks Summary
Sam LaPorta (DET) Over 47.5 Receiving Yards (-110)
Cowboys Over 30.5 Points (-115)
George Kittle (SF) Over 51.5 Receiving Yards (-110)
Jets Under 13.5 Points (-110)
*All odds from Bet365 (check our Bet365 Review)
---
Lions to Get Tight End Involved Again
The first game this Thanksgiving is Detroit hosting Green Bay, a rivalry that used to be one-sided in favor of the Packers, but the Lions have won 4 games in a row. If they want to keep the streak going, they could use some more production out of rookie tight end Sam LaPorta, who had his quietest game of the season against the Bears.
We are looking at a prop bet for LaPorta's over/under in receiving yards (47.5).
---
Thursday, November 23, 2023 – 12:30 PM ET at Ford Field
---
Consistent Rookie
Before last week, LaPorta had been very consistent as a receiving tight end, which is unusual for a rookie at this position. He had at least 36 receiving yards in every game this season. LaPorta also had at least 47 yards in all 4 home games for Detroit.
But against the Bears, LaPorta only had this stat line:
5 targets
3 receptions (tied for season low)
18 yards (half of his previous low this season, 36 yards)
Jared Goff did not have a strong game at quarterback, throwing 3 interceptions. He was only great on the last drives where LaPorta had his production after getting blanked for most of the day.
When LaPorta played Green Bay in Week 4, he caught 4-of-5 targets for 56 yards, a very solid game. He should bounce back and become a bigger part of the offense this week.
The Pick
If it makes you feel any better here, Amon-Ra St. Brown has been held in check by the Packers, finishing with under 60 yards in 4-of-5 meetings since 2021. The only time he broke out was in 2021 in a game where the Packers were resting starters for the playoffs.
Last week was about St. Brown and David Montgomery's revenge game against Chicago. This week should feature more LaPorta. You could even get a little riskier and play his performance double for anytime touchdown and a Detroit win.
NFL Pick: Sam LaPorta Over 47.5 Receiving Yards (-110) at Bet365
---
Cowboys Running It Up on the Scoreboard
The Dallas Cowboys (7-3) are No. 2 in the NFL with 30.2 points per game, and by season's end, they may finish No. 1 again as they did in 2021. They may have been right up there last season too had Dak Prescott not been injured early in the season.
Prescott is healthy this year, and right now he is playing some of his best ball. The Cowboys are an 11-point home favorite with a total of 48.5 points in this game against Washington. We are looking at a team total for Dallas (30.5 points).
---
Thursday, November 23, 2023 – 04:30 PM ET at AT&T Stadium
---
The Scorching Dallas Offense
The Cowboys started this season with question marks on offense after head coach Mike McCarthy took over play-calling duties, and Dallas seemed to be calling too many short passes and playing conservatively so that Prescott would not get stung by interceptions.
But this was not the right approach as Prescott's interceptions last year were largely fluke plays on tipped and deflected balls, and his interception rate should have naturally regressed to the mean this year as he is one of the better quarterbacks in the league.
The Cowboys were struggling in the red zone, and despite the hesitation in attacking downfield, Prescott still threw 3 interceptions in an ugly 42-10 loss in San Francisco in Week 5.
But in recent weeks, Prescott's play has improved, and the Cowboys are thriving and scoring often again. CeeDee Lamb had a streak of 3 games with 10 catches and 150 yards. When that ended, Tony Pollard made his return to the end zone on Sunday against Carolina.
The Cowboys have moved up to No. 18 in the red zone at scoring touchdowns, and they are still No. 3 at converting 3rd down. Dallas has scored at least 30 points in all but one win this season, including 5 games with at least 33 points scored.
Washington's Awful Defense
The Commanders had a couple of upset wins over Philadelphia and Dallas last year thanks to forcing 8 turnovers in those games. They should have fired defensive coordinator Jack Del Rio for not getting results with this unit, and instead they brought him back, the Commanders rank 32nd in points allowed, and they traded away some of those players like Montez Sweat and Chase Young.
Washington just allowed Giants rookie quarterback Tommy DeVito to throw 3 touchdowns on Sunday. This was a New York offense that hadn't seen 3 touchdowns of any kind since Week 2, let alone passes from what was the worst passing game in the league.
The Washington defense is awful in the secondary, and these receivers like Lamb, Brandin Cooks, and Michael Gallup should feast on Del Rio's defense. Prescott also should have plenty of time to throw as he has not been sacked in either of the last 2 games.
The Pick
Division games are weird and this is the 1st meeting between these teams this season. The Commanders already played the Eagles and Giants twice. They were scoring at will against the 1-loss Eagles but looked like fools against lowly New York, which otherwise has 1 win this season.
You never know for sure how teams will match up, but we'll take our chances that the No. 2 scoring team rips through the No. 32 scoring defense at home on a short week.
NFL Pick: Cowboys Over 30.5 Points (-115) at Bet365
---
Save the Turkey Neck for George Kittle
The San Francisco 49ers are back on track with a pair of dominant wins following their 3-game losing streak. Brock Purdy has great numbers again, and he is getting all of his receivers involved. The Seahawks were swept by San Francisco last year, and they have another tough matchup here on a short week.
The 49ers are a 6.5-point road favorite with a total of 43 points. We are looking at the over/under in receiving yards (51.5) for George Kittle, San Francisco's star tight end.
---
Thursday, November 23, 2023 – 08:20 PM ET at Lumen Field
---
Kittle's Last Trips to Seattle
These teams met on a Thursday night last December and Kittle was fantastic. He had 4 catches for 93 yards and 2 touchdowns. If that sounds great, consider that on a trip to Seattle in the 2021 season, Kittle had 9 catches for 181 yards and 2 touchdowns, the biggest statistical game of his career.
This does not mean Kittle is always dominant against the Seahawks. He only had 2 catches for 37 yards and a 2-point conversion score in the wild card playoff meeting last January.
It took Kittle 9 games against Seattle to score his first touchdown against the Seahawks. But we are not talking about touchdowns, and it is just a line of 51.5 yards against a Seattle pass defense that has been generous at allowing yardage this year.
Kittle in Prime Time
There is a narrative that the 49ers throw to Kittle in prime-time games to show him off as a receiver, but then they ask him to block more in the tougher games. There may be a little truth to that this year.
Week 3: Kittle had 7 catches for 90 yards in a Thursday night win over the Giants.
Week 5: Kittle had 3 catches for 67 yards and 3 touchdowns in a Sunday night win over the Cowboys.
Week 7: Kittle had 5 catches for 78 yards in the Monday night loss in Minnesota.
Kittle has 4 games where he failed to surpass 30 receiving yards this season, and they were all Sunday afternoon games. But he may have also needed to stay in as a blocker more to protect against fronts with edge rushers like T.J. Watt (Steelers) and Myles Garrett (Browns).
The Pick
Kittle is on a roll right now. He's gone over 77.5 yards in 4 straight games, and he has a touchdown in back-to-back games coming into this one. We'll gladly take his over to hit again here in a big game against Seattle.
NFL Pick: George Kittle Over 51.5 Receiving Yards (-110) at Bet365
---
Jets Change Quarterback, Get Same Results
It took until Week 12, but Jets coach Robert Saleh has finally benched quarterback Zach Wilson. It may be too late for the Jets (4-6), but they are going with Tim Boyle against Miami on Black Friday.
But do not think for a second that the Jets cannot get worse with this move. At least Wilson had some mobility and success with a few game-winning drives.
We are looking at New York's scoring total (over/under 13.5 points), which is embarrassingly low against the league's highest-scoring team.
---
Friday, November 24, 2023 – 03:00 PM ET at MetLife Stadium
---
Why the Jets Will Go Under Again
First, the Jets have failed to score 14 points in 6-of-10 games this season. They have already been doing a fine job of hitting this under, and lately, things have gotten worse on offense.
The Jets have not cracked 14 points since Week 6 against the Eagles. Even that game was threatening to end 14-12 until Jalen Hurts was intercepted and set up the Jets 8 yards away from the end zone for the game-winning score.
Boyle is in a rough spot here. The Jets do not run the ball with any consistency. They'll hit the occasional big play, but the blocking is not good enough for them to consistently win on the ground. Breece Hall's rushing success rate is just 36.8% this season after it was 50% in his rookie season.
The Jets are dead last on 3rd down and in the red zone. It's a hopeless offense that Boyle is not going to be able to improve.
Miami's Defense Gaining Confidence
Every season has a few teams that get stronger defensively as the season grows on. The Dolphins may be one of those teams this year now that defensive coordinator Vic Fangio has corner Jalen Ramsey back healthy. Ramsey made a game-clinching interception in the end zone last week in the 20-13 win over the Raiders.
Miami allowed a season-low 13 points in that game to a Vegas offense that has better skill players than the Jets. Aidan O'Connell is also a better choice at quarterback than Boyle would be.
Maybe the Dolphins are finally turning the corner on defense. In Germany in Week 9, the Dolphins held the Chiefs to just 14 points on offense, including no points in the 2nd half.
The Pick
The Miami defense has had all of its best games by EPA at home this year, so it will need to show it can travel this week. But what better opponent to prove it against than the dysfunctional, spiraling Jets and Tim Boyle on a Friday afternoon?
We'll take our chances that the Dolphins can stack strong defensive performances against a New York team that is aiming for a 5th-straight game without scoring 14 points.
NFL Pick: Jets Under 13.5 Points (-110) at Bet365
*The line and/or odds referenced in this article might have changed since the content was published. For the latest information on line movements, visit OddsTrader's free betting odds tool.