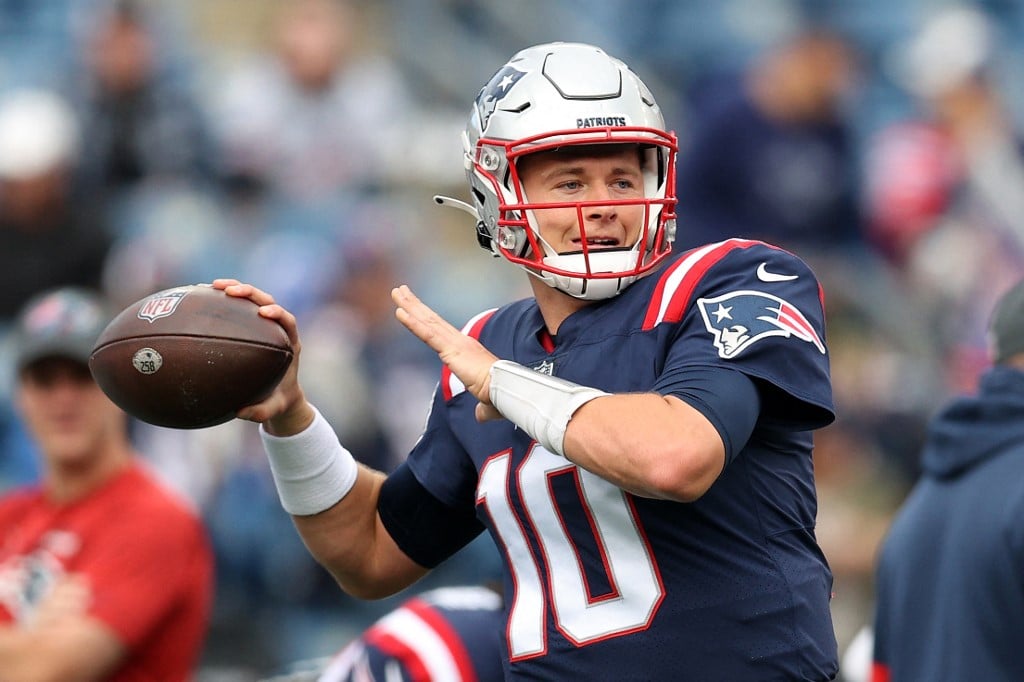 The second half of the season is fully underway and we have a new Power Rankings leader who hails from…New England! Let's take a look at our Top 10 teams in the league, taking into consideration what they've done recently, and throughout the season.
Remember you can go over our nifty tool explanation with our Week 1 post and remember to check back every Tuesday for analysis of the adjustment in the positions.
Now, let's review our Top 10 teams and see if you agree.
Top 5
1. New England Patriots (7-4 SU, 7-4 ATS) Next: vs. Titans– Well, well, well. The dynasty that was said to be crumbling has suddenly risen from the ashes. Are we sure this franchise isn't from Phoenix? A tough-as-nails defense coupled with a deadly accurate rookie passer in Mac Jones, fresh off a 25-0 shutout of the Falcons, brings the Patriots back to prominence and the No. 1 ranking in the league.
2. Tampa Bay Bucs (7-3 SU, 4-6 ATS) Next: at Colts – It didn't take long for the Bucs to get back on track after two consecutive losses as Tom Brady connected early and often to his potent stable of pass-catching weapons en route to a 30-10 victory over the Giants. Are the Bucs really back, or was this just a case of them running up against a woeful Giants' team?
3. Indianapolis Colts (6-5 SU, 7-4 ATS) Next: vs. Bucs – The Colts have vaulted from the fringes of our Top 10 power rankings to land at No. 3 this week. Their 41-15 thrashing of the Bills has convinced the committee that these Colts belong in the championship conversation even if they struggled early, only to have come on like a freight train late. Indy has won five of their last six and Jonathan Taylor's five touchdowns last Sunday shows the league that he, and his team, have arrived.
4. Buffalo Bills (6-4 SU, 6-4 ATS) Next: at Saints – Who are the Bills, anyway? They looked like a juggernaut to start the season but a stunning 9-6 loss to the Jaguars a few weeks ago has derailed their mojo and sends a message to the rest of the league that this Bills' edition could be the proverbial paper tiger after getting trounced by the Colts last week.
5. Green Bay Packers (8-3 SU, 9-2 ATS) Next: vs. Rams – What a difference a quarterback makes, right? In Week 9 this Packers' offense was stuck in neutral with second-year man, Jordan Love, unable to get his troops in gear after replacing Aaron Rodgers due to Covid protocols, and subsequently lost a 13-7 decision to the Chiefs.
Rodgers returned the following week and the defense pitched a shutout in a 17-0 win over the Seahawks. And last Sunday, the 3x MVP threw for 385 yards and four touchdowns in a losing effort as the Packers fell 34-31 to the Vikings. This week will be a true barometer of whether this team is made of championship timber when they host the Rams.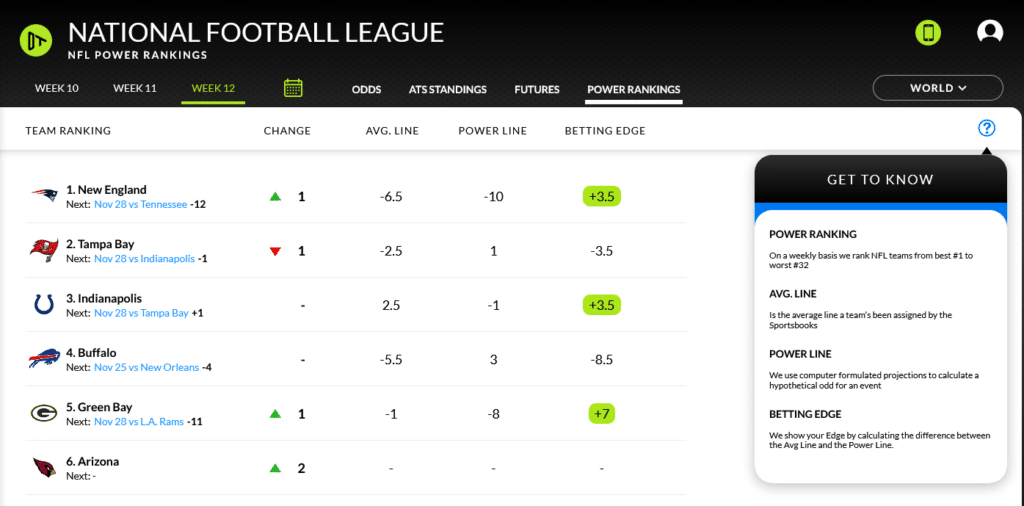 It's a Long Way to the Top (If You Wanna Rock 'n' Roll)
6. Arizona Cardinals (9-2 SU, 8-3 ATS) Next: at Bears – The NFL odds at all of the best online sportsbooks installed the Cardinals as 2 ½ point road dogs to the Seahawks coming off of their bye week and following their 34-10 loss to the Panthers. However, the Redbirds were set to soar as they scored a 23-13 win over Seattle in hostile territory and cashed for all of those whose faith never wavered. Colt McCoy was exceptional in relief of the injured Kyler Murray and Arizona continues to roll as the leaders in the competitive NFC West.
7. Kansas City Chiefs (7-4 SU, 4-7 ATS) Next: vs. Broncos – Don't look now but the Chiefs are back on the warpath after winning five of their last six, including a 19-9 win over the Cowboys in what could be a Super Bowl preview. A case could be made that the Chiefs deserve to be higher on this list but that ascension will likely happen after they welcome the Broncos this week to Arrowhead and send them home with a decisive loss.
8. New Orleans (5-5 SU, 5-5 ATS) Next: vs. Bills – The Saints have tumbled down our rankings courtesy of a 40-29 loss to the Eagles in Week 11 but they have had numerous injuries to overcome this season. This week they welcome the Bills but a loss here could not only knock them out of our Top 10 but dash all of their hopes and dreams for a postseason appearance.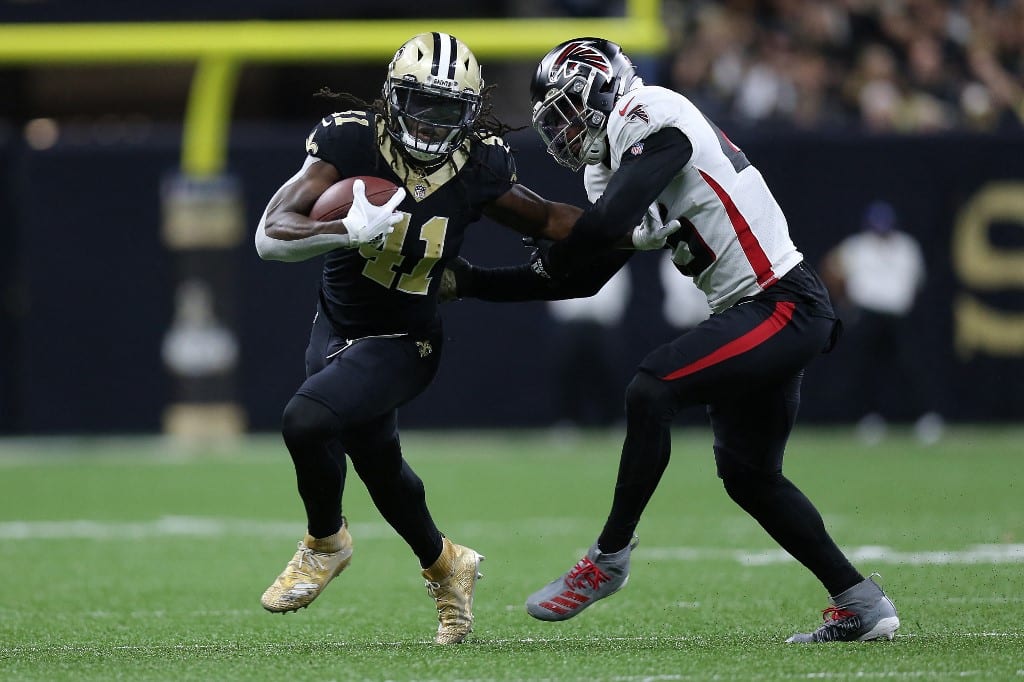 9. San Francisco 49ers (5-5 SU, 4-6 ATS) Next: vs. Vikings – The 49ers have now won three of their last four including their 30-10 win over the dismal Jaguars last week. But let's not forget that San Francisco was coming off of a 31-10 victory over the Rams in Week 10 which led many to believe they would suffer the proverbial letdown against Jacksonville, causing many to fade the Niners in their NFL picks. Such was not the case but they will get a stern test this week when the surging Minnesota Vikings invade the Bay Area.
10. Dallas Cowboys (7-3 SU, 8-2 ATS) Next: vs. Raiders – The wheels fell off the Cowboys' wagon last week as their vaunted offense was stymied by the Chiefs at Arrowhead leading to a 19-9 loss in Kansas City. Dak Prescott had an uncharacteristically poor game but if there is a silver lining, the Dallas defense did contain Patrick Mahomes and the Kansas City Express. They should get well this week against the Raiders as they look to button up the NFC East within a matter of weeks.
For the complete list of the OddsTrader Power Rankings click here. And remember to check back for more betting strategy at the OddsTrader blog. Happy betting!