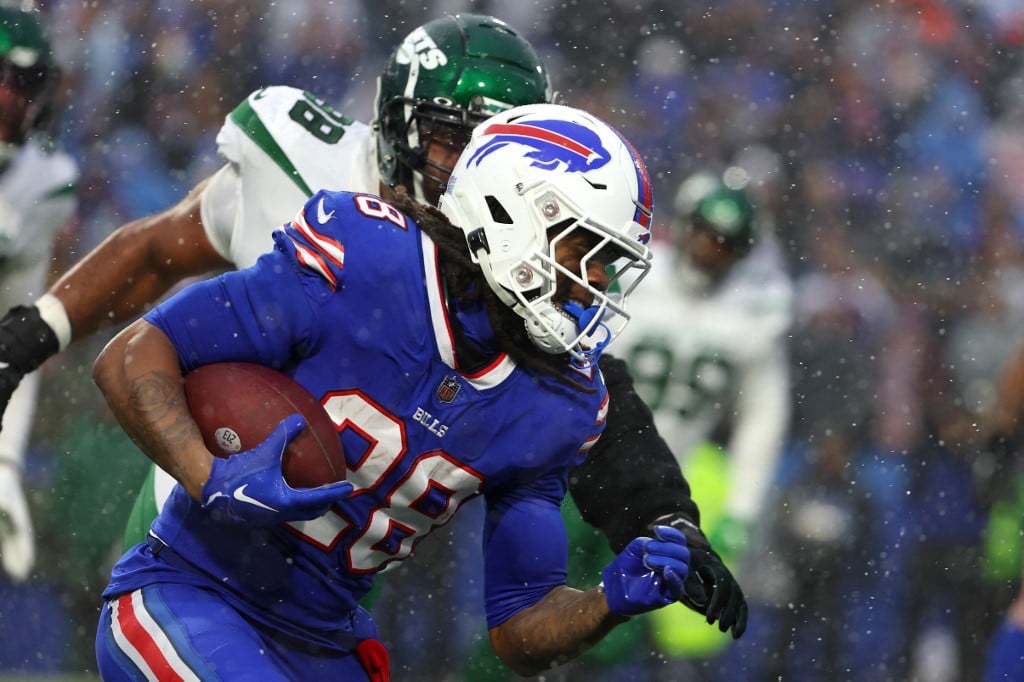 The NFL's Week 15 schedule is highlighted by some prime-time games on Thursday and Saturday that could greatly impact our power rankings at OddsTrader.
After the Cowboys struggled so much with lowly Houston and the Chiefs nearly blew a 27-0 lead in Denver, we see two other contenders back at the top of our rankings in the Bills and 49ers.
With Buffalo hosting Miami and the 49ers going for a sweep of the Seahawks, both teams could take a huge step forward to wrapping up their division titles with wins this week.
For more information about how our tool works, be sure to check our 2021 Week 1 post.
---
1. Buffalo Bills (10-3 SU, 6-6-1 ATS)
Buffalo's revenge tour continues after getting a split with the Jets in Week 14, a tough defensive game in wintry conditions. Now the Bills could be facing another weather game (snow) this Saturday night against the Dolphins, who upset the Bills back in Week 3 in crazy Miami heat.
The Bills basically melted down in that game. Buffalo had a 497-212 edge in yards and still found a way to lose the game. Since 1970, teams with an edge of over 275 yards were 300-13-1 (.957). This is a great chance for the Bills to prove they are the best team in the AFC East and that Week 3 was a fluke.
It would also send the Dolphins reeling on a three-game losing streak after looking bad against the 49ers and Chargers. Buffalo is still the team to trust in this division, if not the whole conference.
---
2. San Francisco 49ers (9-4 SU, 8-5 ATS)
No matter how his career turns out, Brock Purdy will always remember that in his first NFL start, he opened up a 35-0 lead on Tom Brady's team before winning by four touchdowns. Purdy looked quite good in throwing two touchdowns and handling the Tampa defense, but not all the news was great for San Francisco.
After losing two quarterbacks, starting running back Elijah Mitchell, and plenty more injuries along the way, the 49ers watched star weapon Deebo Samuel get carted off during the game. Reports are an MCL and ankle sprain injury, but it sounds optimistic that Samuel will return for the playoffs.
You just shouldn't expect him to play Thursday night in Seattle, but the 49ers are still loaded with weapons beyond Samuel. They also have that great defense that technically held the Seattle offense to zero points back in Week 2. Seattle's only score was a blocked field goal returned for a touchdown.
---
3. Kansas City Chiefs (10-3 SU, 4-8-1 ATS)
The Chiefs showed us their best and worst in Week 14 in their first clash with Russell Wilson as a member of the Denver Broncos. Despite taking a 27-0 lead, the Chiefs were in danger of giving up the lead late before intercepting backup quarterback Brett Rypien. Denver scored a season-high 28 points.
Patrick Mahomes had three interceptions to tie his career high, and he has fallen behind Jalen Hurts in the MVP odds after that performance. But the Chiefs did manage to hang on for a 14th-straight win over the Broncos.
We'll see if the Chiefs can avoid the trap the Cowboys fell into against Houston as a huge favorite last week. The Chiefs cannot afford another sloppy turnover game as they are now minus-5 in turnover differential despite the 10-3 record. They are the 13th team in NFL history to have at least 10 wins through 13 games with a turnover differential of minus-5 or worse.
---
4. Dallas Cowboys (10-3 SU, 8-5 ATS)
Few would have imagined the Cowboys would struggle so much as a 17.5-point home favorite against 1-win Houston, but it happened. Despite five straight games with at least four touchdowns scored, the Cowboys were staring down a late double-digit deficit before the defense came through with a goal-line stand.
Then Dak Prescott led a 98-yard game-winning touchdown drive. It was only his third fourth-quarter comeback in the last four seasons. It also happened to be the first game of the year where the Dallas offense had the ball in the fourth quarter with a one-score deficit.
At least the Cowboys survived it to barely keep pace with the Eagles in the NFC East. But not everything was good about the win, as right tackle Terence Steele tore his ACL and MCL, ending his season.
The Cowboys get a very winnable game in Jacksonville before that huge Week 16 showdown with the Eagles that could determine the NFC East. The Cowboys need to clean up the turnovers and stay healthy going into that one.
---
5. Philadelphia Eagles (12-1 SU, 8-5 ATS)
The Eagles made short work of the struggling Giants, taking a 21-0 lead after three straight touchdown drives to start the game. They continued pouring it on until they scored a season-high 48 points.
Philadelphia has scored at least 35 points and gained at least 430 yards in three straight games. Only the 2011 Saints have done that in four straight games, but the Eagles will have a chance to join them given the lack of quality to the Chicago defense this year.
The only fault to find with the Eagles right now is that they have really never gone into a game against a contender that was playing well this season outside of drawing the Cowboys without Dak Prescott in Week 6. That's why the rematch next week is going to be such a huge game, but the Eagles first cannot overlook the Bears this week.
---
It's A Long Way to the Top
---
6. Cincinnati Bengals (9-4 SU, 10-3 ATS)
The Bengals remain hot with five wins in a row and the best spread record (10-3) in the league this year. Joe Burrow finally got his first win over the Browns, but it was more about the defense limiting the Browns to 10 points after allowing over 30 in each of the previous four meetings.
Still, the Bengals are shaping into a major contender again, and if they could run the table with this schedule, they have a shot at still being the No. 1 seed in the AFC. They need to keep this balanced attack going in Tampa Bay, a team that struggles to score.
But the Bengals have done a great job of rebounding from that 0-2 start. They just need to get the skill players healthy again as wide receivers Tee Higgins and Tyler Boyd were both injured against Cleveland. But at least Ja'Marr Chase is back.
---
7. New England Patriots (7-6 SU, 7-5-1 ATS)
If the playoffs started today, the Patriots would be in Kansas City as the No. 7 seed. While this team lacks talent and was better on both sides of the ball last year, the Patriots rarely let an opportunity against a lesser team slip by, Chicago loss withstanding.
The Patriots are 7-0 when they allow fewer than 20 points and 0-6 when they allow 20-plus points this year. Pretty cut and dry on what needs to happen for this team to win. Now they get a shot at the Raiders, who have lost games in some of the most excruciating ways this year.
We also know Belichick will want to show up long-time assistant Josh McDaniels, but the two coached against each other in 2009 when McDaniels went to Denver and the rookie coach won that day. But if the Patriots want to keep this playoff spot, they better win this matchup with a schedule of Bengals, Dolphins, and Bills to finish the season.
---
8. New York Jets (7-6 SU, 8-5 ATS)
The Jets are doing a good job on defense, but the takeaways have not been there with just one in their last four games (1-3 record). The offense could use that boost in field position, as points continue to be hard to come by despite Mike White throwing for a lot of yards every week. He also showed his toughness by coming back from a couple of big hits against Buffalo.
We'll see how the Jets handle a hot Detroit team at home in a game where they have been an underdog, but the line continues to fluctuate. Getting the Lions out of the dome in December could be an advantage, but the Jets will still have to find a way to outscore one of the league's top-scoring offenses this year. Their postseason hopes practically depend on it.
---
9. Baltimore Ravens (9-4 SU, 5-7-1 ATS)
The Ravens are still hanging in there on top of the AFC North with the same 9-4 record as Cincinnati, but things continue trending downwards with injuries. After Lamar Jackson missed Sunday's game in Pittsburgh, backup starter Tyler Huntley had to leave the game with a concussion. The Ravens just got by in a 16-14 game thanks to their defense (three interceptions gifted by Mitch Trubisky) and dominant run game.
But if the Ravens have to start rookie Anthony Brown at quarterback this Saturday, that could be an issue. Six days is cutting it close for Huntley to clear the concussion protocol, and Jackson's status is up in the air.
The good news is Cleveland hasn't been able to score much since starting Deshaun Watson, but the Ravens are in danger of slipping behind the Bengals with a game in Cincinnati still to come in Week 18. Jackson needs to heal up as fast as possible.
---
10. Green Bay Packers (5-8 SU, 5-8 ATS)
The Packers' playoff odds are slim, but suddenly winning out looks easier than getting the help needed for the damage they did with that five-game losing streak earlier.
Rookie wide receiver Christian Watson has become a revelation, with eight touchdowns in the last four games. The Packers are still the only team to beat the Cowboys since Dak Prescott returned from injury. The Packers still own the Bears, completing the sweep of them in their last game.
Now we'll see if Green Bay can still own the Rams on Monday night. Aaron Rodgers is 6-1 as a starter against the Rams in his career. The Rams won't have Aaron Donald, Cooper Kupp or Matthew Stafford, but they do have Baker Mayfield, who tossed four picks in his trip to Green Bay last Christmas.
---