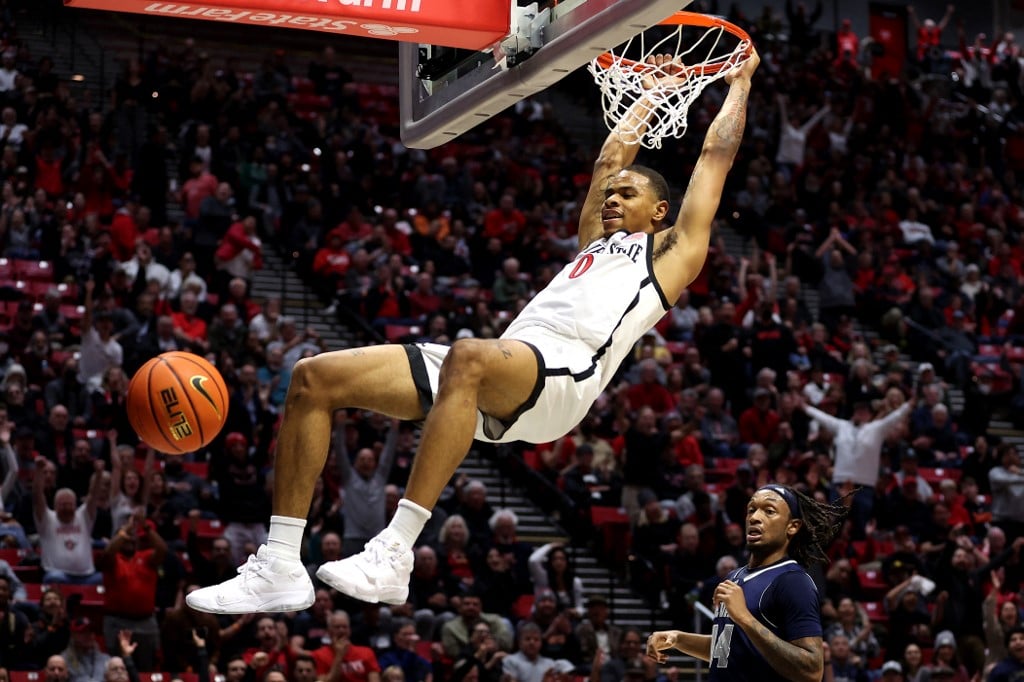 Artificial intelligence gets a bad rap these days. People complain about what AI can't do – or what it might do if everything goes horribly wrong – but they miss out on the good stuff, like the college basketball projections generated by our free OddsTrader BetStation app.
As with any tool, it's in the way that you use it. Here are the three games where the projections differ the most from what's on Friday's NCAAB odds at press time; the bigger the difference, the bigger your bet size should be.
---
Friday, February 3, 2023 – 09:00 PM EST at Viejas Arena
---
---
The most important game on Friday's slate is also the best bet on the board. It's another Over bet, which seems to be fairly common with this particular AI, and there's a healthy 8.5-point gap between the projections (which have San Diego State winning 72-70) and the college basketball lines at Caesars Sportsbook.
Why Is the Over So Good for San Diego State?
Very good question. SDSU (Over 13-8) don't have the statistical earmarks we're normally looking for on Ken Pomeroy's efficiency charts; they're fairly well-balanced at No. 31 on offense and No. 37 on defense, and they run at a medium pace of 67.1 possessions per game according to Adjusted Tempo (No. 177).
There are a few specific things with San Diego State that will work in our favor. For example, they're a relatively short team with only 3.0 blocks per game (No. 211), and they allow opponents to shoot 51.8% from inside the arc (No. 292).
Boise State (Under 12-10) are definitely not the ideal opponent for our Over bet. The Broncos rank ninth in the nation in defensive efficiency, but only No. 90 on offense, and they only get in about 66.8 possessions per game (No. 201).
BSU aren't necessarily built to exploit San Diego State's weaknesses, either. But this will be one of the smaller totals either team has seen this year – especially the home side. And overtime is a very real possibility with SDSU projected to win by two points.
NCAAB Pick: Over 133.5 (-110) at Caesars Sportsbook
---
Friday, February 3, 2023 – 07:00 PM EST at Alumni Gymnasium
---
---
Our second pick takes us from the Broncos to the Broncs, who have the Under at 12-6 this year, while the Peacocks (Under 15-5) are even more tilted toward the wrong side of our bet. That's a tiny total of 126.5 points at FanDuel, though, and the AI says Rider's going to win this game 72-63.
Why So Many Points for Rider?
It's a generous projection for the Broncs, especially when both these teams are so slow moving up and down the court. But Rider's offense (No. 136) is actually pretty good for a MAAC team, and much better than their No. 241-ranked defense.
Getting in the key is what it's all about. Rider rank No. 13 in the nation in 2-point attempts at 43.3 per game, and they're No. 25 in free-throw percentage at 75.9%.
The Peacocks are average when it comes to interior defense (48.8%, No. 154), but they are near the very bottom of Division I in free throws allowed (25.5 per game, No. 361 of 363). That's the special sauce we need to get above this very small total.
NCAAB Pick: Over 126.5 (-115) at FanDuel
---
Friday, February 3, 2023 – 09:00 PM EST at James A. Rhodes Arena
---
---
Our tour ends in the MAC with another matchup that could easily go into extra time, with Akron (Under 11-9) projected to beat Kent State (Under 13-6-1) 70-69. That's already 5 points more than the 134-point total at Bet365, and that gap will only get bigger if they go the additional five minutes or more.
Why Fade Kent State's Under Record?
Because the total's so low. It's the lowest the Golden Flashes have seen all year, although they've split the Over/Under down the middle at 4-4 with totals of 140 points or lower. Otherwise, yes, this team is designed to go Under, with its No. 35-ranked defense and No. 127-ranked offense.
The Zips don't exactly live up to their name at No. 307 in pace (64.4 possessions per game), and they've seen a smattering of totals this low – but the Over went 4-3 in those games. And they get really busy shooting threes (25.4 per game, No. 39), of which Kent State allow opponents to shoot 22.6 per game (No. 236) on average.
Bet accordingly: The AI has spoken.
NCAAB Pick: Over 134 (-110) at Bet365
---