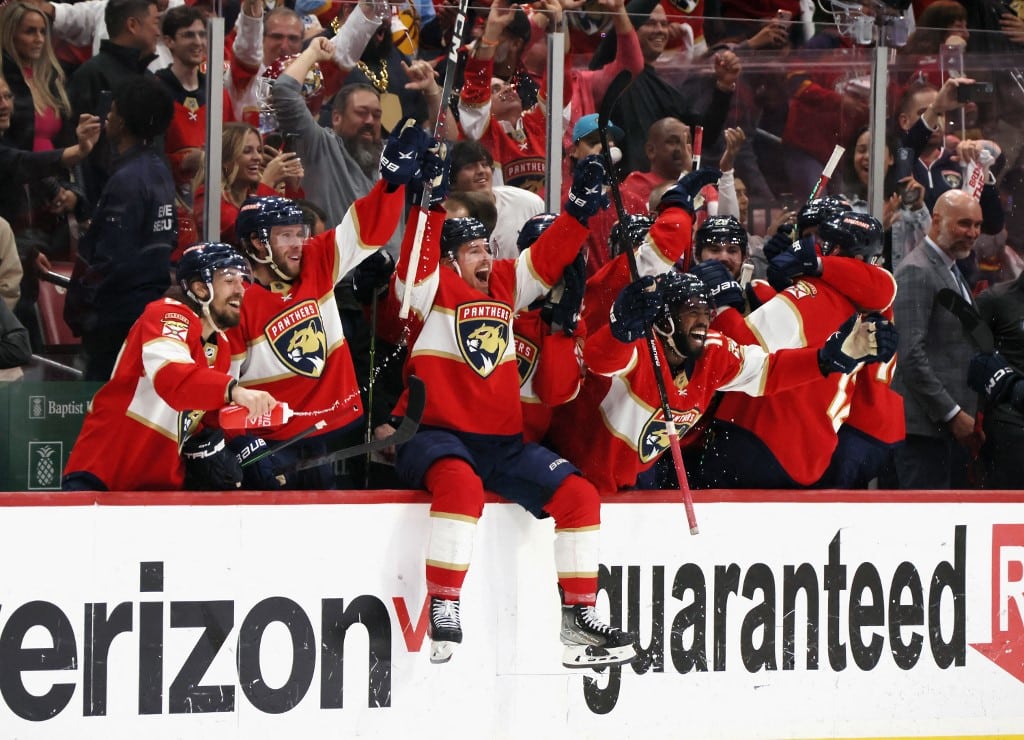 Editor's note: This article and the BetMGM odds were updated on September 25th, 2023.
The first installment of our 2024 Stanley Cup odds is here. It only feels like last week when the Vegas Golden Knights became champions for the first time. At +1100, can they defend their crown, or will we see another name on the cup come the end of the season?
Make sure to check out our OddsTrader NHL betting analysis and sports betting tools as well as our computer prediction picks as the season draws closer.
---
OddsTrader's Betting Edge
Since the 2009/10 season, there hasn't been a Stanley Cup winner with odds greater than +2200, with the average odds of the previous 14 winners prior to the playoffs coming in at +915.
Nine of the previous 14 winners have been less than +900 NHL betting odds prior to the playoffs.
Since the NHL became a 4-division league, the Central and Metropolitan divisions have produced 3 winners each, while the Atlantic and Pacific divisions have had 2 winners.
The Vegas Golden Knights are looking to become the 5th team in NHL history to defend their Stanley Cup, while only one runner-up has ever won the cup the following season (Pittsburgh Penguins 1990).
---
2024 Stanley Cup Odds
---
Below, you will find the Stanley Cup odds courtesy of Bet365 as of September 25, 2023.
| The Elite | The Contenders | The Predators | The Long Shots |
| --- | --- | --- | --- |
| Maple Leafs +950 | Stars +1600  | Senators +4000  | Blues +8000  |
| Oilers +1000  | Panthers +2000  | Kraken +4000  | Blue Jackets +10000  |
| Avalanche +1000  | Kings +2000  | Islanders +5000  | Blackhawks +15000  |
| Hurricanes +1100  | Lightning +2000  | Canucks +6000  | Flyers +15000  |
| Knights +1100  | Sabres +3300  | Red Wings +6600  | Ducks +20000  |
| Devils +1200  | Wild +3300  | Jets +6600  | Coyotes +25000  |
| Rangers +1400  | Penguins +3300  | Predators +7000  | Canadiens +25000  |
| Boston Bruins +1600  | Flames +3500  | Capitals +7000  | Sharks +25000  |
---
Eastern Conference
---
Atlantic Division
| Team | Division Odds |
| --- | --- |
| Toronto Maple Leafs | +200 |
| Boston Bruins | +330 |
| Tampa Bay Lightning | +425 |
| Florida Panthers | +450 |
| Buffalo Sabres | +850 |
| Ottawa Senators | +1000 |
| Detroit Red Wings | +1400 |
| Montreal Canadiens | +7500 |
Best Pick: Toronto Maple Leafs +950
There's no doubt that the Toronto Maple Leafs have one of the best depth charts in the league along with a star-studded roster. With such a strong depth chart and latest addition Tyler Bertuzzi, this team can challenge for the division title and possibly the Stanley Cup.
Their downfall in recent years has been the playoffs, only picking up their first playoff win last season, having previously been knocked out in 6 first rounds in a row in previous years.
It's highly likely we will see Toronto in the playoffs this season, +950 isn't the worst set of odds to take on a team who might have finally broken their playoff duck and don't forget there is also a new GM in town, watch this space.
Value Pick: Tampa Bay Lightning +2000
We can't ignore the fact that the Tampa Bay Lightning made the Stanley Cup finals three seasons in a row (winning two of those back-to-back) but they seemed to run out of gas last season with their first-round exit in the playoffs, losing 4-2 to the Toronto Maple Leafs.
There are a lot of strong teams in the Atlantic Division, there's no denying that, but we believe the Lightning's experience and addition of five new forwards might reinvigorate them to go for their 3rd cup in four seasons. They're +2000 for a reason, but value, nonetheless.
---
Central Division
| Team | Division Odds |
| --- | --- |
| Colorado Avalanche | +140 |
| Dallas Stars | +200 |
| Minnesota Wild | +550 |
| Winnipeg Jets | +850 |
| Nashville Stars | +950 |
| St. Louis Blues | +1000 |
| Chicago Blackhawks | +5000 |
| Arizona Coyotes | +6500 |
Best Pick & Value Pick: Dallas Stars +1600
When we look throughout this Central Division, their no doubt it's weak, but at the same time boasts the Colorado Avalanche who lifted the Stanley Cup in 2022, and the Dallas Stars who are currently knocking on the door to become champions, having lost in both the Stanley Cup finals and Conference finals in the previous 4 seasons.
The Stars made some solid off-season signings in Matt Duchene and Sam Steel. They also held on to the majority of their core group, only losing Max Domi in the process.
Overall the Dallas Stars represent the best pick and best value pick within the Central division to lift the Stanley Cup, they have the resources to do so, and plenty of playoff experience.
---
Western Conference
---
Metropolitan Division
| Team | Division Odds |
| --- | --- |
| Carolina Hurricanes | +200 |
| New Jersey Devils | +220 |
| New York Rangers | +300 |
| Pittsburgh Penguins | +750 |
| New York Islanders | +1000 |
| Washington Capitals | +1500 |
| Philadelphia Flyers | +5000 |
| Columbus Blue Jackets | +6500 |
Best Pick: Carolina Hurricanes +1100
It's no surprise to see the Carolina Hurricanes 4th favored to hoist Lord Stanley this pre-season, as they boast one of the strongest teams within the NHL. They have a ferocious core group and this off-season added some strong additions in defender Dmitry Orlov and forward Michael Bunting, as well as keeping hold of goaltender Antti Raanta.
The Hurricanes have made it into the playoffs in each of the previous five seasons, losing twice in the Conference semi-finals, twice in the Conference finals and once in round one. They are our pick from the Metropolitan Division to go the furthest this season.
Value Pick: New York Rangers +1400
The New York Rangers had a solid season last year and added some key veterans at the trade deadline in Vladimir Tarasenko and Patrick Kane to boost their chances of reaching the Stanley Cup finals. It wasn't meant to be with a first-round exit and a disappointing post-season.
The two veteran forwards have moved on, but the Rangers remain a strong team, from their goaltending right up to their forward line, they have strength and depth. There's not much difference between the Rangers and the NJ Devils, yet we can get New York at slightly better odds to win both the division and the Stanley Cup.
Pacific Division
| Team | Division Odds |
| --- | --- |
| Edmonton Oilers | +200 |
| Vegas Golden Knights | +220 |
| Los Angeles Kings | +380 |
| Calgary Flames | +650 |
| Seattle Kraken | +950 |
| Vancouver Canucks | +1200 |
| San Jose Sharks | +10000 |
| Anaheim Ducks | +20000 |
Best Pick: Vegas Golden Knights +1100
The Vegas Golden Knights are yet again our pick from the Pacific division to win the Stanley Cup. Can they go back-to-back? It's going to be a hard task, but we believe they can go furthest from all the teams within this division (sorry Oiler fans).
The Golden Knights and the Oilers are relatively the same price to win the division and Stanley Cup, and as much as we would like to see Connor McDavid and co in the finals, it's hard to see them overcoming this Golden Knights team in a best of seven series, they're too resilient and can exploit the Oilers' weak defense.
The Knights just won their first Stanley Cup, they are full of confidence and lost basically no players this off-season besides Reilly Smith. Expect another strong challenge from Vegas this year.
Value Pick: Seattle Kraken +4000
The Seattle Kraken seem like the best value in the Pacific Division this season at +4000 to hoist the Stanley Cup. Having made the playoffs in only their second-ever season last year, where they knocked out the defending champions the Colorado Avalanche in round one.
Seattle is a well-rounded team, with no superstars but a strong team spirit, resilience, and determination. It's a hard-working team and it shows when they play.
This team is much better than their current odds suggest. If they have a season as solid as the last, they could easily finish 2nd or 3rd in this weak Pacific Division and who knows come playoff time how far they might go.
---
Props and Bonuses
You can find a list of prop bets at all of the best U.S. licensed online sportsbooks found right here at OddsTrader. Online sportsbooks like BetMGM, Caesars, Bet365, Unibet, SugarHouse, BetRivers, SBK, and MaximBet all offer props like "Who Will Win the NHL Playoff MVP Award" and futures to win the Stanley Cup as well as generous signup bonuses.
Shop for Odds
If you want to compare the various NHL Odds then click on the link and you will see the point spreads, moneylines, and totals at all of the best books in the industry. 
---
NHL Betting FAQ's
---
Question: Where can I go to make a bet on the NHL playoffs?
Answer: The best online sportsbooks are the safest online sportsbooks, which are those licensed in jurisdictions where online sports betting is legal in the United States.
The top-rated books are BetMGM, Caesars, Bet365, Unibet, BetRivers, SugarHouse, SBK and MaximBet.
Question: What types of bets are popular with NHL hockey?
Answer: The most popular bet is the moneyline where the underdog returns more money than you wagered while the favorite requires you to risk more than you could win. There is no point spread in moneyline wagering, it's strictly whichever team wins the game wins the bet. 
However, puck lines are also common, with the underdog getting +1 goal while the underdog is giving 1 ½ goals. Totals, or over/under betting, is another typical hockey bet where the bettor can bet over or under the posted total.
Question: Do I have to bet a lot?
Answer: No, the minimum bet is as low as $1 and accounts can be funded with as little as $10 at many of the books across the nation.