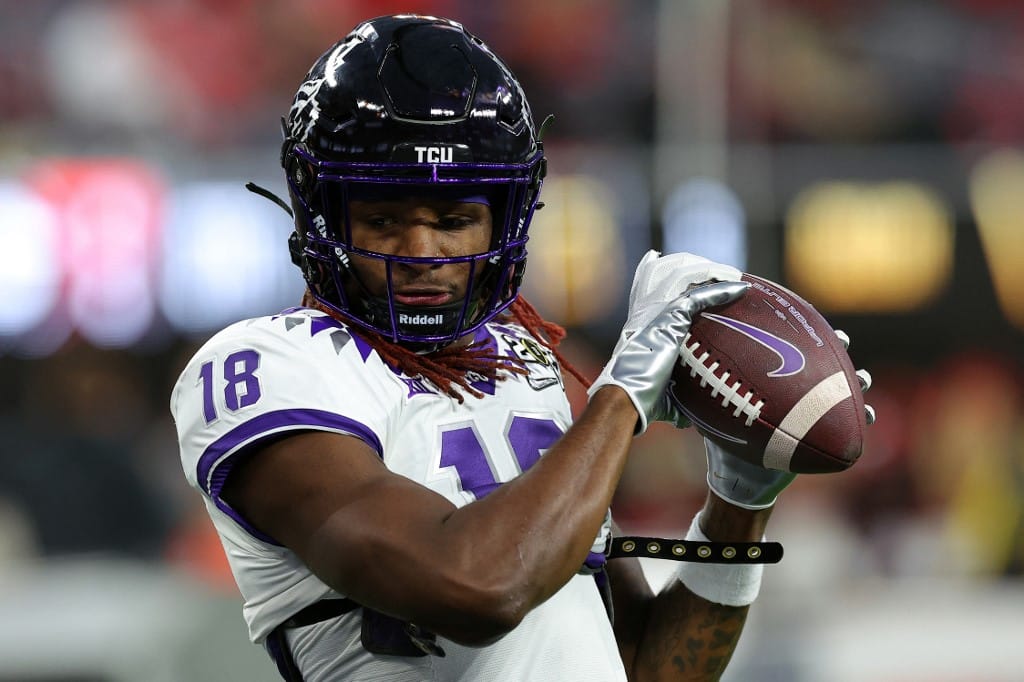 NCAAF Pick: TCU Over 7.5 Wins (-145) at Caesars Sportsbook
The TCU Horned Frogs entered the College Football Playoffs and played in the Championship game. Can we expect anything close to that this year? Let's take a look at the betting odds.
TCU Horned Frogs Preview
Last year felt like a Cinderella run. The TCU Horned Frogs were in the College Football Playoffs and Championship game last season.

They went 9-0 in the Big 12 but 13-2 overall, losing in the two most pivotal games of the season. TCU lost in the Big 12 Championship game to Kansas State and lost in the Championship game to the Georgia Bulldogs.

It'll be tough to replicate last year's season. But Sonny Dykes, in his first year with the program, went 13-2 and sent TCU to heights not even their fans could've imagined.

That season will help to recruit. They'll bring in better players than they did even last year. The talent is still going to be good, but you can't expect TCU to return to the CFB Playoffs yearly.

There are going to be a lot of unrecognizable players on the roster. Many players that took TCU into that championship game are no longer there. Can TCU put together another insane run in the Big 12 this year?
Let's break down the team and the potential of the team.
The Offense
Kendal Briles, the new offensive coordinator of the Horned Frogs, will run the offense. The offense probably won't average nearly 40 points per game, but Briles has excellent potential as the offensive coordinator.

Many forget that Chandler Morris was supposed to be the starter last season. It wasn't supposed to be Max Duggan. However, Morris hurt his knee, Duggan stepped in, and the rest was history.
Morris had him beaten heading into training camp last year and would've been the quarterback for this TCU team if he didn't have a knee injury. He was an Oklahoma transfer with so much upside. We'll finally get to watch him play for TCU this year.

Morris won't have Quentin Johnston, but they've got Savion Williams and Jared Wiley, JoJo Earle from Alabama, JP Richardson from Oklahoma State, and Jack Bech from LSU. There's still plenty of talent for Morris to throw the ball to.

Meanwhile, the offensive line lost Alan Ali and Steve Avila, but they've got their tackles back in Brandon Coleman and Andrew Coker. They've also added Willis Patrick from Jackson State and Tommy Brockermeyer from Alabama.

The offensive line should be fine, and with another Alabama transfer, Trey Sanders, at running back, the Horned Frogs are stacked on offense.


The Defense
TCU's defense was never excellent last year. It just did enough, knowing TCU's offense would typically explode on a per-game basis.

But TCU's defense has a chance to be better this year. They're more experienced and will bring back Johnny Hodges and Jamoi Hodge, who both combined for over 150 tackles.

They don't have Dylan Horton anymore. He led the team in sacks, but Damonic Williams will be just fine in his place.

Tre'vius Hodges-Tomlinson is also gone, but Josh Newton, Mark Perry, and Millard Bradford will all return. They also added Avery Helm from Florida to place Hodges-Tomlinson.

The offense will likely do its job. Therefore, the defense just needs to be as good as last year, but I still believe this defense can be better than last year's. The questions remain more on the offensive side of the ball, whether or not they can score 40 points a game again.
---
TCU Win Total

TCU isn't a top team in the nation, but last year wasn't a fluke, either. TCU should dominate the Big 12 again this year.

They'll begin the season against a questionable Colorado team. That should be a win at home. Then TCU will take on Nicholls State.

Before playing Houston, TCU will be 2-0. TCU's got Houston on the road and SMU at home. I'll chalk both games as wins, along with their next against West Virginia.

At 5-0, TCU will face Iowa State. The Cyclones are taking steps backward with their program. They'll be bowl eligible after starting the season 6-0. TCU will then take on BYU at home. That's another win, but the demanding schedule begins once TCU gets to Kansas State.

TCU lost to Kansas State in the Big 12 championship but beat Kansas State earlier in the regular season. On the road, TCU will likely drop that game.

After that, they'll take on Texas Tech on the road. That could be a tough battle and a surprising loss. TCU would be 7-2 before welcoming Texas to town. Typically Texas is overrated every season, but Texas should be good this year, barring any injuries.

TCU could lose three straight before facing Baylor and Oklahoma. I'll give the Horned Frogs two more wins. That would give them a 9-3 record in the regular season.

That gives them more than enough wins to get Over 7.5 wins on the season.
NCAAF Pick: TCU Over 7.5 Wins (-145) at Caesars Sportsbook
---