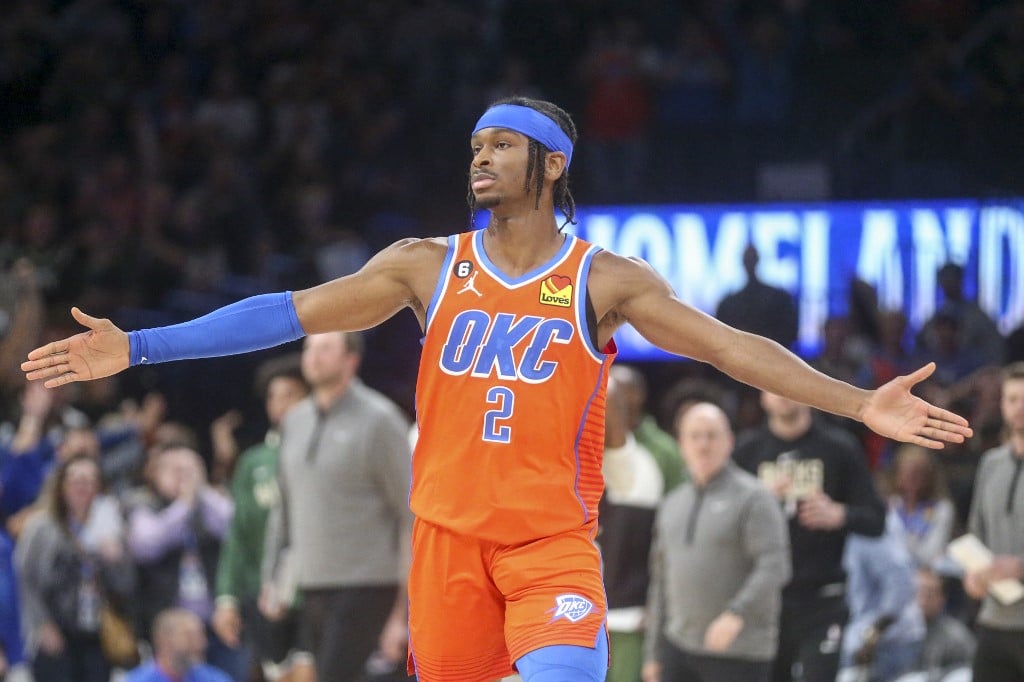 We have an exciting Monday night NBA slate with plenty of opportunities to make winning wagers. Using the OddsTrader BetStation app, we can find out in which games the OddsTrader algorithm has found the biggest edges.
The free OddsTrader BetStation app is designed to give us a baseline expectation of what's most likely to happen, so we can find the games on the NBA odds board that have the highest potential profit margin, and hammer them with appropriately sized bets.
Those margins are still pretty small: Even a 5-star "deadbolt lock" is going to be a 60/40 flip at best. It's anything but rare to end up 0-3 (or 3-0) when you make three NBA picks; more often, you'll go 2-1 or 1-2. Let's see which of these 3 advantage spots our money falls into today.
---
Monday, January 30, 2023 – 08:00 PM EST at Paycom Center
---
---
The Golden State Warriors and Oklahoma City Thunder have similar records. Golden State Warriors come to this game at 25-24 in Oklahoma City at 24-25.
The Warriors are coming to this game on a two-game win streak. If they were to win tonight, they would be two games over .500. That would be their best record of the season. The Warriors have won the last six times these teams have faced each other.
Are the Thunder For Real?
The Oklahoma City Thunder have won eight of their last 11 games. The Thunder have won behind the strength of Shai Gilgeous-Alexander, who is averaging 30.9 points per game over the 11-game sample.
The worry here is that the algorithms are not properly assessing the Warriors currently being at full strength. However, bettors and the markets have been underestimating the Thunder all year and we will continue to take advantage of that.
The OddsTrader AI-generated model has the Thunder winning this game outright. We project the final score at 118-115. This gives us an 8.5 edge, one of the largest you'll find when betting on the NBA.
NBA Pick: Oklahoma City Thunder +5.5 (-115) at BetMGM
---
Monday, January 30, 2023 – 09:00 PM EST at Footprint Center
---
---
The Phoenix Suns come into this game against the Toronto Raptors on a nice stretch of games. The Phoenix Suns have won five of their last six games.
Their counterparts tonight are playing strong as well. The Toronto Raptors have won three of their last four games.
Why Did the Books Post this Total So Low?
When you look at their season-long totals, these are two of the slower-paced teams in the NBA. However, both teams have come into their win streaks by pushing the pace.
Toronto has gone over in seven of the last nine games on the road. The total has also gone over in four of the last five games Toronto played in Phoenix.
Our second AI pick has a smaller Edge, but it is still significant when running NBA models. The OddsTrader AI prediction has this game at 226, and the books are currently listing this total at 220.5.
NBA Pick: Over 220.5 (-110) at FanDuel
---
Monday, January 30, 2023 – 08:30 PM EST at American Airlines Center
---
---
The Dallas Mavericks are 0-6 when Luka Doncic misses the game. They have an opportunity to turn that around tonight against a Detroit Pistons team that has lost eight of their last 10 games. To do so, they will be relying on Spencer Dinwiddie, who is averaging 35.5 points and 8.5 assists over his last two games.
The Detroit Pistons have two talented young players from this year's draft that they are trying to develop and teach how to win in the NBA.
Jaden Ivey and Jalen Duren will be stars that will help lead this Pistons team into the future. These two young players are exciting to watch, but they are still struggling with the ins and outs and what it takes to win in the NBA.
Can the Pistons Keep Pace?
This total is lower than it should be because the Mavericks are still missing their top two scorers, Luca Doncic and Christian Wood. However, with Doncic out of the lineup, the Mavericks play at a faster pace, which is the most important thing when considering a total
Bet accordingly; the AI has spoken.
NBA Pick: Over 229.5 (-115) at BetMGM
---