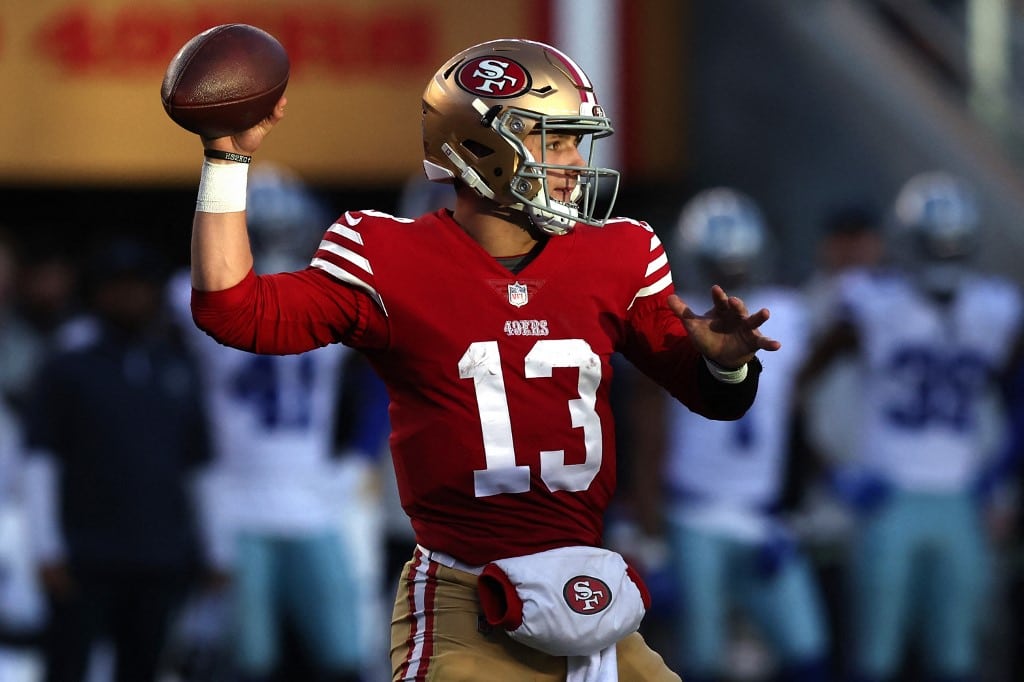 The NFL has two huge Conference Championship Games this Sunday to determine who will meet in Super Bowl LVII. We used the OddsTrader BetStation app to find the best computer-generated predictions for this week's games.
You can always find these picks for free by downloading the app from your device's app store. It will show you statistical comparisons of each matchup, information on past meetings as well as spread movement, injury news, and even the weather forecast.
---
3. Surprising Shootout in NFC This Week?
---
The San Francisco 49ers have the No. 1 scoring defense and the likely Defensive Player of the Year in Nick Bosa, who led the NFL with 18.5 sacks and helped hold the Cowboys to 12 points last week. The Philadelphia Eagles led the NFL with 70 sacks and have their own top scoring defense that held the Giants to a single touchdown last week.
One might expect another defensive battle here, but these teams have played in games that have gone well over this week's total of 46.5 points even if it was the Eagles against Taylor Heinicke and the Commanders (32-21) or the 49ers against Jarrett Stidham and the Raiders (37-34 in overtime).
---
Sunday, January 29, 2023 – 03:00 PM EST at Lincoln Financial Field
---
---
There is going to be a ton of skill player talent on the field in this game, including Deebo Samuel, George Kittle, Brandon Aiyuk, Christian McCaffrey, A.J. Brown, DeVonta Smith, Dallas Goedert, and Miles Sanders.
That is to say nothing of Jalen Hurts, an MVP finalist, and Brock Purdy, the surprising seventh-round pick who has yet to lose a start.
How Are the 49ers Doing This Season?
But there are also two great defenses. However, they are not the 1985 Bears or 2000 Ravens. The 49ers had four games this year where they allowed at least 23 points, including the first playoff game against Seattle, an offense the 49ers held to 13 points in eight quarters earlier this year.
Unique schemes have gotten the best of the 49ers at times this year. Patrick Mahomes and Andy Reid are a one-of-a-kind duo in Kansas City, but even Josh McDaniels of the Raiders cooked up something great for the 49ers, with Jarrett Stidham making his first career start at quarterback.
The Raiders scored 34 points and can also boast some elite skill players in Josh Jacobs and Davante Adams. Jacobs finished with 69 rushing yards in overtime, which is still the most rushing yards anyone has had on the San Francisco defense this season.
The Falcons also had some success with 28 points against the 49ers using their run-heavy offense. The Eagles have a much better passing game than Atlanta, but they will likely be taking a look at how the Falcons rushed for 168 yards on the 49ers, 33 more yards than any other team.
What About the Eagles?
The Eagles certainly bring a unique offense with Hurts' dual-threat abilities where he could either throw for 300 yards or run for 100, and he has two great wide receivers. When these teams met last year, it was a 17-11 game, but Hurts was not as developed as a passer yet. He still rushed for 82 yards and a touchdown in the game on 10 runs.
On the other side, the Eagles have had four games as well where they allowed at least 23 points, and that includes division rematches against teams that know them well from Washington and Dallas. Even the Packers scored 33 points in a wild 40-33 game.
The Eagles allow 31.4 points per game in the five games where teams had at least 330 yards of offense against them, a number the San Francisco offense has hit in 14 games.
In Philadelphia, home games under head coach Nick Sirianni, the over is 12-6, tied with Minnesota for the highest over rate since 2021.
Before last week's 19-12 win over Dallas, San Francisco's last four games all had gone over 50.5 points.
The Pick
It may be a pick against the grain given the defenses, but as long as neither of these quarterbacks implode in the biggest game of their career, this is a good week to take the over.
Using the OddsTrader BetStation, we can see that Caesars Sportsbook is offering O/U 46 at about the same price to what everyone else has O/U 46.5 has, so you can leave the door open for a push by taking their odds.
OddsTrader NFL Final Score Prediction: Eagles 26 – 49ers 25
OddsTrader NFL Total Pick: Over 46 (-110) at Caesars Sportsbook
---
2. Can Patrick Mahomes Outgun Joe Burrow on One Leg?
---
Expectations keep changing on this one as some optimism grows that Patrick Mahomes' high-ankle sprain may not ruin the game for the Chiefs this Sunday. Mahomes was a full participant in Wednesday's practice, which is a good sign.
The spread has been moving in a 5-point window from the Bengals going from a 2.5-point underdog to a 2.5-point favorite, but it is looking like Bengals -1 right now. We will set that pick aside as the toughest call this weekend, and instead we'll focus on the total of 47.5 points.
---
Sunday, January 29, 2023 – 06:30 PM EST at GEHA Field at Arrowhead Stadium
---
---
You might be surprised to learn the over is just 6-6 in Mahomes' 12 playoff games with the Chiefs. It did not help that he was injured in two of them or that the Chiefs played a horrible game in Super Bowl 55 against Tampa Bay (31-9).
The Previous Meetup
But in three matchups with the Bengals since late in 2021, these teams have always gone over 47.5 points, with the last two games ending 27-24. They had a 34-31 game before that in Cincinnati, though the defense seems to have a little better grasp on how to stop Ja'Marr Chase from going nuclear against them.
But the Bengals absolutely left a solid 11 points on the field in Week 13 this year with self-inflicted mistakes, and that's not even counting the final drive where they just ran out the clock with no intention to score again.
Mahomes' Status
The Bengals can score on this defense, and it is really more on the Chiefs to keep up their end of the bargain this week. But if Mahomes can play, you have to expect points will be scored. He still led two scoring drives in the second half after his injury, and it could even be that this injury finally gets Andy Reid to try something drastically different against a Cincinnati defense that has done a great job of making Mahomes hold the ball and make mistakes.
According to Next Gen Stats, Mahomes held the ball 3.21 seconds in Week 13, his longest game this season, and he has been over 3.0 seconds in all three games against Cincinnati. He was up to a whopping 4.0 seconds in the second half of last year's AFC Championship Game loss when the Bengals switched up to a three-man rush and still got Mahomes for three sacks on those plays in the fourth quarter. That is too much time for a quarterback to try extending the play, and the deadliest receiver for Kansas City on those broken plays (Tyreek Hill) is no longer there.
After the injury last week, Mahomes' time to throw dropped to 2.64 seconds, quicker than his average by a quarter of a second. We will see if that keeps up this week as the Chiefs need to do a better job of protecting him from the pass rush and not relying on mobility.
The Chiefs' Weapons
But both teams ran the ball well last week and against each other in Week 13, and the Chiefs may get Mecole Hardman back as another speedy weapon they have not had since Week 9.
They also did not have Kadarius Toney in Week 13 against the Bengals, so they could have a deeper group of weapons to use that can get the ball on easy plays in space that allow them to show off their skills.
The Pick
The Bengals obviously have the firepower with one of the best receiving corps in the league to put up points here.
It should be a fun game again, and as long as the injury does not compromise things too badly, it should be a game that goes over.
OddsTrader NFL Final Score Prediction: Chiefs 30 – Bengals 24
OddsTrader NFL Total Pick: Over 47 (-110) at Caesar Sportsbook
---
1. Will a Rookie Quarterback Finally Reach a Super Bowl?
---
If there was ever a situation where a rookie quarterback could start in a Super Bowl, this would be the one, with the 49ers taking a 12-game winning streak into the NFC Championship Game and with Brock Purdy still in control of a great supporting cast and the No. 1 defense.
The 49ers are a 2.5-point road underdog against the top-seeded Eagles, who have lost at home to the Commanders and Saints this season.
Will History Repeat Itself?
Both teams have excellent defenses and both teams have unique offenses that can run and throw with great offensive lines. This is a heavyweight matchup, but you should believe the 49ers can go in there and win like they did early last season against the Eagles.
In that game, Jalen Hurts threw his average pass 14.6 yards down the field, easily the deepest game of his career. It really did not work out as the Eagles were held to a field goal in the first 55 minutes of the game. Hurts had a 91-yard completion to Quez Watkins that did not result in a touchdown, and the Eagles even turned it over on downs after a trick play on fourth-and-3 failed with the offense trying to throw a touchdown to Hurts.
That sequence was killer. The Eagles are in a much better place now both in Hurts' status as an MVP candidate, the addition of A.J. Brown, and the confidence of head coach Nick Sirianni. But the 49ers did get the best of them that day, and they are also a stronger looking team right now on this epic winning streak where they have rarely trailed.
It probably comes down to turnovers again. The 49ers forced Dak Prescott into two big interceptions last week, and Purdy got away with some risky throws without turning it over.
What to Expect from This Game
The 49ers can insulate Purdy in this matchup with a good running game and easier throws to the likes of Kittle and Samuel, who are amazing after the catch. He won't have to challenge those outside corners the way Daniel Jones had to last week so unsuccessfully. It just comes down to Purdy not making the turnovers and hanging onto the ball on sacks.
But for the Eagles, it is more likely to be on Hurts to deliver as the 49ers have so consistently shut down the run this season. That means expect less from Miles Sanders and the backup runners.
Hurts can run too, but he may have to do more as a passer here than he did last week. That is when Nick Bosa and company can change the game with their sacks and pressure that lead to turnovers.
The Pick
It should be a fantastic matchup, but the 49ers have been so close in recent years under Shanahan. They have blown a 10-point fourth-quarter lead in the last two postseason appearances. The Eagles only have one comeback win this year and that was against Jeff Saturday's Colts, which should come with an asterisk.
The Eagles were the talk of the NFC at 8-0, but the 49ers have been the better team since that point. Take the 49ers to cover in this one.
OddsTrader NFL Final Score Prediction: Eagles 26 – 49ers 25
OddsTrader NFL Spread Pick: 49ers +2.5 (-105) at BetMGM
---