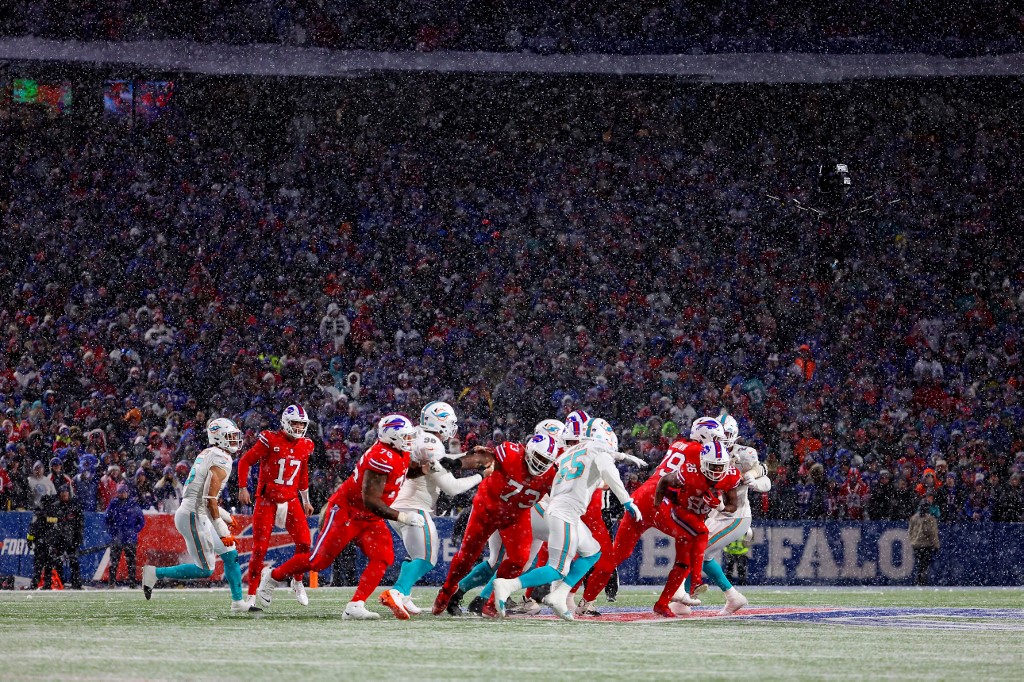 The NFL's Week 16 schedule is another full weekend slate of important games for the playoff races, so we used the OddsTrader BetStation app to find the best computer-generated predictions for this week's games.
The app can be downloaded for free using your device's app store. It will show you statistical comparisons of each matchup, information on past meetings as well as spread movement, injury news, and even the weather forecast. Check out all the cold temperatures this weekend.
---
5. Bills Head to Chilly Chicago
There are definitely going to be some bitter-cold games outdoors this weekend, but two teams who should be used to the weather are the Bills and Bears. You might be surprised to know that the Bills have rushed for over 100 yards in every game this season, something the Bears have not even done.
The Bills are an 8.5-point favorite with a total of 40.5 points.
---
Saturday, December 24, 2022 – 01:00 PM EST at Soldier Field
---
Expectations might be for a lower-scoring game because of the cold, but both offenses can run the ball really well, including great efforts from both quarterbacks (Josh Allen and Justin Fields).
We just saw the Bears lose at home in a 25-20 game against the Eagles, and both teams left plenty of points on the field. The Bills were in a cold game with the Dolphins where snow eventually showed up in the fourth quarter, but that was a 32-29 game as we saw some real cracks in the run defense for the Bills.
These offenses are elite on third down with the Bills ranked No. 2 and the Bears ranked No. 7. Both are above average at scoring touchdowns in the red zone. Buffalo's defense has lost some luster since Von Miller tore his ACL in Detroit. The Bears have been an underperforming defense all season, only holding three opponents under 20 points.
Chicago's last eight games have gone over 40.5 points. We like that streak to continue here as does the OddsTrader BetStation.
OddsTrader NFL Final Score Prediction: Bills 29 – Bears 21
OddsTrader NFL Total Pick: Over 40.5 (-105) at FanDuel
---
4. Two Pro Bowl Quarterbacks in Kansas City
Few could have imagined that Geno Smith would be a Pro Bowl quarterback for the Seahawks while Russell Wilson quickly lost the division battle to the Chiefs with Denver. But Smith has had a great year and has been the favorite for Comeback Player of the Year.
Unfortunately, the Seattle run game has collapsed in the last month, and Patrick Mahomes is still the favorite for MVP. The Chiefs are a 10-point home favorite with a total of 49 points.
---
Saturday, December 24, 2022 – 01:00 PM EST at GEHA Field at Arrowhead Stadium
---
Every game with Mahomes has the potential to be a shootout, but that's also because the defense has not played well for the Chiefs this year. Kansas City has allowed at least 24 points in three straight games, and the defense had to come up with a late turnover to make sure the team didn't lose to 3-win Denver and 1-win Houston.
The Seahawks may be struggling, but Smith has still been fairly consistent despite the lack of running game around him. The Chiefs have allowed a league-worst 30 touchdown passes, and Geno leads the NFC with 26 touchdown passes. He also still leads the NFL with 71.4% passes completed.
The Seahawks lost 21-13 to the 49ers in Week 15, but that is the best defense in football right now. Seattle's three games before that had 74, 50, and 54 points. This team is likely going to score in the 20s, at least in this game.
But we also know Mahomes is usually good for 24 just by walking into the building. The Chiefs have the second-worst spread record in the league, so we're not trusting them to win by double digits here. However, we'll gladly take the over 49 points to hit.
OddsTrader NFL Final Score Prediction: Chiefs 36 – Seahawks 26
OddsTrader NFL Total Pick: Over 49 (-108) at Unibet
---
3. Can Desmond Ridder Upset the Baltimore Defense?
The Baltimore Ravens (9-5) no longer lead the AFC North after losing an incredibly sloppy game in Cleveland last week. The Ravens were so bad that even Justin Tucker, the GOAT, missed two field goals. It also does not sound like Lamar Jackson will be ready to return after missing his eighth straight practice on Wednesday.
Despite this, the Ravens are a 7.5-point home favorite with a total of 35.5 points.
---
Saturday, December 24, 2022 – 01:00 PM EDT at M&T Bank Stadium
---
Desmond Ridder made his first start for the Falcons at quarterback last week, and things did not go well. His accuracy looked bad, though he settled down later in the game. Still, he became the sixth quarterback since 1970 to throw for fewer than 100 yards on more than 25 pass attempts in his first start.
Despite that, the Falcons scored 18 points, which is 15 more than what the Ravens had in Cleveland. The Falcons can still run the ball really well, and Tyler Allgeier had 139 rushing yards as part of the team's 231 rushing yards in New Orleans.
We know the Ravens have blown some really bad leads this year, so even a 10 or 14-point lead in the second half does not make them a lock to cover this spread. In fact, the Falcons were down 14-0 early and 21-10 in the fourth quarter in New Orleans, and Ridder still had a shot to tie or win the game late if Drake London didn't fumble a reception.
Baltimore has scored 29 points in the last three games since Jackson was injured against Denver. Last week was the first Tyler Huntley game that wasn't decided by 1-to-3 points. Since 2021, the Ravens are 2-15 ATS when favored by 3.5 to 9.5 points.
The Ravens are looking like a team in trouble, but while they should still rebound from last week to win this one at home, we cannot trust them to cover 7.5 points right now. Take the Falcons with the points.
OddsTrader NFL Final Score Prediction: Ravens 21 – Falcons 18
OddsTrader NFL Spread Pick: Falcons +7.5 (-110) at BetMGM
---
2. The 49ers Should Keep Rolling Against Washington
The San Francisco 49ers (10-4) are NFC West champions for the first time since 2019. The defense is the best in the league and rookie quarterback Brock Purdy seems to be getting more confident by the week.
The Washington Commanders (7-6-1) are coming off a tough 20-12 loss to the Giants, but they are going to have their hands full with a team with a better offense and defense this week.
The 49ers are a 7-point favorite with a total of 38 points.
---
Saturday, December 24, 2022 – 04:05 PM EDT at Levi's Stadium
---
When the Chiefs shredded the 49ers in a 44-23 game in Week 7, the team was only 3-4. But like last year when they made a turnaround from 3-5 to the NFC Championship Game, they have been on fire with a 7-game winning streak.
In those seven games, the 49ers have scored at least 21 points all but once. More importantly, they have allowed no more than 17 points in all seven games.
Washington is having its own nice season after a 1-4 start, but this team has often been held under 21 points this year (9 times in 14 games). Taylor Heinicke has some mobility to escape the pass rush, but his accuracy is not up to par to have a good game against these 49ers. It could be another turnover-heavy game for this defense.
Purdy looks good and has thrown two touchdowns in three straight games. The 49ers have covered a 7-point spread in all but one of the last seven games, and that was thanks to a hot start by Justin Herbert of the Chargers. Heinicke won't play that well. Take the 49ers to continue this streak toward the playoffs with another cover and impressive performance.
OddsTrader NFL Final Score Prediction: 49ers 22 – Commanders 12
OddsTrader NFL Spread Pick: 49ers -7 (-105) at Caesars Sportsbook
---
1. Cowboys vs. Eagles Will Be High Scoring Regardless
The NFC's Game of the Year has turned into a mysterious one as we still do not know the details of Jalen Hurts' shoulder injury or if he will play Saturday in Dallas. The Cowboys sure took some luster off this matchup by blowing a 17-point lead in Jacksonville in a 40-34 overtime loss.
The Eagles are better than Dallas, but the uncertainty at quarterback is causing the Cowboys to be a 5-point home favorite with a total of 47 points.
---
Saturday, December 24, 2022 – 04:25 PM EDT at AT&T Stadium
---
This would be one incredible matchup if we knew Hurts was starting, and if the Cowboys did not blow leads of 14 and 17 points in the second half against Green Bay and Jacksonville. Alas, here we are with the Eagles three games ahead of Dallas in the NFC East and possibly starting Gardner Minshew for Hurts.
However, the rest of the Eagles are looking to play, and this is still a loaded roster with a great offensive line, A.J. Brown, DeVonta Smith, Miles Sanders, and Dallas Goedert are back at tight end.
Minshew made two starts for Philadelphia last season, and he threw two touchdowns in both games. One was even a Week 18 game against the Cowboys where the Eagles rested starters, and Dallas won 51-26.
The previous meeting last year, which is still the only game between Hurts and Dak Prescott, was won 41-21 by Dallas. Also, when these teams last met in 2020 in a game where Hurts and Andy Dalton were the quarterbacks, Dallas won 37-17.
Basically, any matchup that isn't Cooper Rush in Philly when the Eagles were undefeated earlier this year is producing crazy points between these two. We also can see that the Cowboys have allowed at least 29 points in three games since Prescott returned, so the defense isn't always reliable despite the gaudy pass rush numbers.
Whether it is Prescott against Hurts or Minshew, you should feel confident as the OddsTrader BetStation does that this one is going to hit the over. Let's just hope it's this close too, because this has the chance to still be the weekend's best game.
OddsTrader NFL Final Score Prediction: Cowboys 28 – Eagles 26
OddsTrader NFL Total Pick: Over 47.5 (-106) at FanDuel
For more free picks, visit your mobile device's app store to download the OddsTrader BetStation and get predictions on NFL and other leagues today.
---